This post may contains affiliate links for your convenience. If you make a purchase after clicking a link we may earn a small commission but it won't cost you a penny more! Read our full disclosure policy here.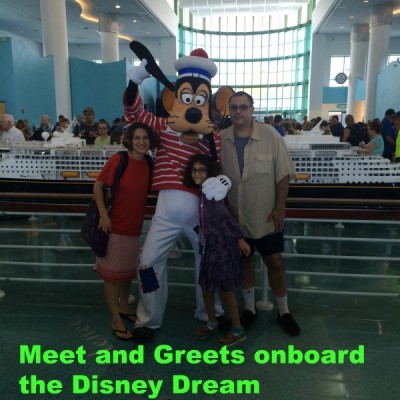 Our first meet and greet of the vacation
One of the fun things to do on your Disney Cruise is to meet and take photographs with the many Disney characters, both onboard and on Castaway Cay. Recently, Disney has introduced a timed ticket system for some of the meet and greets. Like FastPass at Disneyland and FastPass+ at Walt Disney World, this system is free, and is designed to reduce your wait time.
One of the first thing that happens when you check in at the cruise terminal is the Cast Member checking you in will take a photo of each person in your party. This is to activate the facial recognition software that will automatically assign your photos to your stateroom. So, when a photographer takes your picture with a character, there is no need to swipe a band or a card – the photo should, in theory, be assigned to your account.
Of course, this doesn't work all the time. If you go to Shutters, the onboard photo shop, and cannot find a photo of your party, you can look in the "lost photos" file for it. Even this doesn't work all the time. I walked the Castaway Cay 5K wearing sunglasses, and I didn't have them on when the first cast member took our facial recognition photos. My end of race photo simply vanished. It wasn't assigned to our stateroom and we couldn't find it in the "lost photos" file.
Some meet and greets have traditional stand by lines only. This includes the first one you'll encounter, when you arrive at the Cruise Terminal. We saw Captain Mickey meeting guests on our embarkation day, but by the time it was our turn, he had been replaced by First Mate Goofy. At this meet and greet, Disney photographers were there to take your picture, and the photos were on sale at Shutters on board. Unlike at Disneyland and Walt Disney World, you can ONLY buy these photos on board. So if you see something you like, buy it. Once you're off the ship, you're out of luck. The Cast Member was also happy to take a photo of us with our phone.
As soon as we boarded the ship, we noticed that there was no wait to meet Belle, so we quickly went up the Atrium stairs to meet her. At this meet and greet, no photographer was available, but the cast member offered to take a photo with our phone.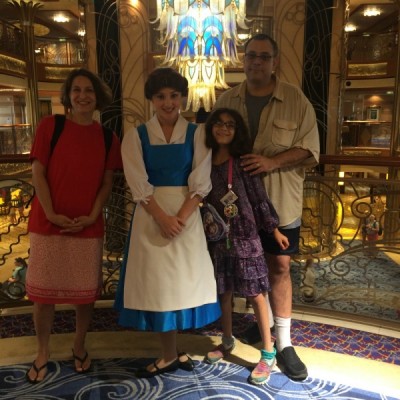 Meeting Belle, after waiting in a very short traditional line
A few months before our trip, our travel agent let us know that there was a new system in place for a few other meet and greets, name the Princess Gathering and the Frozen Meet and Greet. For these, we were able to go online to the Disney Cruise Line website to pick a day and time to meet these characters. I had no trouble getting the day and time that I wanted for each. When we arrived on board, the tickets were left in an envelope at our stateroom, along with tickets for our shore excursion. If you didn't pre-book these tickets before your vacation, you can check the Guest Services desk on board the ship for availability.
I noticed that the Cast Members were flexible with entrance times. For example, we had a 10:15 a.m.m ticket for the Princess meet and greet in the Atrium, and we were let on line at 9:57 a.m. We met Belle, Snow White, Rapunzel, and Cinderella. All the princesses signed autographs. There was a photographer available, and the cast member also offered to take photos with our phone.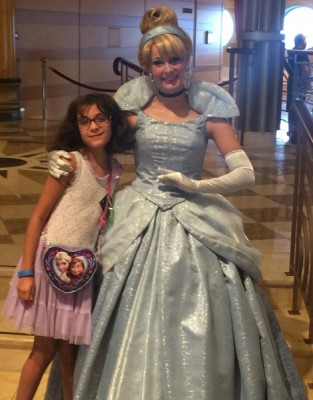 Meeting Cinderella at the Princess Gathering
The Frozen meet and greet was at 11:15 a.m., so we headed for the Animator's Palate at 11:00 a.m.. We were shown to a table with other groups who had the same time slot as we did, and there were Frozen themed coloring pages and crayons out for the kids to use while we waiting for our time.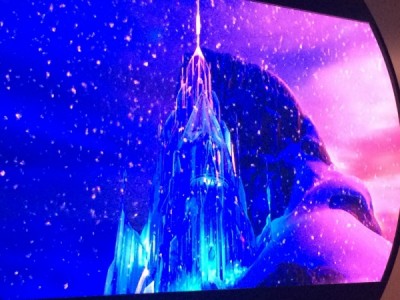 Screen at the Animator's Palate during the Frozen meet and greet
Once again, a photographer was available, and we were welcome to take our own photos. A cast member offered to use our phone to take photos of our entire party.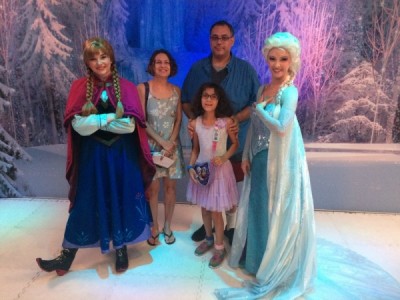 A cast member took this shot with our phone
All in all, we were very pleased with the photo service. We purchased two of our photos as hard copies, one of us with First Mate Goofy and one of us in our pirate gear at the Pirate Night. I'm disappointed that my race photo disappeared, so let this be a lesson to you – always take a backup photo yourself.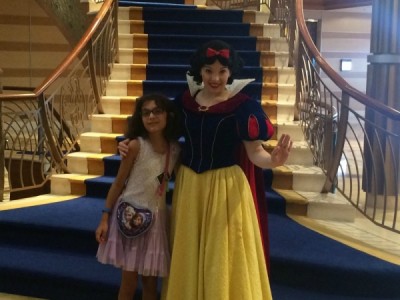 What have been your experiences with Disney Cruise Line's Meet and Greets? Share in the comments.