This post may contains affiliate links for your convenience. If you make a purchase after clicking a link we may earn a small commission but it won't cost you a penny more! Read our full disclosure policy here.
By Rikki Niblett
Random useless commentary by Chris Johnson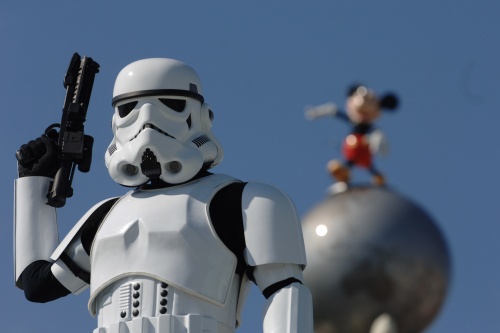 Every year in May/June Walt Disney World holds Star Wars Weekends, celebrating all that is included in the Star Wars Universe.  This event takes place at Disney's Hollywood Studios Friday, Saturday and Sunday during those weekends.
I know that I'm in the minority as I am not a Star Wars fan.  Well, I guess I can't actually say that. Someone can really only say that if they've seen the Star Wars movies…and seeing as how I have NOT…saying I'm not a fan isn't really accurate.  I'm pretty much indifferent to the whole Star Wars saga.
She is breaking my geek heart. Really? You haven't seen ANY of them? How is that possible? I thought they were required viewing in most school systems by now.  
Yet for some strange reason, I would like to experience a Star Wars Weekend at some point in my life.  From everything I've heard about this event, it seems like it would be something to experience, kind of like how a person should attend Mickey's Not-So-Scary Halloween Party and Mickey's Very Merry Christmas Party at least once.
So what is it that would draw in someone like me (or maybe you) who's never been into Star Wars?  (Or in my case, someone who's never watched the movies?)
Watch the movies. Watch the movies. WATCH THE MOVIES!!! Ok, at least watch the first three (Which are actually the last three in sequence… What? It makes perfect sense to me.)
First of all, there are the characters.  Now, I'm not talking about those Star Wars specific characters.  I have no idea who Queen Ama-what's-her-name is.  I don't know what the purpose of Boba Fett is.  I couldn't care less about Chewbacca.  (Aren't you impressed?!  I actually know SOME Star Wars stuff!  I know I am!)
Who doesn't love Chewie? He's a seven foot tall teddy bear with a cross bow.
The characters I'm talking about are the Disney characters dressed in their Star Wars finest!  I want to meet Jedi Mickey, Leia Minnie, Stormtrooper Donald, and Darth Goofy!  These are the characters that I'm interested in.  They aren't too Star Wars-y that I don't know who they are, but they are Star Wars-y enough to help enhance my experience that weekend.  It's the perfect mixture!
These are great photo opportunities that shouldn't be missed. Whether you are a fan of the films or just a Disney fan, these are unique character meet and greets that make for great photos and memories.
Another thing that really draws me in and makes me want to go to a Star Wars Weekend is the Hyperspace Hoopla!  Maybe it's just because I miss saying hoopla (Hoopla!  Adventurer's Club, may you rest in peace!).  I really think this show appeals to me because it's quite entertaining (from the videos that I have seen on Youtube).  The characters dance to pop music and really put on an amazing show!
If you have never seen it, check Youtube for a video of Darth Vader and his Storm Troopers dancing to Michael Jackson's "Thriller". Enough said. ; o)
Even though I don't like to get to the parks early (I mean, are the parks really open before noon?!) on Star Wars Weekends, you really should.  It's not so you can get in line to meet the Star Wars celebrities who are featured each weekend.  I think you should get there early so you can see the Stormtrooper show before park open. From what I've seen, it's a hoot!  (I'm thinking it's probably funnier if you've actually SEEN Star Wars, but not all is lost on me.)
On these notes, my partner and I are in complete agreement. The parks don't typically open before lunch for me but the pre-show that the Stormtroopers put on prior to park opening is pretty fantastic. It is well worth getting up early for. Just think, you can even make that mad dash for Toy Story Mania Fastpasses!
Guests with little ones should make sure to check out the Jedi Training Academy.  Here kids can learn about light saber duels from a Jedi Master.  But beware…it's been said that Darth Vader is nearby and could make an appearance and might even want to test their skills!  Guests must be ages 4-12 to participate and registration is required.  Check your Times Guide for more information.
The last thing that I think I would enjoy, as a non-Star Wars fan, during Star Wars Weekends is the ability to people watch.  Some people are very, very INTO this and get all decked out in their Star Wars finest.  (The closest I can even compare this to is when I went to see Harry Potter on opening nights at midnight and seeing all the people dressed as those characters.)  So watch as all the Star Wars geeks (and I use that term lovingly) come parading past.
Ahem…we prefer the term fans. It truly is amazing the level of detail that many fans will go to in order to dress up and attend the parks for SW Weekends. It is like a sci-fi convention inside of a Disney park. What could be better?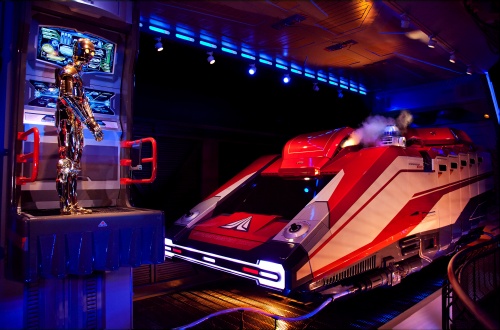 I should also throw in experiencing Star Tours.  I mean, it is Star Wars Weekend after all.  How can you have fun at this event without riding this attraction?  This is especially important in light of the recent rehab to the attraction. If you haven't ridden it recently you should really give it a try!
Well those are my tips for how to enjoy Star Wars Weekends without being a Star Wars fan!  To me, I think you still get a lot out of just experiencing the ambiance.  It really is what makes the whole thing fun!