This post may contains affiliate links for your convenience. If you make a purchase after clicking a link we may earn a small commission but it won't cost you a penny more! Read our full disclosure policy here.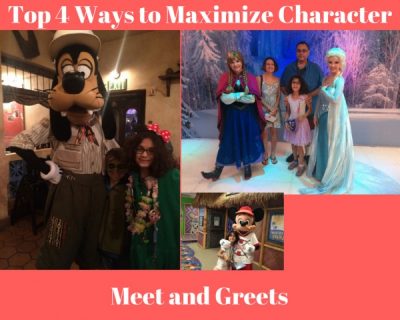 Meeting characters is fun at Walt Disney World, the Disney Cruise Line, and Disneyland
Everyone has a favorite aspect of a Disney vacation. For some, it's the thrill rides. For others, the quality time spent with family. For others, it's the delicious food. And for some, it's those wonderful larger than life Disney characters.
If you're reading this, you probably already know that you can meet a wide assortment of Disney characters on your vacation, either by waiting to meet them in the parks or by enjoying a character meal. You know that you can pose for pictures and get autographs.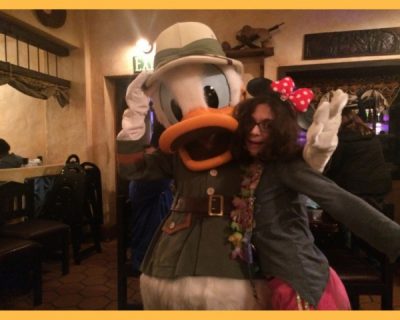 Meet Donald Duck at Tusker House!
But if you're looking to get the most out of these character meet and greets, read on!
HAVE THOSE CAMERAS AND AUTOGRAPH BOOKS READY!
This may seem like a no-brainer, but I see it all the time. A family has been waiting in line to meet a character, and when it's their turn, they suddenly fumble to unlock their phones and flip frantically through an autograph book to find an empty page.
Time is precious when you're on a Disney vacation. There are only so many hours in a day. Don't waste precious time! Have your phone or camera ready to go and your autograph book open to a blank page long before it's your turn to meet those characters!
PRE-BOOK YOUR EXPERIENCES!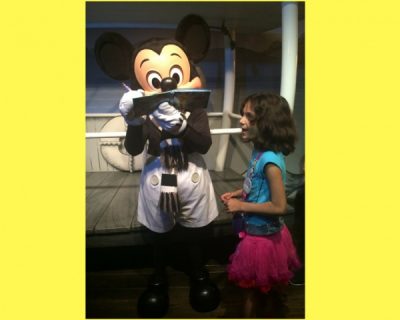 Meet Mickey in his movie barn in Toontown!
If you know for a fact that your kids want to meet a certain character, make it a priority. Gone are the days when you can simply stroll through the parks and have random, fun character encounters. So if there's a character or two you're seriously into meeting, make plans.
Go online ahead of time to see when and where these characters meet guests, and plan accordingly. At Disneyland, check to see if FastPass is available. At Walt Disney World, FastPass+ is available for some (but not all!) character meet and greets. On board the Disney Cruise Line ships, you can get a ticket (at no extra charge) to reserve your time to meet the characters.
At both Disneyland and Walt Disney World, and select Disney Cruises, you can dine with the characters! This way, you can kill two birds with one stone. You're going to eat anyway, and it's less stressful to have characters come to your table than to wait in line to meet them.  So make those reservations!
TALK TO THEM!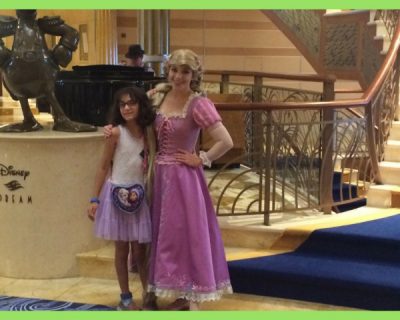 Meet Rapunzel on the Disney Dream!
It always baffles me when families wait patiently in line to meet a character, and then shove their kid at the character, take some photos, have the character sign an autograph, and then leave. These are not cardboard cutouts. These are Disney characters, and each one has his or her own personality, based on the films and TV shows.
Even the characters who do not talk have an amazing ability to interact with guests. So the next time you see Minnie, compliment her dress. You might find that she will wave admiringly at your own. If your son or daughter is too shy to ask Woody if he knows how to line dance, break the ice by asking him yourself.
The characters who speak, of course, often have a lot to say. One of my favorite Disney memories was when my daughter (then 8) asked Tinker Bell if Vidia was around. Tinker Bell sighed deeply and complained about how much trouble Vidia was always causing. So give it a try. Ask Cinderella how comfortable those glass slippers are. Ask Gaston how he likes those three dozen eggs prepared. Ask Elsa how Olaf is doing. These characters love talking to guests and bringing the magic to life! (Here are some additional tips for making some extra special magic while meeting characters.)
DON'T WATCH FROM BEHIND A SCREEN
Meet Goofy in the Disneyland Hotel!
I know that it's really important to get a photo of your kids with their favorite characters. By all means, go ahead and take some photos, or consider using Disney's PhotoPass service. But take a moment to put the camera or phone down and watch the interaction.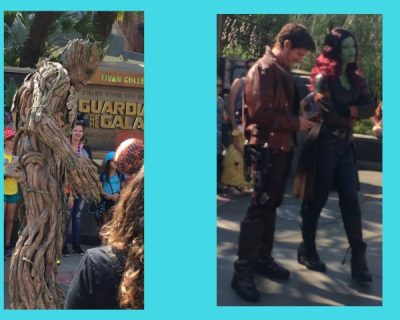 Dance with Groot, Star-Lord and Gamora in California Adventure!
Recent psychological studies have shown that when we experience something through a screen, we do not experience it as fully as we do when we watch through our own eyes. You'll want to savor the moment of your baby girl grabbing Minnie Mouse's nose, and Minnie Mouse delicately touching her nose with a gloved finer. You'll want to laugh out loud when your little boy tells Gaston that he's MUCH stronger than he is. You'll never forget seeing your little girl asking Princess Tiana how to bake beignets. These are moments that we'll cherish always.
What are some of your best tips to maximize your Disney character meeting experiences? Let us know in the comments, or on Facebook or Twitter.
Did you like this article? Make sure to share it with your friends! Check below for easy ways to share!
Want to visit a Disney Destination? Contact The Magic for Less Travel for more information and a free, no-obligation quote.