This post may contains affiliate links for your convenience. If you make a purchase after clicking a link we may earn a small commission but it won't cost you a penny more! Read our full disclosure policy here.
By Erica Colmenares
My Disney friends know that my first encounter with a Segway Personal Transporter was less than pretty. I'll admit that the Segway got the better of me, right around Italy, in Epcot's World Showcase. Never let it be said, though, that I'm easily daunted (or that I learn from my mistakes). Earlier this year, my pal Holly and I signed on for another Segway adventure, this time at Disney's Fort Wilderness.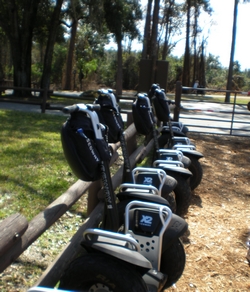 The Wilderness Back Trail Adventure at Fort Wilderness is a two-plus hour "off-road" Segway tour, with training for the first part of the experience, and lots of ride time afterward. The Fort Wilderness tour uses the Segway X2, a more rugged transporter with wider wheels than its Segway cousin at Epcot. To book, we called 407-WDW-TOUR (407-939-8687). This tour isn't cheap, but AAA, DVC, AP, and Disney Visa discounts may be available. Currently the price, including tax, is $85. We were told we'd meet at the Mickey's Backyard BBQ pavilion. (When I called for updated information for this article, I was told that now the group meets at the less centrally located Meadows Bike Barn.) Tours are available Tuesdays through Saturdays, starting at 8:30 a.m. and 11:30 a.m. The booking CM had quite a spiel of rules to read: everyone must wear helmets (provided); participants must be 16 take the tour (16- and 17-year olds require the signature of a parent or guardian); and there is a 250-pound maximum weight limit. Being slightly above 16 and slightly under 250 pounds, we were good to go.
The day of the tour dawned. I was not (very) scared. Our plan was to go with friends to Magic Kingdom's "rope drop," enjoy an hour or so of uncrowded touring, then depart for Fort Wilderness via the Disney boats. If we'd chosen the 8:30 a.m. tour, we would have had to use our own car, or a taxi, as there's no Disney transportation to the early tour. The Magic Kingdom–Fort Wilderness boat worked great, as it dropped us off back in the Settlement area, which is where the group met (for the Bike Barn, it is probably a wash as to whether the Disney boat or Disney bus is better). If you drive, remember that you'll need to allow about twenty minutes to catch the internal campground bus system from guest parking to the tour meeting area.
We enjoyed a twirl through Fantasyland, plus a Splash Mountain drop, then left the Magic Kingdom a bit after 10:30 a.m. Taking the boat, we got to Fort Wilderness in plenty of time to check in 15 minutes early (as requested). Holly and I got our obligatory name tag, found helmets that fit, then the group was called together to view a safety video. It was shorter than the one I remembered viewing at Epcot, but definitely thorough. The "adventure guides," or Cast Members, who train and accompany the troops then split us into two groups for real-life training. They wisely put Holly and me into different groups — I guess they saw we were whispering during the safety video. Busted! The CMs were both informative, humorous, and very safety conscious. They slowly and carefully took us through a number of drills — getting on and off the Segway safely, learning to maneuver the Segway, going up and down an incline, stopping, etc. I had plenty of time to start to feel confident about my ability to stay on this time around.
After we were sufficiently trained, it was time for the off-road portion of the entertainment. We started with a spin around the Settlement area, getting looks from all the Disney guests. ("How do I get me one of them?") The tour took us through one of the RV loops, into the woods, near the beach, and then we took a break at the Tri-Circle-D Ranch, where we got a glimpse of the Headless Horseman's mount. Our guides stopped for photo ops, trivia quizzes, and lots of information sharing. They both clearly knew a lot about Fort Wilderness in particular, and Disney in general.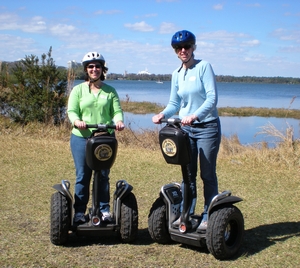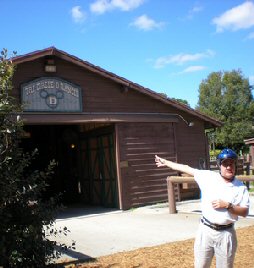 Holly and Erica mug for the camera; our Adventure Guide shares trivia about the Tri-Circle-D Ranch.
Our favorite part of the tour came next. We rode the path between Fort Wilderness all the way to Wilderness Lodge, looped behind the Lodge, then headed back to Fort Wilderness on a back trail. It felt so remote that if it weren't for the Cast Members accompanying us, we could have imagined we were far, far away from Disney. The only downside to the long trek over to the Wilderness Lodge is that I started to feel a bit of pain in my feet, and Holly said the same thing. The Segways vibrate, and after awhile you get a tingly (not in a nice way) sensation that can feel uncomfortable.
After we arrived back at Fort Wilderness, that pretty much wrapped up the tour. Please note that I did not once fall off the Segway during the two-hour experience. In fact, I think I may have finally mastered these babies.