This post may contains affiliate links for your convenience. If you make a purchase after clicking a link we may earn a small commission but it won't cost you a penny more! Read our full disclosure policy here.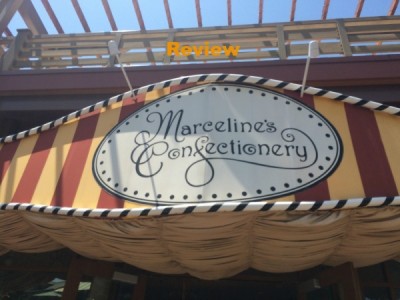 Welcome to Marceline's Confectionery!
My family and I usually rush through Downtown Disneyland to get to the theme parks. However, on a relaxed park free day, my daughter and I decided to stop in a delightful looking place for a yummy dessert.
Marceline's Confectionery is named after Marceline, Missouri, the town that shaped Walt Disney's childhood. As you approach this small sweet shop, be sure to look through the windows. You'll probably be able to spy confectioners hard at work making candy apples.
Once inside, it is easy to become overwhelmed by all the options. The far walls are lined with Disney inspired kitchen accessories. Scattered throughout the store are pre-packaged sweets and snacks.
But what will really get your mouth watering are the glass display cases, full of delicious looking treats. Chocolate covered concoctions, cake pops, cookies, rice crisp treats and marshmallow wands compete with the aforementioned candy apples for your attention.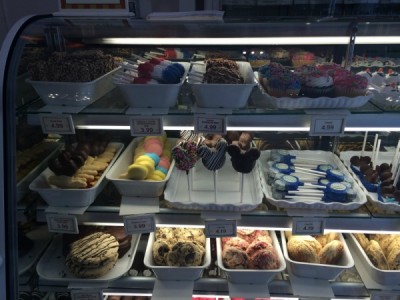 So.  Much.  YUM!
My daughter inherited my sweet tooth, so she had a hard time making a choice. In the end, however, she chose a chocolate Mickey Mouse cake pop with marshmallow ears.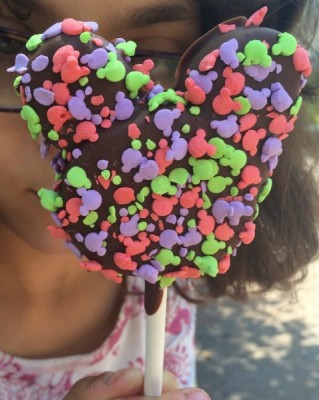 The Mickey head sprinkles really make this pop.
I couldn't resist the pineapple spear dipped in dark chocolate.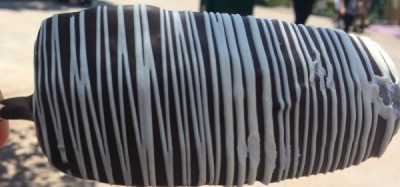 Pineapple spear dipped in dark chocolate and striped with white chocolate
We paid for our purchases, and the total came to $8.48. There is no seating here, so we took our treats to a nearby bench right outside.
After some negotiating, my daughter reluctantly allowed me a tiny bite of her cake pop. The cake portion was moist and not overly sweet, and she informed me that the marshmallow ears were delicious.
As for my pineapple spear, the dark chocolate went so well with the juicy, fresh pineapple. This was a bit messy to eat; occasionally some of the chocolate would fall off the spear in chunks, and I was able to catch them, but they almost immediately started to melt in my hand. Grab napkins for this one, folks.
We were both very pleased with our sweet treats from Marceline's, and will definitely return in the future to sample some others!
What is your favorite sweet to get from Marceline's? Share in the comments!
Incoming search terms:
https://www themouseforless com/blog_world/marcelines-confectionery-disneyland/