This post may contains affiliate links for your convenience. If you make a purchase after clicking a link we may earn a small commission but it won't cost you a penny more! Read our full disclosure policy here.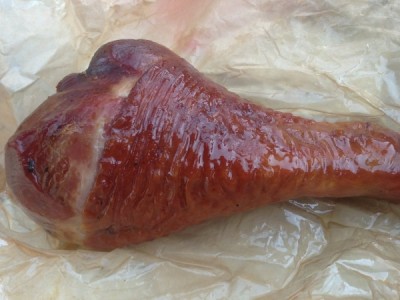 It's time to cure the Monday blues with a solid dose of meaty goodness. Nothing makes a man beat his chest and grunt like hearty turkey legs. The moment you wrap your paws around one of these gigantic smoked drumsticks, you're immediately transferred back to prehistoric times. I swear, I've witnessed a man's beard grow while devouring one of these. Maybe that's because it takes so long to eat one. You'll literally feel like a caveman roaming the parks with one of these big guys in tow.
The jumbo turkey legs are one of the most popular snacks… or meals.. at Walt Disney World. In fact, it's so popular that it has its own line of souvenirs! It's no surprise that the meaty snack is so loved – what red-blooded American doesn't enjoy a huge chunk of meat on a stick?
Of course, these over-sized bird legs have been subject to much speculation. It's hard to believe that there are turkeys with legs so massive! That's a whole 'lotta squats! Fear not, fellow carnivore, it's been proven that these babies are all turkey – not ostrich, emu or some other giant bird! Not only will these one of these fill you up, it'll take up a huge portion of your daily calories. These "snacks" weigh in at over 1,000 calories and pack over 15 grams of fat! But you know what they say: there's no calories in Disney! Plus, you can easily work it off in a push-up contest against Gaston.
Last time I checked, this smoked snack cost right around $11. It can be found at pretty much any park in Walt Disney World, with the exception of Disney's Animal Kingdom, but nothing beats chomping down on one in Frontierland! It does not count as a snack on the Disney Dining Plan. Will you be indulge in a turkey leg during your next trip?