This post may contains affiliate links for your convenience. If you make a purchase after clicking a link we may earn a small commission but it won't cost you a penny more! Read our full disclosure policy here.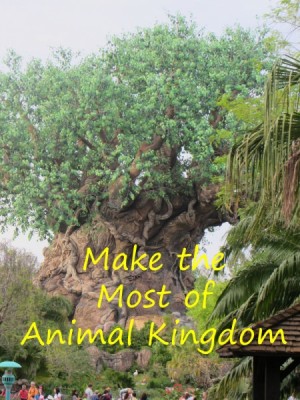 Whether you spend a full day at Disney's Animal Kingdom or only hop over for a morning, afternoon or evening, here are some quick tips to help you make the most of your time at the park.
Like all of Disney's parks, it is always a good tip to get to the park early.  Arriving at the park 45 minutes early can save you a lot of time once the park opens.  When you are there early, you are able to get through security, take a bathroom break and take a breath before the park officially opens.  Also, Animal Kingdom is known for opening the gates a little early and allowing guests through the first part of the park (The Oasis) so if you are there early you can take advantage of this and head towards your first ride.  Although cast members will prevent you from going too far, getting a head start on the crowd will give you a step up on the day.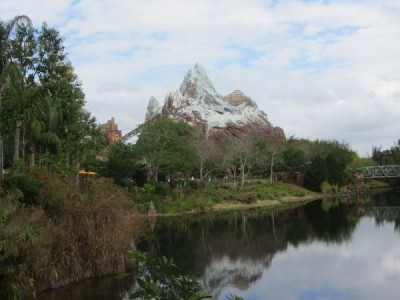 Expedition Everest
Disney's Animal Kingdom has a limited amount of major rides that draw the most of the guests which means they get busy quickly.  Making your FastPass reservations as early as you are allowed (60 days ahead of your vacation for Disney resort guest and 30 days for non Disney resort guests) is extremely important.   Expedition Everest, Dinosaur, Kali River Rapids and Kilimanjaro Safaris are all rides that would benefit from getting FastPasses for before arriving at Animal Kingdom.  Taking advantage of this option will help limit your wait for these highly popular rides.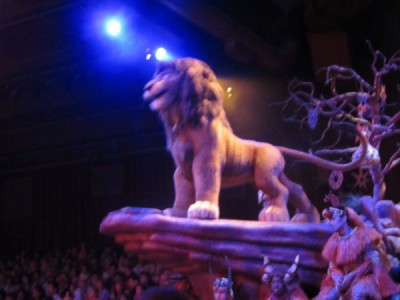 Simba in The Lion King
Disney's Animal Kingdom has some amazing shows that are unlike any other in Disney.  Make sure you take time to swim along with Nemo and friends as amazing puppets tell the story of Nemo in a breathtaking performance of Finding Nemo: The Musical.  Roar with Simba and friends as the story of the Lion King is retold through moving music and outstanding acrobatics with Festival of the Lion King.   Fly away with the Flights of Wonder as a variety of birds perform unique tricks that will leave you in awe.  Each of these shows will entertain and wow the audience members so don't miss out.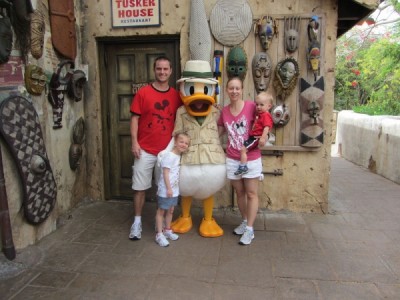 Family at Tusker House
As with all the parks and resorts throughout Disney, Disney's Animal Kingdom has a variety of great food options that you would be missing out if you didn't stop and try.  Flame Tree Barbecue and Yak and Yeti are both quick service restaurants that are unique to Disney's Animal Kingdom park.  Try some amazing BBQ or delicious Chinese food at one of these two amazing choices.  
If you are looking to sit down for a longer meal, grab a bite to eat at Tusker House where Donald and friends will meet and greet you as you try an assortment of food from Africa as well as traditional American cuisine.   Throughout Disney's Animal Kingdom you can grab a variety of snacks that are unique to Africa, Asia or even dinosaurs.  Okay maybe not dinosaurs exactly; however, there is some delicious ice cream available in Dinoland.  While you are in the park, make sure you take a moment to grab some food.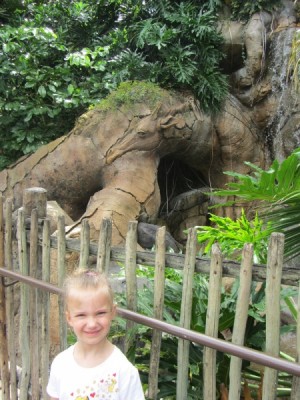 Daughter with Giraffe
You can't visit Disney's Animal Kingdom and not stop and take in the Tree of Life.   This terrific tree is something that you need to truly stop and walk around in order to fully appreciate the uniqueness.  Challenge your group to find different animals.  Take pictures with your favorite animal or act out different animals that you see.  Don't miss this amazing creation while you are running from ride to show.  Slow down and take it in.  You won't regret it.
Gorilla in Pangani Forest
Another thing you don't want to miss while at Disney's Animal Kingdom are the animals.  Make sure to take in all the amazing animals that are hiding throughout the park as well as the unique habitats they live in.  From the gorillas in the Pangani Forest and the tigers on the Maharajah Jungle Trek to the monkeys swinging around out in the open, Disney's Animal Kingdom has a variety of fun animals that you can see throughout the park and learn about them and their habitat.  Take the train out to Rafiki's Planet Watch and learn about animal habitats from around the world and also how Disney provides expert care to the animals throughout the park.
Of course all this just scratches the surface, as brand new nighttime entertainment offerings will soon begin at the park beginning April 22. New events will include Rivers of Light nighttime spectacular, a nighttime version of Kilimanjaro Safaris, evening live entertainment options, and more.
No matter how long you plan to stay at Disney's Animal Kingdom, use these quick tips to help you get the most out of this unique park.
What is your favorite part about Disney's Animal Kingdom? And what are you looking forward to with the new additions? Share in the comments.