This post may contains affiliate links for your convenience. If you make a purchase after clicking a link we may earn a small commission but it won't cost you a penny more! Read our full disclosure policy here.
By Debbie Boehm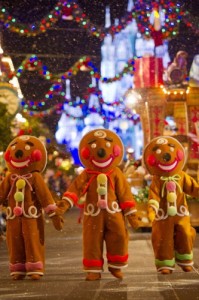 I love Disney.  There, I said it.  It's a confession and a proud statement at the same time.  It began when I was a little girl with Peter Pan decorations on my bedroom wall and it continues to this day when I watch "Once Upon A Time" on Sunday nights.  And I love making new Disney memories.
Where did this obsession actually begin?  Well, in my first picture with Santa in 1954 there are pictures of Mickey and Pluto on the walls behind Santa's chair.  Then there was Sunday night television with Walt Disney.
As a child I can remember seeing all the Disney movies when they were released.  My most vivid memory was "Mary Poppins" at Radio City Music Hall in New York City.  To this day when I watch Julie Andrews and Dick Van Dyke in that movie I am thrown back to Radio City Music Hall with my parents, sisters, aunts and cousins.
This same phenomenon occurs every time I visit Walt Disney World.  Every time I arrive at the Walt Disney World Resort I remember my firsts – first trip in 1975 with co-workers, my first anniversary trip with my husband and our first family trip with our three children in 1993.  Call me crazy but I'm pretty sure this is why we return each year (sometimes more than once).
As I write this article, it is nine days until we head down to Walt Disney World.  This trip is our first time we'll be there for all of the holiday festivities.  Although we have been to Mickey's Very Merry Christmas Party, it was during the first week and decorations were put up the night before we were leaving.  I am very excited to be able to see the parks and resorts in all their holiday glitz.
I know for a fact that I'll want to go back every year at the same time because I'm sure to make some fantastic memories with our niece and nephew.  We will stay at a Disney Vacation Club resort for the first time.  Also, for the first time, we'll be attending the Tomorrowland Terrace Dessert Party and we'll play both Sorcerers of the Magic Kingdom and the Pirate Adventure in the Magic Kingdom.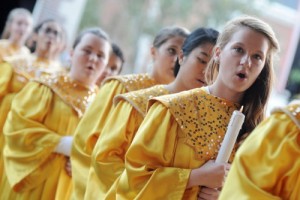 Heading on over to Epcot for the Candlelight Processional and the holiday story tellers and you've got me in tears.  For those of you who've done the math, I am just shy of my 60th birthday and more of a kid than ever when it comes to anything Disney.
As a child, I lived in a neighborhood in Brooklyn, New York where Christmas lights were incredible.  Garland was strung across our main street where all of our favorite stores were located.  Main Street in the Magic Kingdom will certainly evoke all those memories.  A family we knew had an entire town in their garage and enough crystal lights to look like a movie set.  For the first time I expect that my memory will pale when I see the Osborne Family Lights at Hollywood Studios.  I'm fully prepared to cry like a baby standing there among the spectacle and be in awe of the beauty.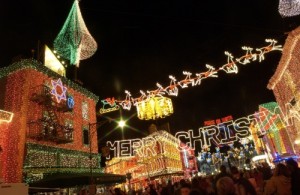 In addition to all of the decorations and the parties I'm looking forward to special desserts to be served during the holidays.  Gingerbread shingles, cupcakes that look like Santa Mickey, cookies decorated with characters.  Why, there's even a five legged goat treat at The Contemporary!
(For a full look at Walt Disney World's Holiday experiences, visit: https://www.themouseforless.com/tripplanning/wdwparks/annual/holiday.shtml )
Planning this particular trip was so much fun because we were able to plan to make the most of the special events.  There will also be filming in the Magic Kingdom on the last day of this vacation for the Christmas parade.  You honestly can't pack any more into one trip and, honestly, I'm worried that we'll miss something.  Then I remind myself that there's always next year.  After all, I have more memories to make!