This post may contains affiliate links for your convenience. If you make a purchase after clicking a link we may earn a small commission but it won't cost you a penny more! Read our full disclosure policy here.
Mickey Mouse shaped food. Iconic, right? I don't even like ice cream bars, but I have to get a Mickey bar every time we go to Disney World. Mickey shaped pretzel? I'm in! What could be better? Maybe some fried sweet dough, covered in powdered sugar…shaped like my favorite mouse! Mickey shaped beignets!
This pandemic is getting me down. We had a trip to Disney World in early June, and we have to reschedule. And while I completely understand, it's still a bummer. So like many people I know, I have been stress baking! (And playing some fun games like this.) I'm trying all kinds of recipes that I've never tried because I didn't have time. Well, I have nothing but time now! And three kiddos who are happy to try anything sweet.
I've made cookies, cinnamon rolls, pretzels, and Yorkshire puddings. (The Yorkshires didn't work despite the many episodes of Great British Bakeoff I've watched!) So when I saw that Disney Parks shared their recipe for Mickey shaped beignets, I had to try it. The only scary part for me was that I have never fried anything. Oh, I've eaten plenty of fried food; just never done it myself.
So, I got all the ingredients together and set off on a baking adventure!
Mickey Beignets: The Process
I used my stand mixer with the dough hook attachment to make the dough. It came together easily, and I kept it in the mixing bowl for the 30 minute rest. The dough should be smooth and shiny, not sticky at all.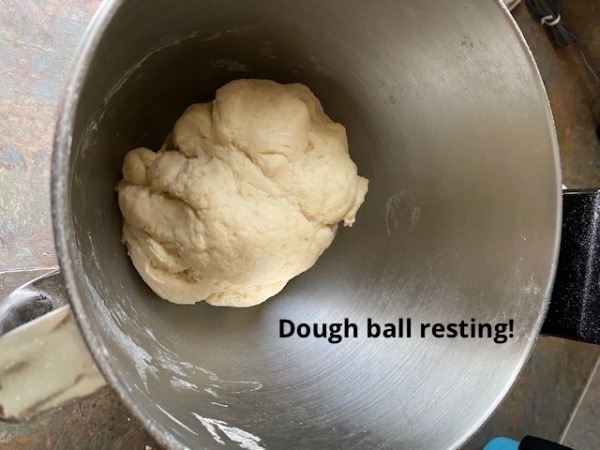 After 30 minutes, I rolled it out. I have a rolling pin with guides on the side, so I set it at 1/4 inch per the recipe. This seemed pretty thin to me, but I stayed true to the recipe. Then I used my Mickey Mouse cookie cutter to cut out several beignets. If you don't have a Mickey cookie cutter, you can cut them in to rectangles. I re-rolled the dough once, and I got 16 beignets total. The dough started to get tough, so I only rolled it out 2 times. Sixteen beignets seemed like plenty!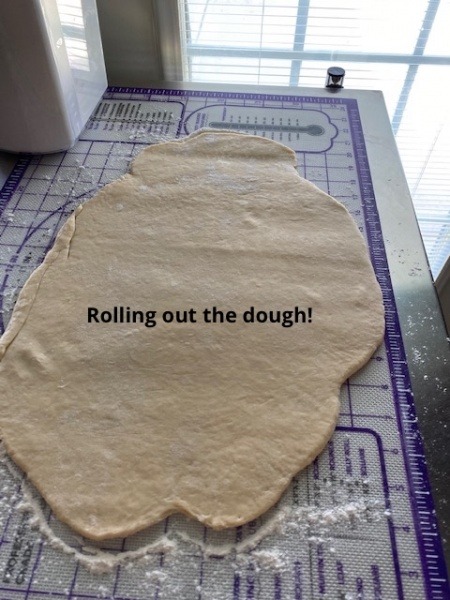 I put them on silicone baking mats and covered them with towels to let them rise for an hour and a half. They didn't double in size, but they did rise a bit. This recipe only calls for 1/2 tsp of yeast to 4 cups of flour. I didn't think they would double in size with that small amount of yeast.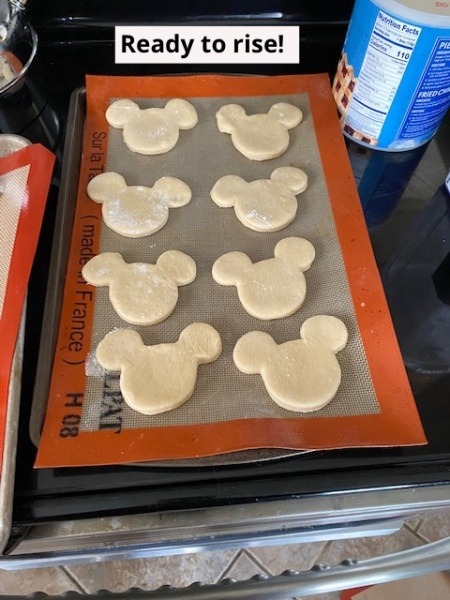 Next, I heated up canola oil in our cast iron skillet. The first beignet I dropped in the oil was overcooked on the outside! I opened it up to see how it cooked inside, and it was ok. So I lowered the heat on the burner and tried a few more. These turned out great. They puffed up in the oil but kept their Mickey shape. It didn't take long to cook all the beignets, and I dusted them with powdered sugar as they were cooling on paper towels. I served them warm to the kids, and they devoured them! Yum!

The Verdict
These beignets are delicious! Making Mickey beignets was a challenge for me, but it was a lot of fun! And they turned out great. That definitely helps! My family misses Disney World right now, so I'm trying my best to keep our spirits up. Mickey shaped beignets were a morale booster!
Do you often get beignets when you are at Disney? Share your thoughts in the comments, or on Facebook or Twitter!
Did you like this article? Make sure to share it with your friends! Check below for easy ways to share!
Want to visit a Disney Destination? Contact The Magic for Less Travel for more information and a free, no-obligation quote.