This post may contains affiliate links for your convenience. If you make a purchase after clicking a link we may earn a small commission but it won't cost you a penny more! Read our full disclosure policy here.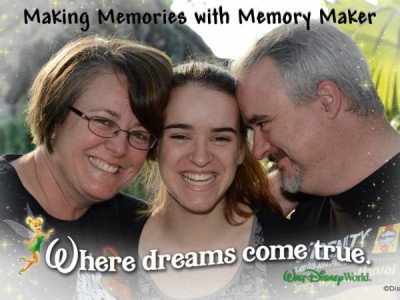 My family is all about making memories. We travel often to all corners of the world and we usually have our smart phones and at least one camera each (digital quick shot or digital SLR's) in tow as well. I am the most avid of the photographers, so most of our travel photography is of the amazing sights of the exotic locale or close ups of architectural significance. There are always a few hundred of my husband and daughter and it's common for my family to take between 500 and 1000 shots a day. However, after our trips, it is not uncommon for people to ask if I actually went on the trip with my family. After all, I am almost always behind the lens of the camera. This is what I love – capturing those moments when we are enjoying, learning, and experiencing.
Mine is not the only family to experience this. When traveling, someone has to take the photo and often asking a stranger is daunting due to language, safety, or social barriers. Disney Park trips often see family reunions where members have not seen each other in quite a while. It is possible that groups of people at the parks will not have a chance to see each other again for many more years. So, which of the family should stand out to take the photo? Happily, Disney has taken this into consideration and many years ago they introduced the Disney's PhotoPass service: a service where the Disney Photography Cast Members will take your photos for you at some of the iconic locations and meet and greets.
I absolutely love PhotoPass. PhotoPass is offered at all the US Disney Parks and Resorts, as well as, the Disney Cruise Line. (However keep in mind, the process is a little different on the Disney Cruise Line.) The service is free to use and you have the option of purchasing the photos later if you would like. It's not inexpensive to get that perfect shot of your child with their favorite character and you and your partner looking on in rapture, but buying individual shots is not the best way to experience PhotoPass.
Walt Disney World has been offering photo packages for a while now and they updated the program to Memory Maker in 2014. For those of you undertaking a trip to Walt Disney World in the near future, this is a program you might want to consider.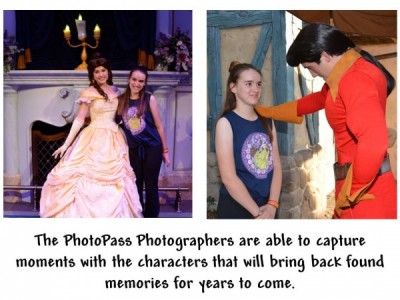 What is Memory Maker?
Memory Maker is an add-on package to your Disney Theme Park/Resort package. Anyone staying on or off site can purchase the package. It offers unlimited photos taken at hundreds of Disney property locations including (but not limited to) iconic locations, attraction photos, some dining locations, and many character meet and greets. It uses the PhotoPass photographers so if there is a PhotoPass photographer there, they can take your Memory Maker photos. The program allows you and everyone in your party to take photos and save them in one account. When you get home, you can download digital copies of all of your photos. The more photos you take, the less each photo costs because it is a set fee.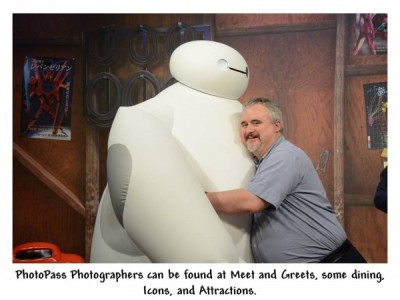 What are the benefits?
With Memory Maker you receive all photos taken by the PhotoPass photographers in all locations. This includes photos taken at Character Meet and Greets and photos taken at some of the dining locations. You will also receive all of the ride photos taken of your group (if you have your magic band synced with your Memory Maker – more on that later – you will automatically see your ride photos and videos on your account). Another fun Memory Maker benefit is 'magic shots'.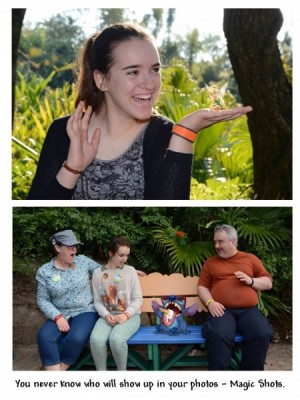 What is a Magic Shot?
Magic shots are a special offering through PhotoPass and Memory Maker. The photographer will ask you to hold a pose and then they will key in a code into their system before they take the photo. Through these keyed in numbers, certain surprises manifest on the image. Exclusive to Memory Maker are moving magic shot enhancements.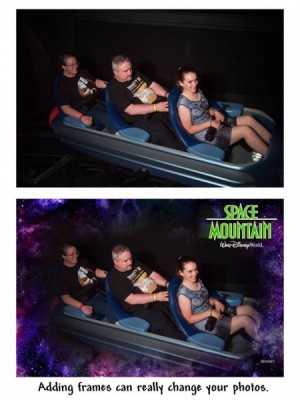 What are the issues?
Issues seem to be rare with Memory Maker. However, the most common complaint is misplaced photos. Sometimes you will find another family's photos on your account; this is easily dealt with by simply deleting the photo. Sometimes one or two of your photos may be missing from your account; this is a bit more difficult to deal with. You will need to make a lost photo report as soon as you notice that photos are missing. To do this, you go on the website and fill out a missing photo report. The more information you can give them, the better chance you will have of the photos being found. You will need to know where, when (approximately), who was in the photo and what they were wearing. There is a section where you can upload a photo of your group as well. This all helps to find your photos. Out of approximately 650 photos we have only had one set of photos and one attraction photo go missing. The photos were found; unfortunately, the attraction photo was not. But one photo out of 650 is not a bad success rate.
Other issues that can arise are quality of the photo. Occasionally, the sun is not your friend and you might be looking into the light when you are having your icon photos taken (resulting in squinty photos). This is easily corrected by going to the back to the icon photos when the sun is in a better position (or it's not pouring rain or the area is not as busy). Also, regarding photo quality, the photographers are required to use presets on their cameras. This occasionally will produce a poor photo. As you are able to check your photos online while you are at the parks, having a look at the photos from time to time means that you can assess if you will need to retake any photos.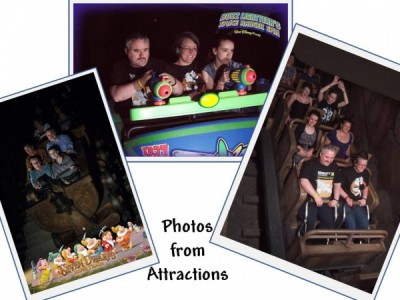 How much does it cost?
Memory Maker (includes digital downloads of every photo taken during your stay): $169.00
Memory Maker – Advanced Purchase (purchased at least 3 days before your visit, includes digital downloads of every photo taken during your stay): $149.00
Single Photo Downloads: $14.95
Additional photographic products and prints: See website for prices
Where/how do I get it?
If you are not yet on property, then you can go to https://mydisneyphotopass.disney.go.com/. This is the entry site to PhotoPass and its products. From here, select Walt Disney World and log in to your Disney Account. Now you will need to decide which product you want to purchase. If you are four days out or longer, then you can pre-purchase at the reduced rate. Any later than that, and you will need to purchase it at full price or you will miss having your first day or two not included in your Memory Maker.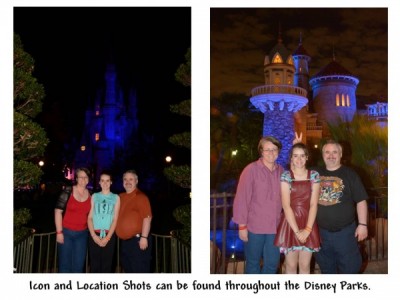 I have Memory Maker, now what?
Once you purchase your Memory Maker, link your Disney account to those people with whom you are traveling. Yes, this could be your entire family reunion group, your friends, or your group (sports team, school, etc.). If you are wearing magic bands and they are linked to your account, then you are ready to go. If you are not wearing magic bands, then you can collect a card from the PhotoPass photographer and link that card to your account later (If you are going to be using cards, make sure to take a photo of the back of your card so that you have the number in case you lose the card).
Now go and enjoy the park. Swipe your magic band or card each time you come to a PhotoPass photographer or at the end of attractions with photos. And that's it. It really is that simple.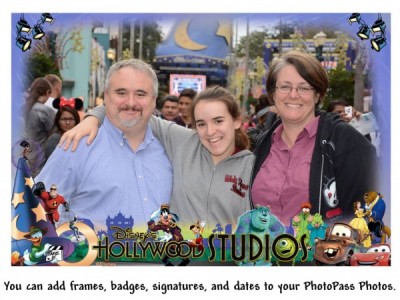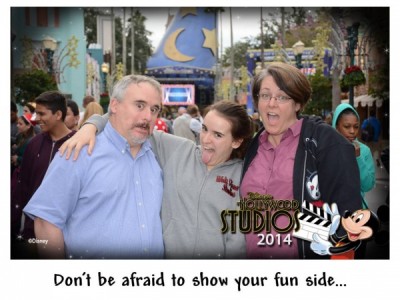 I would really like to show my parents just how much fun the kids are having. Can I send them a Memory Maker Photo?
The excellent new addition to the My Disney Experience app allows you to have a look at your PhotoPass pictures while you are still on site. So while you are waiting in a long queue, you can have a look at your photos. This will allow you to make sure that all of your photos are there and that they are good. You can also share your photos via social media and email.
Now it's time to say, 'goodbye'. What do I do when I get home?
When you get home, you will need to download your photos. You have 45 days from when your first photo was taken to download your photos. During the time in between, you can edit your photos, add special Disney badges, signatures, frames, and other enhancements. You can also upload photos that you have taken with your own camera to add and edit to them as well. You can use both the PhotoPass and your photos to make photo products such as mugs, calendars, and photo books (there is an extra charge for these products, please see the website).
Memory Maker is a generally excellent product that takes a bit of the worry of capturing the moment off the guest. If having those special moments on digital film is important to your family, I fully recommend the Memory Maker service.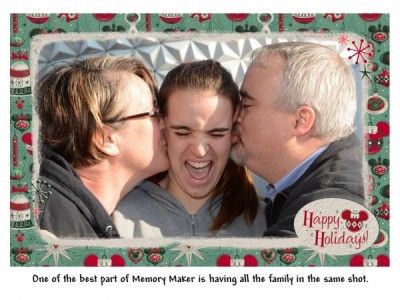 But we are not going to Walt Disney World! We are going to Disneyland, on the Disney Cruise Line, or to a Disney Resort. What about our family?
If you are going to Disneyland, to ESPN Wide World of Sports, or to Aulani, then you can go online and purchase the products for those locations (https://mydisneyphotopass.disney.go.com/). The Disney Cruise Line has its own program and more information can be found at: https://disneycruise.disney.go.com/guest-services/photography-service/.
All details and costs are accurate at time of publishing.
Have you ever utilized Disney's PhotoPass or Memory Maker? What are your best tips?