This post may contains affiliate links for your convenience. If you make a purchase after clicking a link we may earn a small commission but it won't cost you a penny more! Read our full disclosure policy here.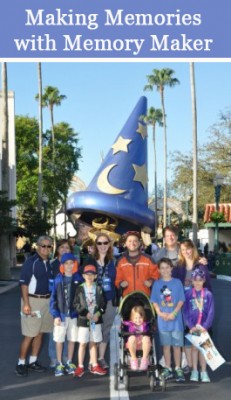 Our last trip to Disney was a group affair. We had our family of five, our best friends' family of four, and my father-in-law and his wife. We had never traveled with a group this large and we were a bit concerned about the logistics. One of the things we were excited…and nervous about was purchasing Memory Maker.
I am the photographer in the family so it was certainly one way to ensure that I would actually be IN some pictures. Memory Maker seemed like a great way to not only be in the pictures, but also to ensure some great shots and not have to pull out my camera every 5 minutes to capture moments that I could now enjoy fully, without viewing them through a viewfinder.  We would also save money buying them this way instead of individually.
But we had questions and concerns…how would this work with a group? Could we split the cost? What if we weren't always together? Would all of our pictures make it to our account or would they be lost in cyberspace? How did we let the photographer know that we had Memory Maker? Was it worth it? Would there be a lot of opportunity for pictures? Could we just buy it when we got there?
Our first step was to order the Memory Maker ahead of time. We saved $50 buying it this way and if we had waited to buy it there, then three days of our trip would not have been included. Our price was $149 instead of $199 if you waited to purchase it at Disney.  I paid for it and our friends and family gave me the money for their portion. We had bought 4 pictures on a previous trip and spent around $50, so splitting it three ways we were only spending $50 with the potential to get dozens of pictures! To ensure that all our photos would be accounted for, we made sure to purchase it online more than three days before we left and I made sure to link it to our trip in my My Disney Experience account.
While I was the one who had purchased the Memory Maker package, we knew we would not be together all the time. So how would we ensure that we captured all the photos from our trip? My in-laws' and our trip were already linked together in My Disney Experience, but what about our friends? We discovered that all we had to do was make sure that we were all Friends in the Family and Friends section under My Account on My Disney Experience.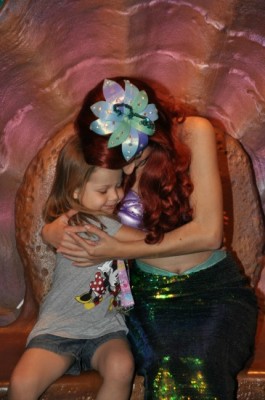 What next? The next part was easy…just go to as many Disney PhotoPass Photographers, character meet and greets, and participating rides as you can and make sure to tell the photographer that you have Memory Maker. They scan your Magic Band and that's it! Easy peasy.
The ride photos were actually a pleasant surprise; we did not know that we would receive those pictures too! After a ride, you viewed your picture and went to the station with the picture number.  They would scan your Magic Band and off you went.  (Ed. note:  Just recently, Disney rolled out the perk where if you have a MagicBand, your on-ride photos will be automatically uploaded to your My Disney Experience account, without you having to do a thing! They should be found in your account within 24 hours of riding a particular attraction.  In addition, any ride that offers on-ride videos can also be found in your account too.)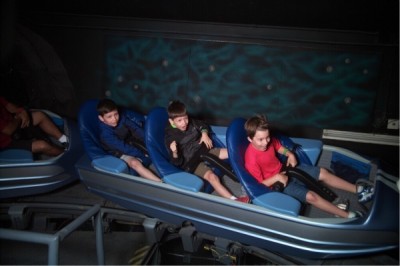 We also received a card for our experience at Enchanting Tales with Belle that we were able to link to our Memory Maker and get all of those pics too!
What's great is that at some photo spots you can even do fun pics like making silly faces, hold Tinkerbell in your hand, or hold a frame to make your pictures more festive.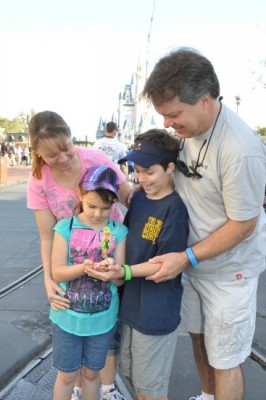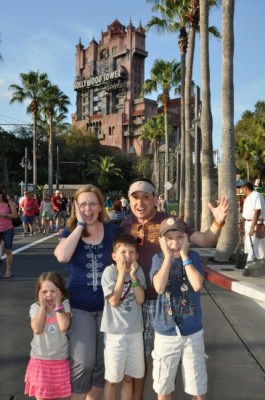 Our vacation was amazing and we were sad to see it end, but now we could see all these pictures that we had taken and those on the Memory Maker and reminisce and relive our fun. So I hop on to My Disney Experience and check out our photos. We took over 300 photos!! Rides, characters, entry photos, photos spots, night shots…all moments when I did not have to drag out the camera, moments when I could enjoy watching my kids faces as they met a character instead of trying to capture a good shot and adjust my camera, moments when I could be in the picture and part of the family. Priceless.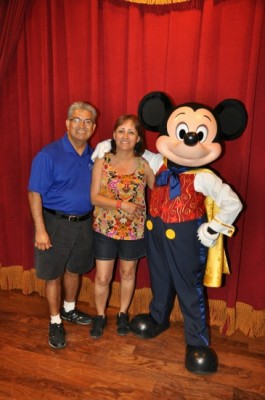 Uh oh…we did run in to one snag. For some reason my in laws had taken photos with Mickey Mouse and they weren't there! What do we do? Mickey Mouse photos are a big deal people!
I called Disney and my experience was beyond incredible. I figured the photos were lost forever somewhere in cyberspace. Instead, the customer service representative asked me what day and approximately what time they visited Mickey Mouse. He then checked out other photos of them from the same day, made sure that he knew who he was looking for and what they were wearing and spent 20-30 minutes chit-chatting with me while he scrolled through photos. Right as he was saying he might have to call me back and look some more, he found them! He attached them to our account and voila…there they were. Amazing!
Downloading the pictures was easy and they give you a license agreement so you can order your prints without hassle.  Keep in mind that you only have 45 days to download…so don't procrastinate.  Disney does send you a reminder email that your time is running short.
Was it worth it? Absolutely. Did it work with a large group? Absolutely. Would we do it again? Absolutely AND we would pay the full $149 if we were visiting the parks by ourselves too!
Have you ever used Memory Maker? Share your thoughts with us.