This post may contains affiliate links for your convenience. If you make a purchase after clicking a link we may earn a small commission but it won't cost you a penny more! Read our full disclosure policy here.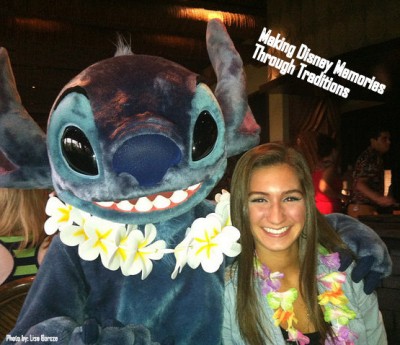 Traditions are like a rhythm something that is steady, dependable and unwavering. Just like the stuffing recipe that you make each Thanksgiving that was handed down from Aunt Betty or how on the first snow day everyone stays in their pajamas and eats cookies and hot chocolate all day. That is how I would describe the traditions that my family and I have established on our many treasured Disney World vacations. They are small moments that bring smiles to our faces and another memory tin the photo book of our lives.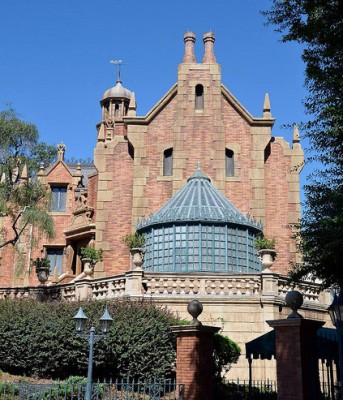 One of the must do items that we have established as a family is our first ride of the vacation. It happened partly by accident and partly by necessity. I had read that instead of starting your day at the front of the park with everyone else, start at the back of the park where the crowds have not migrated to yet. And so a tradition was born. The Haunted Mansion became the first ride of our vacation every year no matter what time of day we venture into Magic Kingdom. Come to think of it, that would be a tradition we have held firm to as well. We always go to Magic Kingdom on our day of arrival. We throw ourselves willingly into the smell of cinnamon buns wafting through the air, the sounds of Mickey and Minnie singing happily in front of the castle with Goofy, Donald and pals and the taste of freshly popped, fluffy kernels of popcorn bursting with buttery taste.
Speaking of popcorn that would be another tradition I hold onto in our family. My family would rather have a churro or a cupcake, but I simply must get a bucket of popcorn upon arrival as my first vacation snack. It must be a bucket, it certainly cannot be a small bag of popcorn otherwise I wouldn't get to collect all those souvenir buckets.
Traditions don't stop at Magic Kingdom, going to EPCOT offers a whole new world of ways to celebrate each time we travel. Walking through World Showcase can certainly work up a thirst. A quick trip over to France has been able to accommodate my need for sustenance every time. A Grey Goose Slush in France or a Margarita from Mexico are just the potions this weary traveler needs after walking in the hot Florida sun. Of course not at the same time!  I love to sit by the fountains in France or at the foot of the Aztec temple in Mexico, relax and sip my refreshing beverage as I people watch excited visitors eyes wide open as they experience the many countries they have discovered. Undoubtable, before I have gotten to the bottom of my glass I have struck up a small conversation with a new found friend.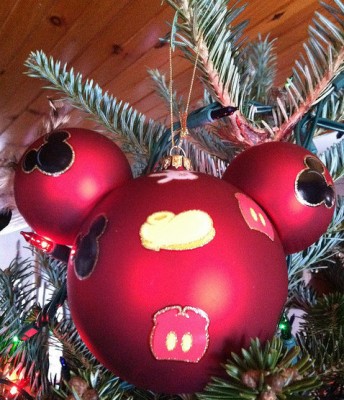 While I love to visit the parks day after day, eventually my family and I need to take one day to unwind and what better way to unwind than to do a little shopping. My first traditional stop at Disney Springs/ Downtown Disney is the Days of Christmas shop. I love all the bright, shiny, globes celebrating Christmas, the character ornaments, the ornaments that celebrate careers and the special people in your life.
You can have ornaments dated and personalized, plus the biggest bonus for me is that I can have my newly purchased treasure mailed home for a small fee. Considering that we fly to The World, this is a huge convenience for us. No one is forgotten in this store and to call is Days of Christmas doesn't do it justice as I have even seen Hanukkah decorations here. Every year we go to the store and every year I find another gem to add to the "family". It makes me happy to know that one day I will pass these beauties on to my children and their children, just like some of my non Disney ornaments have been passed on to me by my mother.
There is also a bench at Disney Springs/Downtown Disney that has Pooh, Tigger and Piglet and year after year as my children have grown I have asked, pleaded and on occasion bribed them to sit on the bench for a family photo. I knew I had gotten this right when during one visit with my then 10 year old he asked me "Don't you want to take my picture on the log with Tigger?" Even though he was solo on that bench, he was happy to take the picture and indulge me in the moment. As we walked away he reminisced about the other photos on that bench with his brother and sister.
Each year we are lucky enough to go back "home", we make new traditions. When we are back in the real world it is those traditions that we have created and carry on year after year that bring smiles to our faces and our hearts.
What are some of your favorite family traditions at Walt Disney World? Make sure to share them in the comments!