This post may contains affiliate links for your convenience. If you make a purchase after clicking a link we may earn a small commission but it won't cost you a penny more! Read our full disclosure policy here.
Edit: We've updated this article with a brand new bracket for 2018! Try your hand at our brand new offering.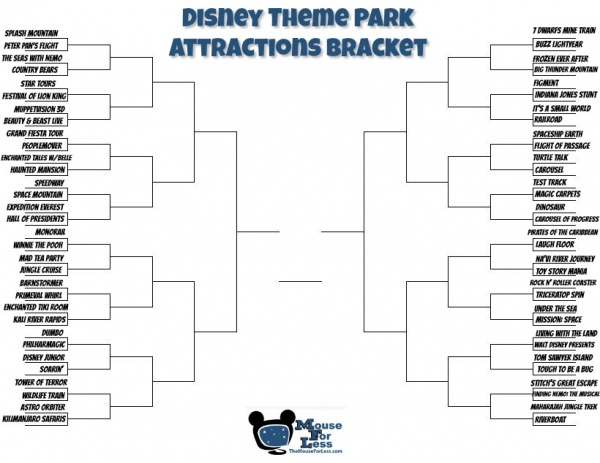 March Madness is ensuing upon us soon.  Many will associate the term with NCAA basketball where 68 teams compete the national championship title.  Each round eliminates half of the teams playing.  However, as a Disney household, we adapt the brackets for our own fun and enjoyment.  My husband is really the bracket mastermind and will spend time with my children selecting our starting competitors.  If you don't know how a bracket works, an actual bracket lists 64 "teams" (those extra 4 play an initial game to narrow down to 64) that are paired up according to seed, which means rank in their region.  So the top seed is paired with the worst seed.  It sounds easy enough right?  Like all of the top seeds would always advance?  But no, there are many  – what they call "upsets" – that happen.  And of course there's the whole chunk of teams that are in the mid-ranked seeds, which can make deciding on your own winner, a challenge!
In 2014, and again in 2015, the Disney Parks Blog matched up thirty-two Disneyland and Walt Disney World Attractions in a bracket that framed the attractions as teams.  They even went as far as to sell t-shirts with each "team's" logo, to the public during each round.  They're so smart that Disney company.  (wink)  The Disney Parks Blog executed this bracket with the help of social media, accepting votes from Facebook, Instagram, and Twitter.  Then after a specified time frame, the team with the most votes proceeded to the next round.  In the end, a team from either Disneyland or Walt Disney World would be named Champion.  We should know soon if there will be a 2016 match up!
At home, we play the Disney brackets during March Madness, and sometimes at other times because, well, because it's fun!  And even the youngest fans can play!  My husband starts the selection of the 64 "teams" by asking our children for suggestions.  The most popular are attractions, characters, and restaurants – each category getting its own bracket.  Sometimes it takes a little while to come up with 64 (think restaurants), and others we have to narrow down before we even start (think more than 64 characters).  My husband uses his own seeding system.  Let's take characters for example – he would consider the Fab Five, Princesses, Winnie the Pooh characters (because they're classics) higher seeds than Pixar characters.  Of course this isn't an exact science, or math problem, so feel free to create your own system!  Then he fills in a bracket with 64 "teams" to start, prints them out, and then we fill them out!  When our little ones couldn't read, well one still can't, we just read the teams off to them and they vote.  If you're feeling productive, you can go right through the entire bracket and come up with your winner – and then of course debate with your family as to why yours is right!  Or, you can play a "round" (another elimination), every couple of days to mirror a more NCAA-like schedule.
You can create your own bracket in many ways – you can simply write one out, you can use Excel, or you can use one of many free bracket generator sites available online.  When you create one online, there are character limitations so some abbreviation may be needed.  Most importantly, these are to have fun with – to bring some of the Disney magic alive at home.  I know that my answers can vary from one day to the next.  See below for how my "teams" did today!  And enjoy this game with your family and friends and let me know who your winner is!
Have you ever done something like this with your family? What March Madness Brackets would you come up with? Share in the comments!
Incoming search terms:
https://www themouseforless com/blog_world/making-disney-bracket-march-madness/
march madness disney attractions 2023
how to play brackets game for movie
make your own march magic bracket