Make Disney Dole Whip-Style Dessert at Home
This post may contains affiliate links for your convenience. If you make a purchase after clicking a link we may earn a small commission but it won't cost you a penny more! Read our full disclosure policy here.
Sharing is caring!
One of my favorite treats at Disney World or Disneyland is the classic Dole Whip. Eating one in Adventureland always hits the spot on a warm afternoon. But for the 51 weeks a year we're not at the parks, here's a quick and easy recipe mimicking this sweet pineapple treat so you can get your Disney fix by making Dole Whip at home!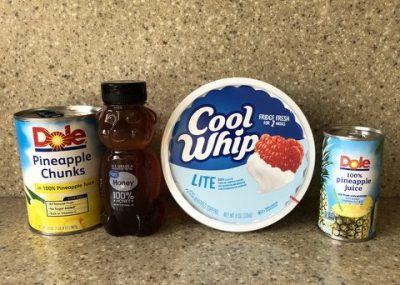 Ingredients
2 cups frozen pineapple chunks
6 ounces pineapple juice
8 ounces whipped topping (like Cool Whip)
3 Tbsp. honey (or 2 Tbsp sugar)
You'll need
strong blender
spatula
serving cups
Directions
**IN ADVANCE** freeze the 2 cups of pineapple chunks. I chose to do it flat in a zipper bag so I could easily break it up to fit into the blender.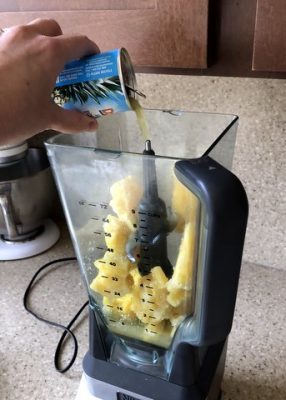 When you're ready to assemble the dessert, break up the pineapple chunks into the blender to fit around the blades. Add the pineapple juice.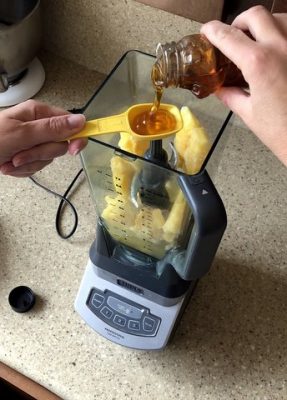 Measure out your honey (or sugar). Try not to get it on the sides because it won't blend as well.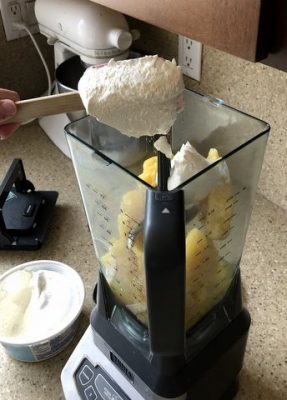 Put in the whipped topping in small chunks. I added half, blended the mixture most of the way, and then added the rest. You could add a little yellow food coloring if you want that pop of yellow.
One Dole Whip, deconstructed
After blending thoroughly, pour into small cups to serve. This recipe makes about 4-5 servings depending on how generously you dole it out. You could garnish with an umbrella or pineapple slice for a party.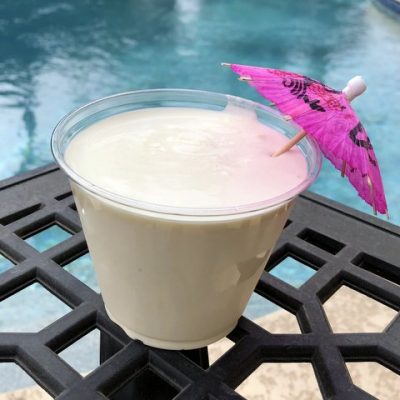 I was surprised at how fine the texture got, considering it isn't soft serve. (Note to self: get a soft-serve machine.) Some frozen yogurt shops now have the Dole pineapple flavor yogurt, so call around if the texture is your primary objective.
This easy homemade Dole Whip would be a great addition to a Disney trip reveal celebration, a spring wedding shower, a Moana movie night, or a pool party.
Have you tried any recipes for making Dole Whip at home?  Share your experience in the comments.

Did you like this article? Make sure to share it with your friends! Check below for easy ways to share!
Sharing is caring!
About The Author

VikkiT
I am a lifelong Disney lover who will never quite grow up. I love fireworks, roller coasters, and special Disney treats. My four children and husband have been brainwashed into a love of Disney by regular visits to Disney parks and a home life filled with Disney movies and characters. I love travel, writing, and reading.