This post may contains affiliate links for your convenience. If you make a purchase after clicking a link we may earn a small commission but it won't cost you a penny more! Read our full disclosure policy here.
There are meet and greets in every park.  And each park has at least one place where you can see multiple characters.  You've got The Toontown Hall of Fame (at least for a little while longer) in the Magic Kingdom, Camp Minnie-Mickey at Animal Kingdom, and the Animation Building in Disney's Hollywood Studios, and lastly you've got the Epcot Character Spot.  My favorite of the above mentioned "meet and greets" is the Character Spot in Epcot.
I especially like to head there as soon as the park opens.  While the crowd heads to Test Track, Mission Space, or Soarin', we head into the Epcot Character Spot for a visit with Mickey and Friends.  On our last visit, we first saw Mickey Mouse, and then we had a visit with Pluto.  After Pluto, we saw Minnie Mouse. We visited with Donald Duck and finally we saw Goofy.  On a previous visit we saw Chip and Dale instead of Donald Duck.  Best part of all…there's only one queue to stand in.  So you stand in that one queue line and then see five characters one after another, with only a very short wait (and most times no wait at all) between characters.
Another major bonus of the Epcot Character Spot is that you get one-on-one time with each character, so you get some amazing character interaction.  While visiting with Pluto on our last trip, Pluto signed my son's Pluto hat.  We didn't ask him to; he just grabbed the hat off of my son's head and asked for the marker.   My son was thrilled.  I think that souvenir is his favorite from the trip and Pluto's autograph makes it even more special.  The characters really take their time with each group of people!  On our last visit, we were a party of eight and at no point did we feel rushed with a character.

Another plus is the Photopass photographers at the Epcot Character Spot.  We've been at Camp Minnie-Mickey at different times.  Some characters had Photopass Photographers and some did not.  My first picture with Mickey Mouse is blurry because there was no Photopass photographer and the character handler didn't know how to work my camera.  At the Epcot Character Spot, Photopass photographers are there capturing every moment.  Some of the best candid shots we have of the kids with the characters were taken in the Epcot Character Spot.
In addition, there are some really fun backgrounds behind each character.  Each background seems to reflect Epcot in some way.  In some backgrounds, you see technology such as computers and cell phones, and in some backgrounds, you see plant life and trees.  With Mickey, we see the Monorail, Test Track, and Segways.  We think these fun backgrounds make the pictures even more enjoyable to look at after the trip is over.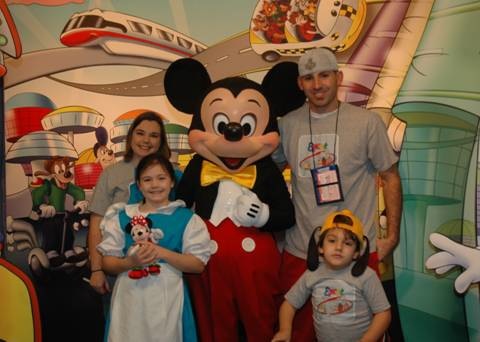 And lastly, and sometimes most importantly, the Epcot Character Spot is inside!  So that means that it is the perfect break from the weather, no matter if it is the heat, the unexpected cold, or a rainy day.
Mary Hogue