This post may contains affiliate links for your convenience. If you make a purchase after clicking a link we may earn a small commission but it won't cost you a penny more! Read our full disclosure policy here.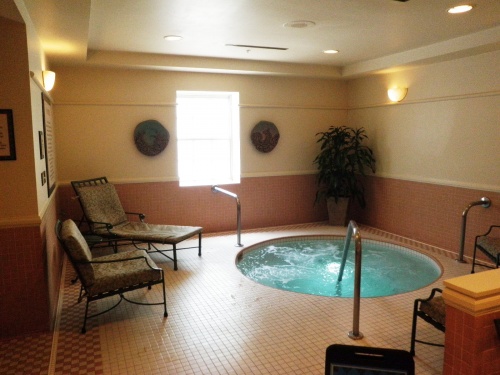 On our Disney trip in August, Chris gave me my favorite sort of birthday present – a spa visit! Since I have already tried out the Grand Floridian Spa (and it's going to be closed for the next 18 months) and the Mandara Spa at the Dolphin, I figured that it was time to try out the Spa at Saratoga Springs.  As I had with the Grand Floridian, I opted to go with their Signature Treatment, which in this case was the Mystical Forest Therapies (which they also refer to as the Zen Massage).  You have your choice of a 50 or 80 minute treatment and when in doubt, I say go with the longer one!
I had my treatment booked, and Chris brought me over to the resort, and then left me to head off to the arcade.  I headed into the Spa and checked in.  After giving my name, I was taken in and shown to the changing room where I picked out a locker and changed into a robe and slippers.  I took a few minutes to look around and check out the facilities. In the changing area there are the usual lockers and a changing room, a bathroom area and several showers; all stocked with yummy-smelling signature products.  There is also a hot tub with a deck around it, and in the same area you'll find a sauna and steam room.
Back upstairs I found my way to the Relaxation Room and settled down with a magazine to wait for my appointment to start.  This Spa is much larger than the one at the Grand Floridian, so the Relaxation Room is also much bigger, and it's a separate room instead of a lounge that is part of the locker room.  In this room you'll find some fruit as well as water and tea.
I was only there for a short time before my therapist came for me and introduced herself.  We chatted about my previous spa experience and what I hoped to accomplish from this particular treatment.  When we reached the treatment room she described the treatment and asked if I had any problem areas that I wanted her to work on.  She then stepped out while I got on the table and got covered.
The Mystical Forest Therapies is a regular relaxation massage combined with reflexology.  The idea behind reflexology is that there are areas on your feet (and other parts of your body, but in this treatment they focus on your feet), that correspond to different parts or systems of your body.  By putting pressure on these areas, or manipulating them with their fingers or thumbs, the therapists are able to effect change with those systems.
The massage was wonderful; the therapist was great with being able to do deeper pressure without it being painful.  This was the first time that I had tried reflexology, so I was excited to try it – I always love trying a new therapy.  I enjoyed it and the work on your feet consists of some pretty deep pressure, so if you prefer a lighter touch it may not be the best choice of therapies for you.  One of the reasons I had opted for the longer massage was so that I was able to do a full massage and have more time for reflexology. The great thing about the Mystical Forest Therapies is that it's sort of a "taster" of reflexology.  You are able to try it without having a full-length treatment (of only reflexology) in the event that you don't like it.  In talking with some spa staff I've learned that it's one of those things that some people love and some hate.
After my massage I had the usual time to slowly regroup while the therapist got me a bottle of water and then took me back to the locker room.  I took my time getting ready and changed back into my street clothes. I then headed back up to the lobby to find Chris who was waiting for me, and then we went off to lunch! ;o)
All in all, it was a wonderful birthday present, and I really enjoyed the Saratoga Spa.  I think each of the spas on property has great treatments and I'm kind of sad that the Grand Floridian Spa will be closed for so long due to construction.  I'm hoping that they move the signature treatments over to Saratoga for the duration.
As for reflexology – I'm a fan ;o)  I do tend to prefer fairly deep body work, so that's right up my alley.  I'm not entirely sure whether or not I believe that it can actually adjust the systems of your body but it definitely felt good.  I DID sleep much better for several weeks after, though that may also have had something to do with running around the parks.  I will definitely be back!
Incoming search terms:
how to make aroom look mystic and magical