This post may contains affiliate links for your convenience. If you make a purchase after clicking a link we may earn a small commission but it won't cost you a penny more! Read our full disclosure policy here.
Magically Speaking Featured Article
Library of Congress ISSN:1556-3863
Compiled by Erica Colmenares
It's traditional at the beginning of the New Year to look back on the old one. Often, we consider what we would change for the future. For this article, however, we want to remember the good times from the past! We asked TheMouseForLess members to share their most Magical Moments from 2006. And share they did! Got your hankie ready? Enjoy!
ºoº ºoº ºoº ºoº ºoº ºoº ºoº ºoº ºoº ºoº
Before our trip to Disney, I had postcards sent to our grandchildren. Four-year-old Grace got one from Cinderella, her favorite princess. During our trip to Disney, we had breakfast with the Princesses in Norway. As we were waiting to be seated, a manager was talking to us. He asked Grace who her favorite princess was. Grace, of course, told him, "Cinderella, and she sent me a postcard." We never thought another thing about it until we were seated and Cinderella came over to our table. She looked at Grace straight in the eye and said, "Hi Grace, did you get the postcard I sent you?" Wow, was that ever a Magical Moment!! (Submitted by Kathy D.)
ºoº ºoº ºoº ºoº ºoº ºoº ºoº ºoº ºoº ºoº
Jud from TheMouseForLess took this wonderful picture of my hubby, acting like a little kid who just saw his first snow flake at the Mickey's Very Merry Christmas Party! My hubby tends to be pretty serious about many things, but he looks like a BIG kid in this picture. It was pretty cool. All of us in our T-shirt sleeves and it looks like a blizzard! Awesome! (Submitted by Susan A.)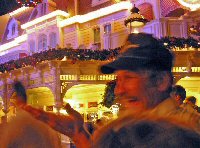 ºoº ºoº ºoº ºoº ºoº ºoº ºoº ºoº ºoº ºoº
I'm not sure if this counts as a "Magical Moment," but it was for us. On November 21st, we welcomed our first child into the world. Emma Elizabeth was born three weeks early but was and still is perfect. I think this qualifies as a Magical Moment for 2006 because she was the best little souvenir I've ever gotten at Walt Disney World. (Submitted by Tina in Pittsburgh)
ºoº ºoº ºoº ºoº ºoº ºoº ºoº ºoº ºoº ºoº
My most Magical Moment was in September during our trip to Walt Disney World. My boyfriend and I had recently gotten engaged and were celebrating that along with my birthday and my mom's birthday. We had dinner for my birthday at 'Ohana and because we both had on our engagement/congratulations buttons, the lady who leads the parade and sings during dinner came over to talk with us. She made my fiance and I leaders of the parade, official limbo stick holders, and then had all the children in the restaurant sing "Happy Engagement" to us. (Submitted by Beth Wolf)
ºoº ºoº ºoº ºoº ºoº ºoº ºoº ºoº ºoº ºoº
My most Magical Moment was watching the December 9 shuttle lift off, from the deck of the Magic . . . they kept us just off the coast until lift off. It was PERFECT!! (Submitted by Becky in FL)
ºoº ºoº ºoº ºoº ºoº ºoº ºoº ºoº ºoº ºoº
My family and I had completed our fourth day of non-stop Disney touring and were at the point of exhaustion. Rather than face the chaotic All-Star food court, we hopped a bus to the Animal Kingdom Lodge to eat at the Mara. We got lost inside the resort, backtracked, then got lost outside the resort before we finally dragged ourselves into the Mara restaurant. Finally, we were able to eat. Then my husband told me he felt a migraine coming on (BAD news!) and none of us were looking forward to the bus ride back to the Animal Kingdom, waiting in line, then riding another bus back to the All-Stars.
We were waiting for the bus back to the Animal Kingdom when a bus marked "training" stopped. "Harold" hopped off the bus and asked where we were going. We said we were going to the Animal Kingdom, but ideally, we wanted to go to the All-Stars. We were told we were going to be given "Special VIP Treatment." We were the ONLY ONES on the bus! Harold was training a new driver, David, and we were his very first passengers. He gave my daughters a Magical Moment certificate and some trivia trading cards. Harold and David drove us directly back to our hotel. They told us to look at the marquee on the bus when they dropped us off, that there would be something special. As we were walking away, it read "Mickey Mouse" We told the girls we were actually riding with the REAL Mickey in disguise. They thought it was great! We skipped back to our room in much better spirits, and my husband's migraine was gone. Now that's some real Disney Magic! (Submitted by Laura Briggs)
ºoº ºoº ºoº ºoº ºoº ºoº ºoº ºoº ºoº ºoº
We arrived early at the Magic Kingdom on our first morning. My girls (5, 9 and 12) were so excited. As the confetti was thrown and we entered the park, we came under the train tunnel past the park in the center of the street and the castle came into view. My daughter, Baylie who is 9, grabbed my arm and said, "Mom, I have tears in my eyes because I am so excited." I already had them and that just made it more so. Baylie has been through leukemia and we had not been able to go to Disney World for 5 years. She was so thrilled to be there and that one little statement made the whole trip for me. (Submitted by Kelly Hain)
ºoº ºoº ºoº ºoº ºoº ºoº ºoº ºoº ºoº ºoº
My family and I went to Disneyland in July, and my husband and I just happened to be celebrating our 25th anniversary. We had dinner at Goofy's Kitchen one night, and near the end of our meal, Goofy came over to say hello. He handed me a small box, and inside was the most beautiful antique ring. I gave Goofy the biggest hug of his life, and all the characters who came over that evening asked to see my ring. Fairy Godmother in particular was very impressed. It was certainly our most Magical Moment of 2006. (Submitted by Beth in CT)
ºoº ºoº ºoº ºoº ºoº ºoº ºoº ºoº ºoº ºoº
I had a really hard time with this. So I am going to narrow it to our Magical Holiday trip to Walt Disney World. For me, the Candlelight Processional was a moment I will never forget. The power of the music and the story were awesome and brought tears to my eyes. I love Christmas and I love Walt Disney World and being there at that time of the year with my two beautiful girls and my dear husband reminded me of how truly blessed I am. (Submitted by Deb Niarhos)
ºoº ºoº ºoº ºoº ºoº ºoº ºoº ºoº ºoº ºoº
Of course there are lots of Magical Moments in a year, but here's the one that sticks out. As a military family, we had tried in the past to get my husband signed up to be "veteran of the day" at the Magic Kingdom and help with the flag retreat. However, it was always booked up when we checked. This last trip, I asked our friends, who were already down, to go and get him signed up before we arrived (thanks, Steve!!!!!), and they were able to! So our first day in the parks this was all set up. As we are walking up to the hub area in Magic Kingdom where they do the flag retreat, my husband looks across and sees some more of our friends there to watch, Deb (from The Magic for Less) and her hubby Rick. We didn't know they were coming, but they had heard from Steve who set it up, and made a special trip out to watch. It really meant so much to me that they came. The whole flag retreat was very meaningful, but having them there really made it magical for us. (Submitted by Mic S.)
ºoº ºoº ºoº ºoº ºoº ºoº ºoº ºoº ºoº ºoº
My most Magical Moment of 2006 was earning my Master's degree in Speech Language Pathology for the University of South Florida in August 2006. I have worked seven years to earn this degree and I finally finished it. On graduation day, my husband John surprised me with a trip to Walt Disney World in December 2006 for 7 days and 6 nights at the Animal Kingdom Lodge. Plus, he booked Mickey's Very Merry Christmas Party for December 21, the first night we arrived. All in all, 2006 has been quite magical for me! (Submitted by Lisa Garrett)
ºoº ºoº ºoº ºoº ºoº ºoº ºoº ºoº ºoº ºoº
I believe my most Magical Moment this year was seeing Walt Disney World through my granddaughter's eyes. It was her first trip and she was just so cute the whole trip. At first, she was a little scared of the characters, but after a few times she got over that and she loved it. She had the most fun in Epcot, going around to all the Kidcot stations and learning all the things she learned. Her favorite meal was the princess breakfast in Norway. I wouldn't trade that week for anything. She's 4 now and she's planning her next trip here in June 07. She's so excited and full of energy about being there again. (Submitted by Barbara Harris)
ºoº ºoº ºoº ºoº ºoº ºoº ºoº ºoº ºoº ºoº
My family and I owe our Most Magical Disney Moment of 2006 to the Big Man Mickey Himself! In August of 2005, we went on well earned, well planned trip to Walt Disney World. Our family consisted of my husband, myself and our 13 year old son. When we arrived back from our vacation, we found out we brought home our own personal souvenir! We were pregnant! After 13 years of infertility, numerous procedures, medications/injections, visits to the doctor,. only to end up with empty arms! And all it took was the Magic of Disney, (as I truly believe) and a lot of prayers & wishes upon stars!
So, on April 26, 2006 a new Mouseketeer was born, almost 9 months to the day we arrived home from the Walt Disney World: Nicholas James Kwasnaza, or as we have nicknamed him "Nickey Mouse"! ! (Submitted by bea ºoº)
ºoº ºoº ºoº ºoº ºoº ºoº ºoº ºoº ºoº ºoº
We had been planning our October 2006 Walt Disney World trip for a whole year. We usually travel with my brother-in-law, his wife and my nephew. We have done this every year for the last 6 years. About the middle of May, they decided Walt Disney World was not for them. My husband was having second thoughts as well. My son, daughter and I convinced him that it would be fun to have an "our family only" trip. The plans were in the works once again. Then, about two weeks later, my husband began to feel sick. He had no energy and was tired all the time. After a trip to the doctor's office and a few blood tests, we found out that he was diabetic. He went on a strict diet and lost about 40lbs. It took him a few months to get back to feeling better. It was really down to the wire as to whether or not we would be going. I am happy to say October came and we boarded a plane to Walt Disney World.
We had a wonderful "our family only" trip. We got to ride so many more rides than on previous trips and got to do tons more stuff. Our most Magical Moment was while waiting to watch the daily parade at Animal Kingdom. We were eating snacks when a Cast Member came up and asked how many in our party. We told him four, and he said "GREAT, would you like to be in Mickey's Jammin' Jungle Parade?" My daughter was a little unsure, but the Cast Memeber told us we would be riding in the very last car with Mickey Mouse!!! We were all SO excited to say the least. The Cast Member took pictures of us on the float with Mickey. It was the highlight of our trip. It is something that never would have happened to us with seven in our party. We can't wait for our next trip in Nov. 2007. Once again, an "our family only" trip!!! (Submitted by Rebecca Bernico)
ºoº ºoº ºoº ºoº ºoº ºoº ºoº ºoº ºoº ºoº
The most Magical Moment for me this year was watching my parents with all seven of their grandkids at Disney World this summer! My parents had not been to Disney World since 1979!!!!! They wanted to be at the Magic Kingdom with all of their grandkids! So, being the "planner" of the group, I reserved breakfast at the Crystal Palace for all 13 of us (my husband and I have three kids and my brother and sister-in-law have four kids) for 8:10 a.m. on our first day in the parks. That meant being able to walk down Main Street U.S.A. and see the Cinderella Castle with VERY LITTLE crowds. I have the most wonderful picture of my parents in front of the castle with ALL of their babies!!
It was truly Magical watching my father ride Dumbo with my son Tyler. I remember the first time that I went to Disney World at age 7 and my dad rode on Dumbo with me. I found that picture of us on Dumbo from 1979 and put it in our scrapbook beside the picture of my dad riding Dumbo with my oldest son Tyler in 2006. Priceless. (Submitted by Kim)
ºoº ºoº ºoº ºoº ºoº ºoº ºoº ºoº ºoº ºoº
Well, I've never had an entire trip be Magical, but I think I can isolate 2.5 things from this year – all related to MouseFest (Land and Sea):
1) A lot of people seemed to know my name (and it didn't seem to be because of my name tags).

2) I got a wonderful picture of my best-Disney-friend's mother looking out of one of the large Wonder portholes. It's a great picture on multiple levels and considering I'm still trying to get used to the camera, I was darned lucky to get it.

2.5) I met Jud (a fellow MFL list member). Okay, maybe that wasn't TOTALLY Magical, but it was a great lift to a slightly arduous/disappointing day. 🙂
(Submitted by Malcolm Cleveland)
ºoº ºoº ºoº ºoº ºoº ºoº ºoº ºoº ºoº ºoº
I think for me, our Magical Moment was the night we were at the Magic Kingdom and finished watching Wishes then, instead of waiting in the large line to get out of the park, we decided to walk into Liberty Square and roam around and get something to eat. We saw there wasn't a line for Haunted Mansion so we decided to give it a try. Now, the last time we rode this both kids were crying and having nervous breakdowns. This time, we rode it and they loved it. We then walked on and rode it about 3 or 4 times. Wow, that was one of the best nights- no crowds and a great ride. We then strolled out to the empty buses. (Submitted by Dennis)
ºoº ºoº ºoº ºoº ºoº ºoº ºoº ºoº ºoº ºoº
My Magical Moment occurred in 2006, yet began in 2005. My husband and I took a trip to DisneyLand in December 2005, and our little souvenir was born August 24, 2006: Korey Michael. I tried and tried, but my husband would not allow me to name him Mickey! (Submitted by Karen Koser)
ºoº ºoº ºoº ºoº ºoº ºoº ºoº ºoº ºoº ºoº
Magical Moments for us at the last week of November and early December included wearing birthday pins and Anniversary pins for members in our parties. We were amazed at how much recognition people gave the "pinned ones." You should have seen the kids' faces when people said "Happy Birthday, Michael" or "Happy Birthday, Molly!" Our kids with birthday pins even got free special treats when they were getting a meal once. At our priority seating meals, they got cards. Our Anniversary couple with us got a special sweet treat at Boma, plus a card and at Crystal palace they were serenaded by Scherezada, our server and received a special anniversary certificate. Scherezada sang beautifully and looked shocked when we asked for her autograph. The kids got cards and a birthday cupcake at the Crystal palace also.
Another Magic Moment was that we needed to pick up our Mickey's Very Merry Christmas Party ticket and we needed a spare. I thought I had gotten one purchased on-line, but had not gotten the confirmation as I was away from home. I called Disney and a castmember checked and we had only purchased our tickets, but not the extra one. Aaack. They said there was no way we would get the $6 pre-purchase price on that last ticket. I was not happy, but was going to purchase it anyway. Then I forgot to get the tickets at the main ticket center. Finally at the park, we got to a ticket window to pick up the tickets and the cast member gave us the pre-purchase price on the spare ticket! Woohoo!! Not that it was a huge amount of money, but wow, it made us feel great! (Submitted by Susan in NE)
ºoº ºoº ºoº ºoº ºoº ºoº ºoº ºoº ºoº ºoº
I have 2 Disney and 2 non-Disney: Disney: Walking into Disneyland, after 17 years and many trips to Walt Disney World in between, and feeling like I was seeing everything for the first time. I felt like I was seeing what Walt truly intended. And meeting members of TheMouseForLess, realizing that I'm not the only Disney freak out there!
Non Disney: Seeing my 9 year old daughter, in her first season playing softball, getting her first hit. I was laughing so hard I was crying! And seeing a two day old dolphin at Sea World San Diego…it hadn't even been announced to the press yet! (Submitted by Michelle in MA)
ºoº ºoº ºoº ºoº ºoº ºoº ºoº ºoº ºoº ºoº
I must say my last trip, in October, was the most magical. Just the two of us, no kids, no kids, no kids, la, la, la, la, la, la!!!! We used our Disney Vacation Points to split our stay between Saratoga and Vero (gasp!). I had never left the Mouse before and was nervous that I would go through big withdrawal.
Check-in at Saratoga was awesome, no wait, room ready, first floor near everything . . . perfect for someone with a recently broken back! We got to our suite to find it all decorated with balloons and towel animals AND a certificate declaring us the family of the week. Thus began the Magic. We had 9PM reservations at California Grill. The perfect table with the perfect view of the castle and the fireworks. We had the most magical dinner, perfect food, awesome service and a great dessert. Pretty much our whole trip followed this pattern. We ate our way around the world in the Food & Wine festival on Disney Dining Plan snack credits. Took in a fun concert. Had fantastic weather everyday. We ate great, between the dining plan and Disney Dining Experience. We slept in everyday (GASP- no one can believe I slept in even once in Walt Disney World), swam, relaxed . . . it was amazing.
Then it was time to move on to Vero Beach. I was nervous. But yet again, tons of Disney Magic. Our room had a very private balcony on the ocean. We took walks on the private beach, making my back feel better each day. (Submitted by Cheryl, now recovering from surgery on a broken arm and the recent death of her grandma)
ºoº ºoº ºoº ºoº ºoº ºoº ºoº ºoº ºoº ºoº
My most Magical Moment was in October when I took our newly adopted 13 year old daughter on a mother/daughter trip. She had never been to Disney World before and I had only been a few times in my life. As soon as she saw Cinderella Castle at Magic Kingdom she started to cry and kept saying "I can't believe I am really here! Is that really the castle? I can't believe I am really seeing the castle!" She kept going on and on. Made me cry! (Submitted by Melissa in Ohio)
ºoº ºoº ºoº ºoº ºoº ºoº ºoº ºoº ºoº ºoº
My family went to Walt Disney Wolrd this February 2006 for the first time. I traveled with my husband and our two boys (2 and 6 at the time). Well my six year old Daniel loves the Lion King. We took him to the show at Animal Kingdom and he wasn't really sure what was going on until it started. My goodness, I have never seen a smile so big. I start to cry as my baby was picked to be apart of the show. He stood under Pride rock then looked over to where my husband sat and we saw a tear fall down his cheek. When we came back to our seat he looked at us and all he could do was say thank you for making my dreams come true. That whole day he has a look on his face that I can only describe is true happiness. (Submitted by Sonya in Fort Polk, LA)
ºoº ºoº ºoº ºoº ºoº ºoº ºoº ºoº ºoº ºoº
We told you to get your hankies!! Thanks to everyone who shared a bit of their personal Disney Magic with us!