This post may contains affiliate links for your convenience. If you make a purchase after clicking a link we may earn a small commission but it won't cost you a penny more! Read our full disclosure policy here.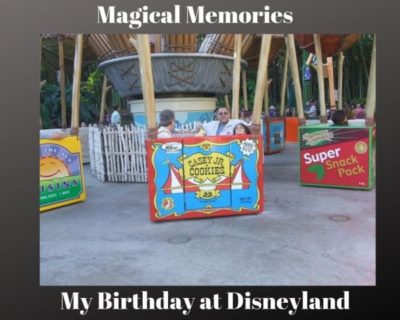 Gone but not forgotten: Flik's Flyers
I've been a hardcore Disney travel fan since 1976, so when people ask me when I first was a on a Disney trip on my birthday, they're surprised when I told them it was for my 43rd.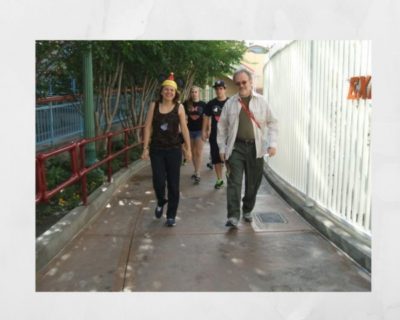 Exiting California Screamin', another attraction that's no longer with us
The reason for this is fairly simple. My family has always been non-peak season traveling people. My parents took us to Walt Disney World during peak season exactly once: during Spring Break in 1976. Ever since then, they'd take us during seasons when the parks were traditionally less crowded: early January, late September, early November, early December.
And my birthday is smack in the middle of summer.
But when my daughter was old enough to attend school, my husband and I started taking Disneyland, Walt Disney World, and Disney Cruise Line trips during her school breaks. We were pleasantly surprised to learn that if you plan it correctly, it is definitely possible to have a great Disney trip even when school is out.
So when I was about to turn 43, we decided to have a Disneyland trip, three days long, with the final day being my actual birthday. My parents came along. We booked two nights at the Disneyland Hotel.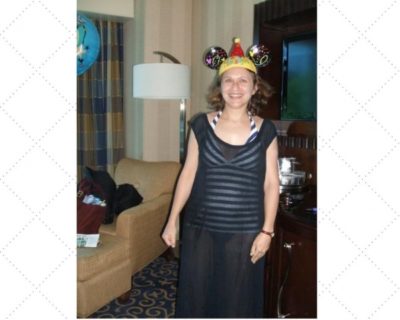 Ready for the pool with my new ears!
My husband surprised me by ordering a birthday package for our room. There were presents and decorations, including a very loud Mickey Mouse balloon that sang "Happy Birthday" every time it was tapped. It also included a light up "It's My Birthday!" necklace and monogrammed birthday Mickey ears.
Our first day we spent at the Hotel, enjoying the monorail themed pool, shopping in the Fantasia Gift shop, having lunch at Tangaroa Terrace and dinner at Goofy's Kitchen. I wore my necklace and my ears, and our server brought a birthday cupcake to our table. Of course they sang the Goofy's Kitchen birthday song! (Sing along with me: Happy, happy birthday, from Goofy and his crew! Happy, happy birthday, from all of us to you . HEY!)
We were up bright and early the next day to take advantage of Early Entry to California Adventure. My Dad and I rode California Screamin' together. My daughter played at the Midway Games and wound up with three stuffed animals. For dinner, we ate at Ariel's Grotto, and included in our prix-fixe dinner was a special birthday dessert for me!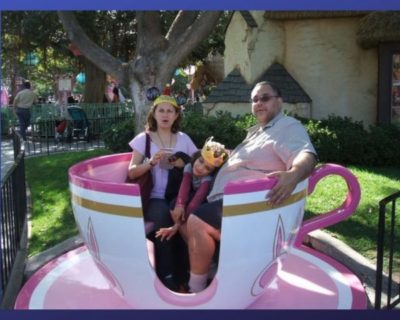 Wearing my ears on my birthday!
On my actual birthday, we woke up early once again to use Early Entry to get into Disneyland Park. For the third day in a row, I wore my birthday ears, and during the Soundsational Parade, Tiana waved at me and yelled "Happy Birthday!" Our lunch was in the Blue Bayou, where our server waited until after we had already ordered dessert to bring all the desserts we ordered PLUS a birthday mousse for me. We were all stuffed by the time we were done!
On the way out of the park, we found a little girl who was wearing a birthday button and asked her mother if we could give her the singing Mickey birthday balloon. (After hearing that balloon sing for about 600 times – we were seriously ready to get rid of that thing.) I hope that little girl had as much fun on her birthday that I did on mine!
Did you like this article? Make sure to share it with your friends! Check below for easy ways to share!
Want to visit the Disneyland Resort? Contact The Magic for Less Travel for more information and a free, no-obligation quote.

Incoming search terms:
goofy kitchen will they sing happy borthday?