This post may contains affiliate links for your convenience. If you make a purchase after clicking a link we may earn a small commission but it won't cost you a penny more! Read our full disclosure policy here.
In each issue, we feature a magical memory submitted by one of our readers. We look forward to sharing your memories in upcoming issues!
Published on: Dec 15, 2010
This week's photo was submitted by Theresa Kulikowski.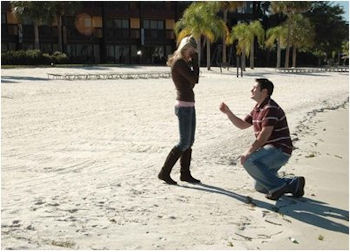 This is a picture of my fiancee proposing to me at the Polynesian in January 2010, after we'd run the Half Marathon together!
---
Published on: Dec 1, 2010
This week's photo was submitted by PJ.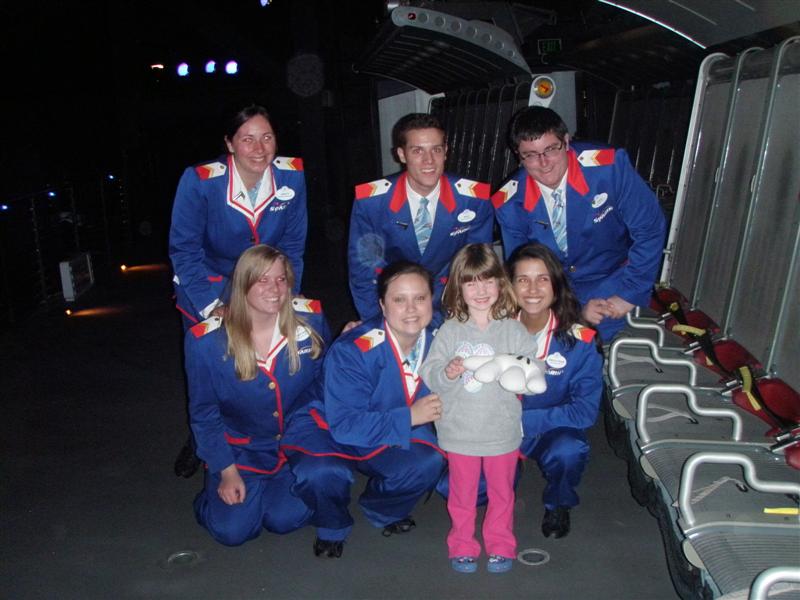 Disney Magic is alive and well!
We recently celebrated our daughter's 4th birthday at WDW and I had to share a magical moment we experienced due to some amazing Cast Members who went to infinity and beyond! Our daughter has celebrated every birthday at WDW and is a very loving and outgoing young lady. Of course we got her the "Happy Birthday" button from Guest Services when we first entered the parks. When people would see the button and wish her a happy birthday, she would run up and give them a hug as a way of saying thank you whether they were Cast Members or other guests.
Our magical moment happened on Soarin' at Epcot. While waiting in line before being directed to a particular row, the Cast Member working wished our daughter a happy birthday and got a hug which really touched her. She waived a couple other Cast Members over to meet our daughter and they all got hugs. We then met another wonderful Cast Member who hugged her, wished her a happy birthday, and then as a special surprise took our daughter over to answer a very special phone call to wish her a Happy Birthday. We were then waived down to ride in row B1 (which is the best view) during Soarin'. After all the yellow arrows were full and we were waiting for our turn to ride, this cast member got on the intercom and asked everyone in line to sing Happy Birthday to their new friend. After our ride, the Cast Members all came by to wish her another Happy Birthday and take this special photo before we departed. They also presented her with a special Soarin' First Class Upgrade certificate (which I had never seen before) and they all signed it on the back.
We rode Soarin' several more times during this trip and we encountered these same special Cast Members several times and each time the gave our lil' girl another magical moment!
---
Published on: Nov 17, 2010
This week's photo was submitted by Kristie Abrantes.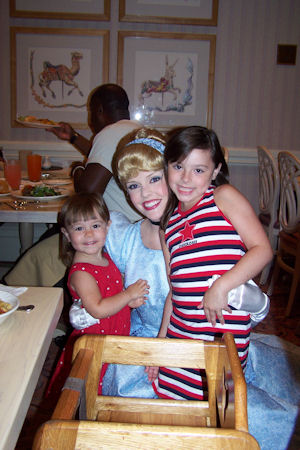 This photo is from our August 2008 trip. We visited 1900 Park Fare with my girls Claudia and Sandra. Cinderella loved the girls in patriotic dresses!
---
Published on: Nov 3, 2010
This week's photo was submitted by Stephanie Newell.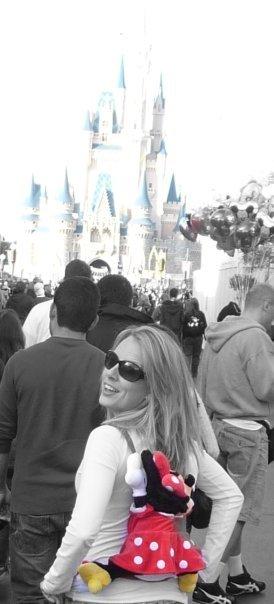 This is a picture of my daughter on Valentine's Day 2010. She is so happy to be at Disney World with her boyfriend. I just love this picture!
---
Published on: Oct 20, 2010
This week's photos were submitted by Joy.
My husband John and I celebrated our 42nd wedding anniversary last year at Walt Disney World by staying ten days at the Beach Club by ourselves — no kids or responsibilities. We were enjoying our stay enormously, and one morning we got to talking with one of the managers of the Beach Club. Noticing our Anniversary buttons, she asked us the standard questions about how long we'd been married and how we met…that sort of thing. I told her I married John because I knew he was excellent "sugar daddy" material. The young manager looked amused, especially when John remarked that he was still crazy about me, his "sugar baby" and joked about how much money I spend. We all had a good chuckle and left to go to Hollywood Studios. When we returned to our room to change for our anniversary dinner reservation, we were very pleasantly surprised to find a table set up with two plates of "his" and "hers" chocolate covered strawberries and champagne for two. The "hers" strawberry tray was decorated with a gold-flecked chocolate fan, along with berries dipped in both white and milk chocolate. The "his" tray had a white chocolate Mickey surrounded by chocolate covered strawberries wearing little "tuxedos". The manager included a very sweet note, wishing us a happy anniversary. It was such a wonderful and generous surprise — talk about Disney magic!
---
Published on: Oct 6, 2010
This week's photos were submitted by Michelle B.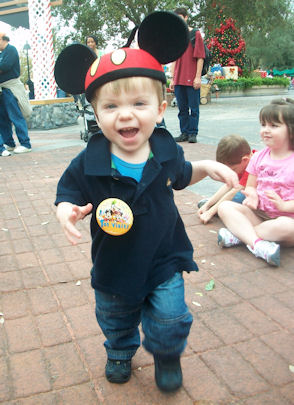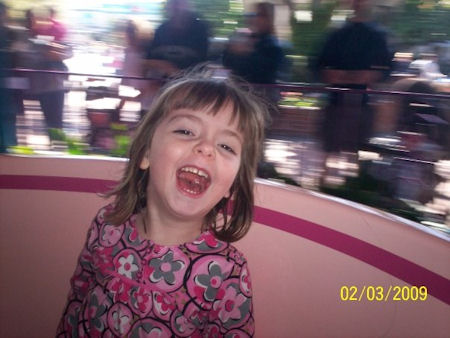 My kids had an absolute blast on their first trip to Disney World this past December. Being being huge Disney fans ourselves, my husband and I could not have been happier.
---
Published on: Sep 23, 2010
This week's photo was submitted by Kimberly D.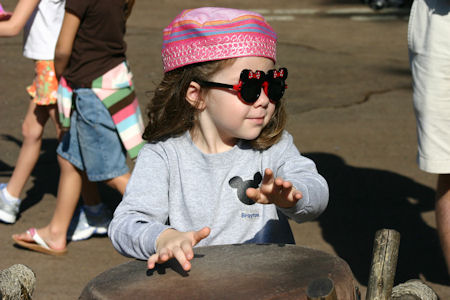 This is my daughter, then 4, drumming her heart out in the Animal Kingdom.
---
Published on: Sep 9, 2010
This week's photo was submitted by Brenda.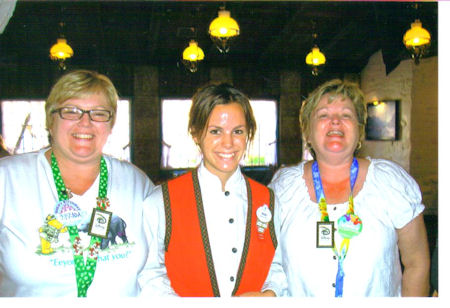 Our server, Randi at the Princess Breakfast in Norway, made our last day of "Girls Gone Disney" memorable!
---
Published on: Aug 25, 2010
This week's photo was submitted by Kristie Abrantes.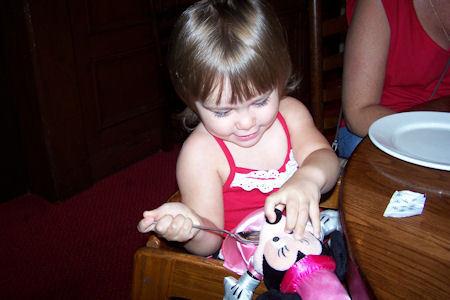 This photo is of Sandra from our August 2008 trip. She was was two at the time, and spent some time feeding her new Minnie Mouse doll at the Liberty Tree Tavern.
---
Published on: Aug 11, 2010
This week's photo was submitted by Brenda F.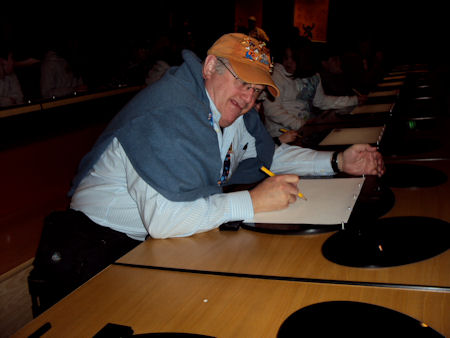 We have just returned from our vacation at Disney World. We love taking the drawing lessons at The Disney Animation Studios. This time we even got to draw Mickey!
---
Published on: Jul 14, 2010
This week's photo was submitted by Elizabeth Smock.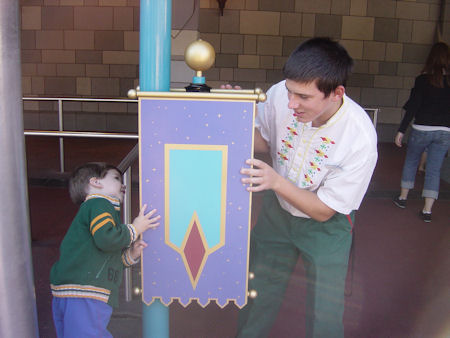 This photo was taken on our last trip, when we just had one day at Animal Kingdom and one day in the Magic Kingdom. It was January, so there were no crowds at all, and this Cast Member had plenty of time to play with our son, Stuart, then 2-1/2. What a magical memory for all of us!

---
Published on: Jul 1, 2010
This week's photo was submitted by Joy Lee-Diamond.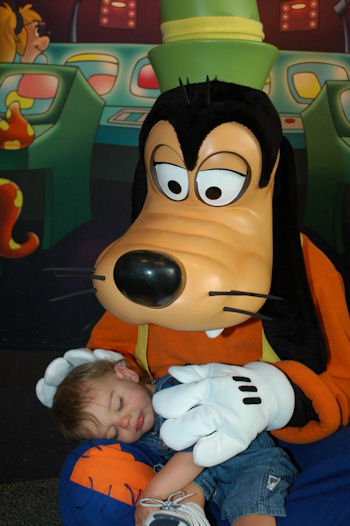 We are avid Disney fans and this was our first trip with our son Christopher. We were fortunate that the Character Pavilion at EPCOT was slow and were able to get this amazing photo of Chris asleep with Goofy! Every time we look at this photo it brings the magic back for us!
---
Published on: Jun 16, 2010
This week's photo was submitted by Beth.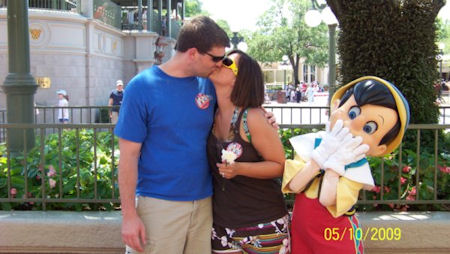 One year wedding anniversary present!
---
Published on: Jun 2, 2010
This week's photo was submitted by Vicki.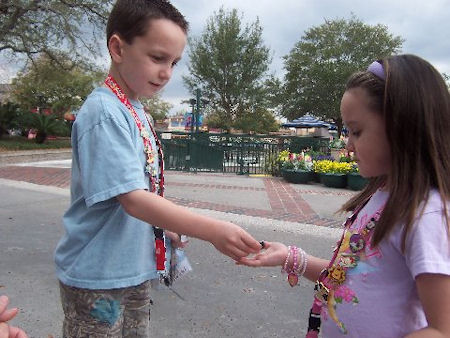 Big brother (Michael/7) traded one of his own pins with a Downtown Disney cashier to get a Pocahontas pin for his little sister (Juliette/5). It was so sweet. Disney magic. This is when he gave it to her.

---
Published on: May 19, 2010
This week's photos were submitted by Kim Prindle.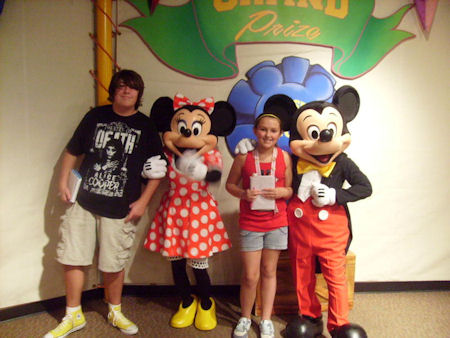 I know Disney is for all ages…but when children hit the teen years, you are never sure how much fun they are going to have. First of all, You must understand my son Zane…he is a silly, soft-hearted, rock-n-roll loving, yet often frustrating fifteen-year-old. We never thought about him wearing his favorite Alice Cooper "Theater of Death" shirt at Disney last November for our trip, and didn't even realize how it looked until after we looked at our photos. He topped his outfit for the day off with his Bright Yellow Converse Hi-tops that in picture one you can see match Minnie Mouse. That's my favorite part of this picture — this teen age boy with his heavy rocker shirt on and matching shoes to Minnie.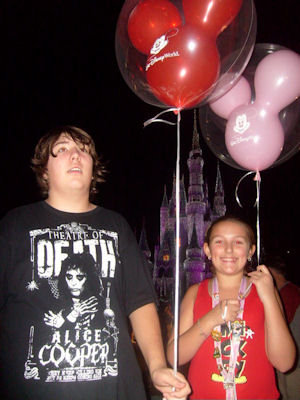 Then, this silly 15-year-old wanted a "magical" balloon as badly as his 11-year-old sister, Payton. I think this is a cool picture because it captures the essence and magic of Disney with the castle beautifully lit in the background. The kids loved these balloons so much they had to travel back with us to Ohio, which made it interesting to see out the rear window. The balloons even stayed afloat from Thanksgiving weekend until January — now that's magical!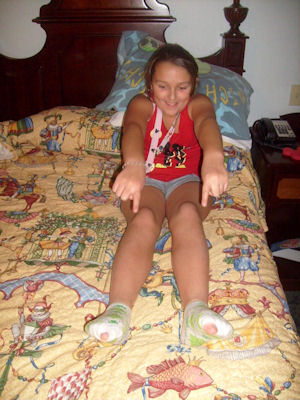 The last pictures shows my daughter Payton with holes in her socks that wore through from walking a 16-hour day in the Magic Kingdom. She said it was worth those holes to experience the magic of Disney!
---
Published on: May 5, 2010
This week's photo is of Dona and Aiden Casey and was photographed by Jason Casey.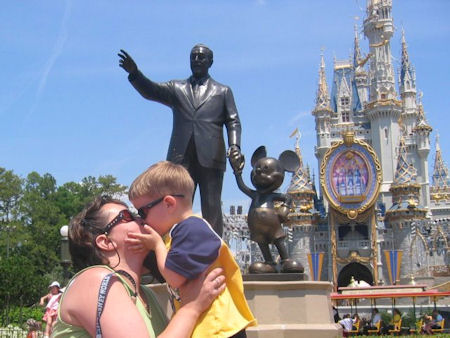 Dona writes: This was my son's first trip to Disney (in 2006), we've been back since!
But this picture was taken on our last day there. Right before my husband took the picture, my son said, "Mommy I love you!" and grabbed my face. I adore this picture.
---
Published on: Apr 22, 2010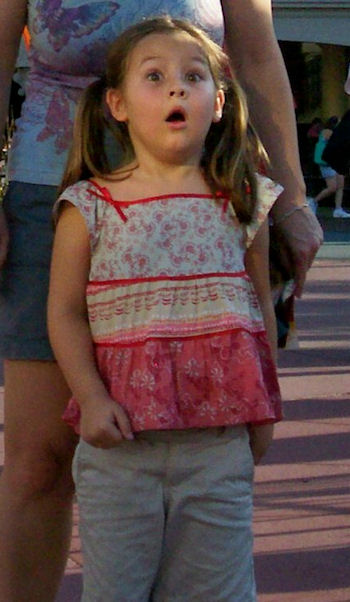 This week we feature Jay Sherman.
Jay writes: A couple of years back we took our daughter Lauren to Disney for the first time to celebrate her 5th birthday. Her birthday is on Halloween, so naturally Disney is all decked out for the season. We had a character breakfast booked at Epcot for that weekend as well. Her weekend was a truly memorable one. I think however that as parents, we were the lucky ones that we got to share this with her, our love for all things Disney. She saw the magic and all of the things she had only seen on television or the big screen.
As a little girl, she always admired the Disney Princesses and wanted to live in a castle like they did. She knew that all of her favorite Princesses were only in animated form, so naturally the castle must be as well. So, we did what any semi-normal parent would do on a child's first trip to Disney: we put a blindfold over her eyes as we made the turn on Main Street. I positioned myself in front of her as the blindfold was removed and captured the picture of a lifetime when she saw the castle for the first time. She exclaimed loudly "It's really real Daddy! It's the most beautiful thing I have ever seen!"
Parents always remember the wonder in their child's eyes when they see these things for the first time. I was truly blessed to have captured that moment on film. I am thankful that I get the chance to share that with you and your readers.
---
Published on: Apr 5, 2010
This week we feature the winner of our birthday contest, Pam Hansen.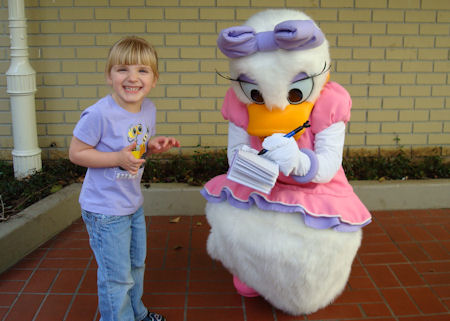 Pam writes:
In January 2010 we took our adult daughter, her husband and their 3 /12 year old daughter to their first visit at WDW. For several days little "Terra" had been visiting parks, trying the rides she was tall enough to take, gathering autographs and pictures with all sorts of characters, in general having a great time. But she kept asking about Daisy Duck. It bothered her that she didn't see Daisy anywhere.
On our 5th day we were back at Magic Kingdom and P'ma (her name for me – a combination of grandma and Pam) had a secret – I knew where to find Daisy but hadn't told anyone in case she didn't show up where I was expecting her. We were in the area of Town Hall getting stamps and using the rest rooms in preparation of the day ahead. I spotted my target in her secluded spot between Town Hall and the Tour Guide building, but her handler was already closing the line for her break. I quickly sent one of our group to find Terra and her Mommy while I approached the CM. Explaining my situation he said there was no problem letting me be the last in line as there were only 2 others there (remember, this really is a secluded area and many people forget about it) and he even agreed to be a part of the surprise.
When it was my turn to meet Miss Daisy, I gave her a quick summary of the situation just before Terra came around the corner. As soon as she appeared the CM said "Terra, hurry please. Miss Daisy has been looking EVERYWHERE for you!" About that time Daisy began waving frantically and hopping with joy that she finally found Terra. The look on my grand daughter's face is sheer joy and truly personifies the magic that is Disney.
We got to spend about 5 minutes with Daisy taking plenty of pictures and lots of laughs and hugs. Again, our family group was the only one around and to Terra it really seemed that Miss Daisy had sought her out, and a year later she still talks about meeting her, wondering if she would be at Disneyland when we went there (she wasn't). We explained that Daisy really was a bit shy and didn't like to travel much, but would be waiting to see her on their next trip in November of 2010.
Thanks for giving me to opportunity to share my picture and story.