This post may contains affiliate links for your convenience. If you make a purchase after clicking a link we may earn a small commission but it won't cost you a penny more! Read our full disclosure policy here.
From Our Magically Speaking Newsletter Archive – subscribe today!
By Melissa Bejer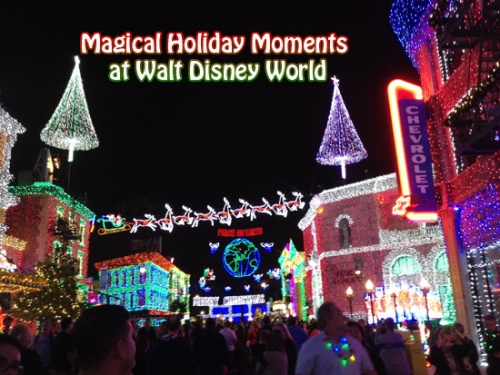 Magical moments around Walt Disney World are plentiful throughout the year, but somehow, around the holidays, they are even more magical! 2014 has been no different. Below are just a few memorable magical holiday moments we experienced a few weeks ago.
Mickey's Very Merry Christmas Party was full of magical holiday moments! This year, we participated in the Holiday Hootenanny at the Diamond Horseshoe.   This is a new dance party hosted by the Country Bear Jamboree fellas and also participating were Horace Horsecollar, Clarabelle Cow, and my personal favorite, Clara Cluck. The clock struck 7pm, and MVMCP had officially kicked off when we entered the Holiday Hootenanny. I had the pleasure of dancing with the Country Bears all by myself, as we were the first family walking in the door. There is a reason they call it a Hootenanny, it was a real hoot! Those bears can cut a rug! They played all kinds of music during the dance party, from disco, rock and roll, country and Christmas songs too. The Country Bears took a break after about a half hour of hootenannying, which left the dance floor open for Horace, Clarabelle and Clara to come and share in some of the fun. Clara was even getting people to do "the sprinkler" dance. For the rest of the night, whenever we were a quick mosey away from Frontierland, my family let me run in for a dance or two!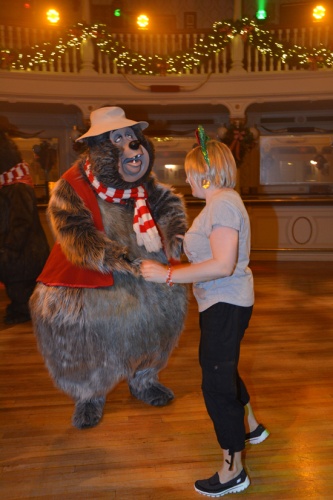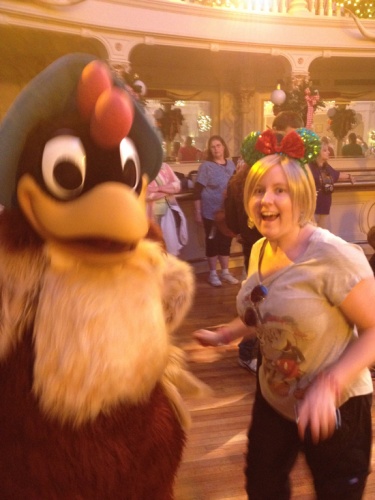 A good tip if you are waiting in line for Uncle Scrooge, Donald, and Daisy: the line is twice as long as Santa Goofy's line. I was able to grab a quick Merry Christmas with Santa Goofy (he is right across the walkway from the ducks), while my husband held the line and although we still had a 20 minute wait when I got back, it felt like we got a real deal – a bit of a quadruple holiday treat for the time we waited!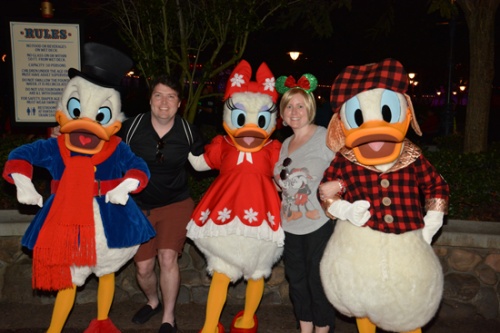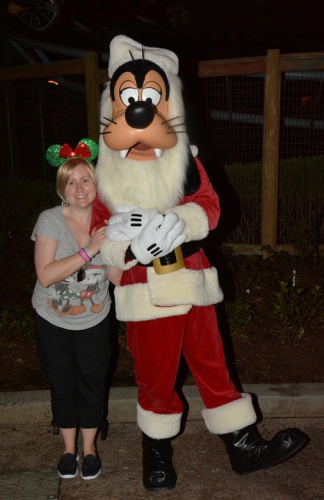 Nothing is more festive than during MVMCP when it snows on Main Street while drinking your complimentary hot cocoa. If that doesn't put you in the holiday spirit, even Uncle Scrooge will roll his eyes are your bah humbugness!
We stayed at the Contemporary during our trip, and this year the resort's festive display was an homage to Frozen, in all GINGERBREAD AND CHOCOLATE! They also had a small area set up for Frozen merchandise and some gingerbread and chocolate goodness for purchase should you sweet tooth get inspired by the display.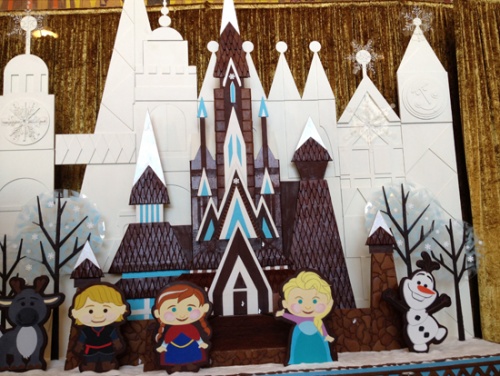 Christmas Duffy was greeting guests over at his usual spot in Epcot, he's always such a fun character to visit.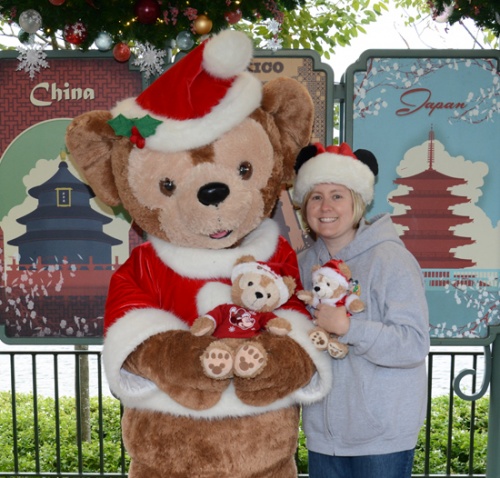 And file under rare character sighting (these seems to pop up from time to time around the holidays), Launchpad McQuack from Duck Tails – we found him over by the International Gateway. (Ed. note: While rare characters are just that, rare, sometimes you can happen upon them at the International Gateway. So, always be on the lookout, as these are fun meet and greet opportunities when they do indeed happen.)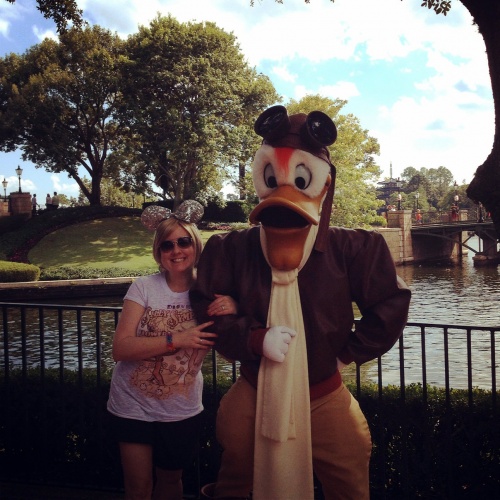 The Osbourne Family Spectacle of Lights never disappoints. It is a holiday feast for the eyes and the ears, and every 15 minutes there is a light show to the tune of various Christmas carols. While it can get crowded while walking around viewing the twinkling lights, the crowd actually adds to the ambiance of the scene, as many people are singing along to the carols. It feels like true holiday spirit as everyone sings songs together and marvels at the wonder of it all. I highly recommend a good spectacling!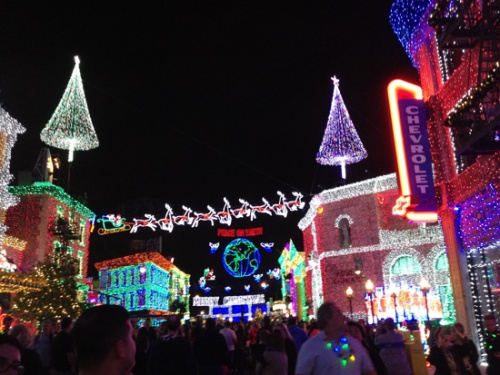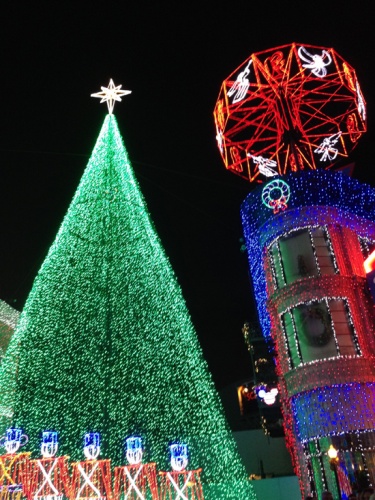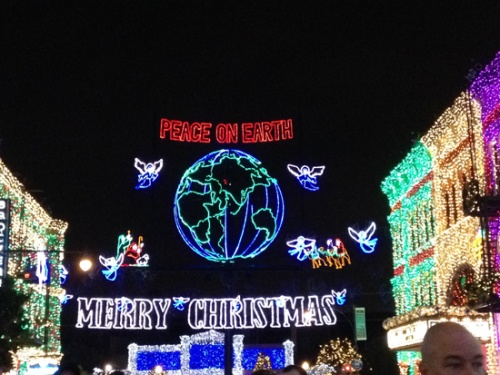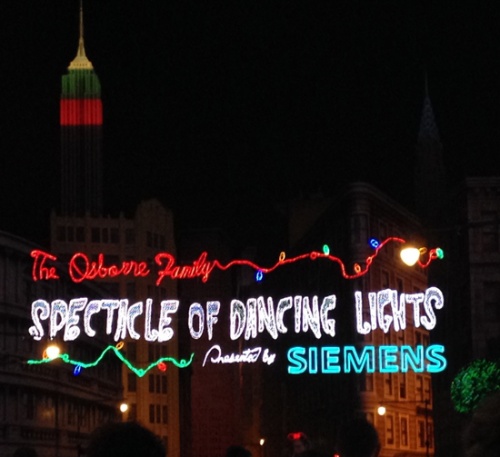 In typical Magic Kingdom fashion, Christmas was in the air all over Main Street! Staring with the Dapper Dans and singing their beautiful carols while playing their organ chimes (Silver Bells, Frosty, Rudolph – they have so many good tunes in their repertoire).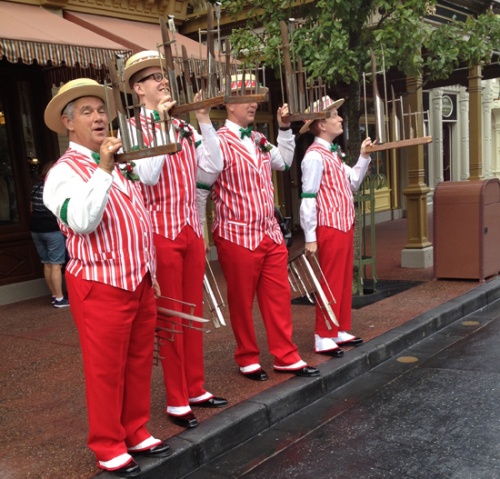 And don't forget to catch the Trolley Show with the Main Street citizens and their song and dance medley of Sleigh Ride, Jingle Bells, The Most Wonderful Time of the Year.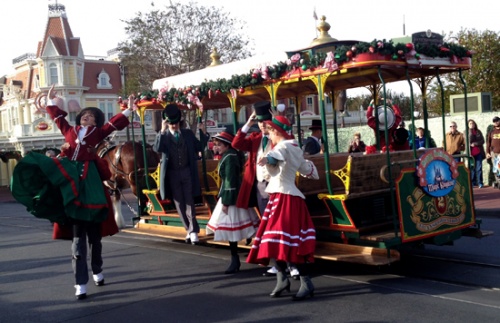 But Cinderella's Castle is simply magnificent during the holidays, by day or by night.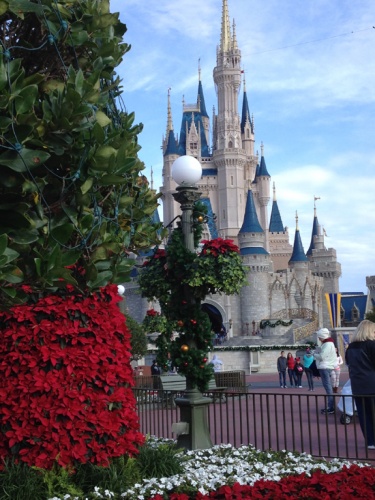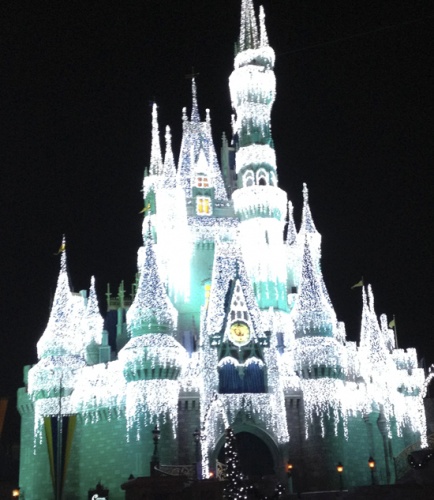 Food Related Honorable Mention (not holiday related, but still memorable) – The famous "croissant doughnut" that is being replicated across the globe as an alternative to the famous Cronut invented and trademarked by Chef Dominique Ansel out of his bakery in New York City, can be found at the Refreshment Port in Epcot. It has been home to the Refreshment Port for about a year now, but if you have walked past the Refreshment Port without knowledge that it is the home of mouthwatering delights, you are missing out big time. Disney's version of the croissant doughnut is fluffy and light, tossed in cinnamon sugar and while I don't use this word often, it is delectable! Do not pass up a chance to sample this heavenly treat. Keep in mind, if you decide to partake in this scrumptious yumminess, the Refreshment Port doesn't open until 11am. So if you were thinking of stopping for a quick breakfast (given that separately, croissants and doughnuts are breakfasty foods), make sure you plan on eating breakfast late morning. And enjoy the water view!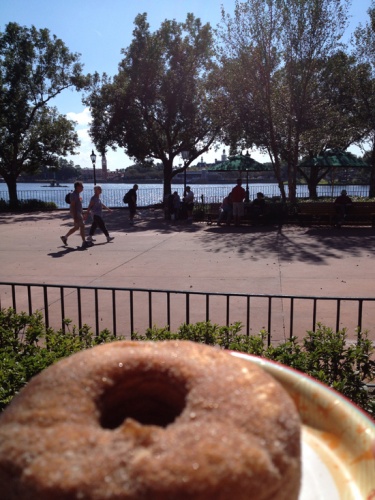 Season's Greetings to all, from myself and the mayor of Main Street, Honorable Mayor Christopher George Weaver!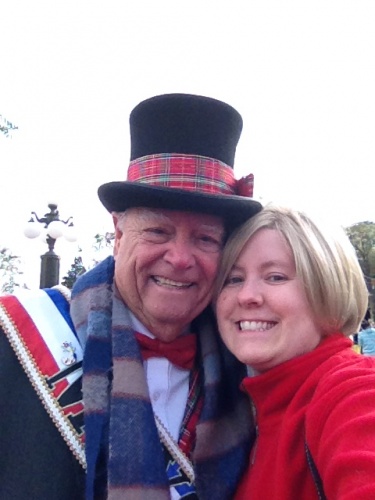 Magically Speaking Featured Article
Library of Congress ISSN:1556-3863