This post may contains affiliate links for your convenience. If you make a purchase after clicking a link we may earn a small commission but it won't cost you a penny more! Read our full disclosure policy here.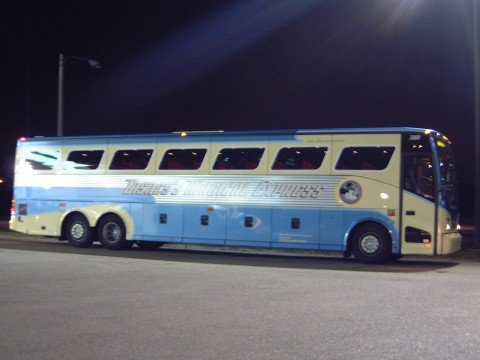 Disney's Magical Express is the newest amenity offered to Disney World Guests staying at most on-property Disney World Resorts. The aim of this new service is to make your transition from the Everyday World to Walt Disney World easier and less expensive. Launched and available for reservations on or after May 5, 2005, the service provides baggage transfer, transportation for you and your party from Orlando International Airport (MCO) to your resort (one way or round trip available), and for select airlines, airport check-in, all free of charge.
As you might imagine this is a significant undertaking. In 2004 just fewer than 33 million visitors came to the Magic Kingdom, Epcot, and Disney MGM Studios. If just 25% of these visitors were eligible for this service we are still talking about over 8 million guests.
So the question is, how is it going? We did an unscientific survey of TheMouseforLess members and got a number of thorough reviews of Magical Express. Karen Revis wrote "I know this service is free, but I think they could have done a better job. There are a lot of kinks that still need to be worked out." Karlene shared, "All in all, I think Magical Express worked extremely well. I'm sure there were glitches, especially since it was their first week, but we didn't experience any of them. I hope Disney continues this service for our next trip."
Almost everyone had something nice to say about the Cast Members (CM) greeters at the Orlando Airport. Barb shares "We got off the plane at MCO and walked down the hallway. At the crossroad of halls stood a CM waving a white Mickey Hand, and she directed us which way to go to Welcome Center. At each point we had an opportunity to mess up her directions, there was another CM posted to keep us on track."
Special Magical Express Luggage Tags, used for accurate sorting and delivery of luggage, are vital to the effectiveness of this service. These tags contain bar-coded information on guests and their resort. Without these tags, the process of getting your luggage from the carousel at MCO to your resort room can be difficult and delayed. TheMouseforLess member Karen reported arriving at MCO at 9 p.m., having a fine experience with the transportation, but not receiving her luggage until 2:00 a.m. Karlene had better luck. "We checked in, went to Downtown Disney to activate my Premium Annual Pass and then to O'hana for dinner. Upon returning to our room, we found our bags (all 5) waiting for us there. I was pleasantly surprised!" Be sure to schedule Magical Express far enough in advance to get these tags from Disney. Disney recommends booking at least 21 days prior to your arrival.
For departing guests, there were some issues of missing flight information or late pick-ups. Sharon in CT wrote "The day before my departure, I got a hanging envelope on my door. The letter said that they didn't have my flight information, and to call a particular number (not toll-free, but I had a cell phone so it was OK). My flight was at 0825, they told me to be outside Pop at 0540." In general, guests are being requested to meet their bus about three hours prior to their flight departure. Lynda in CA pointed out the clear plus of using Magical Express for a departure day. "It was a joy to be able to forget about our luggage for the rest of our final day," she said.
Overall this new service seems to be working but with some wrinkles during its introduction phase. There may be an opportunity for your patience to be tried, but it is definitely a virtue worth retaining. After all, you are on vacation and they are offering to schlep you and your bags around for free. Keep in mind that this is a new service being provided and the process will continue to evolve until Disney gets is 100% right. If all else fails, just remember Hakuna Matata.
Magically Speaking Featured Article
Library of Congress ISSN:1556-3863