This post may contains affiliate links for your convenience. If you make a purchase after clicking a link we may earn a small commission but it won't cost you a penny more! Read our full disclosure policy here.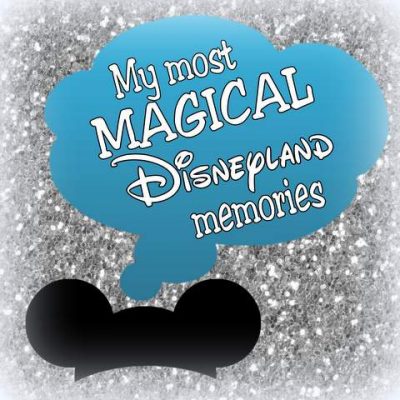 I grew up less than 15 miles from Disneyland in California. So close we could hear the distant pops of the fireworks on a quiet night. Disneyland was a big part of my childhood and my memories. Now I get to relive the magic with my own children — and someday hopefully my grandchildren. I have enough magical Disneyland memories for a book, but I'll share five that stand out from my collection.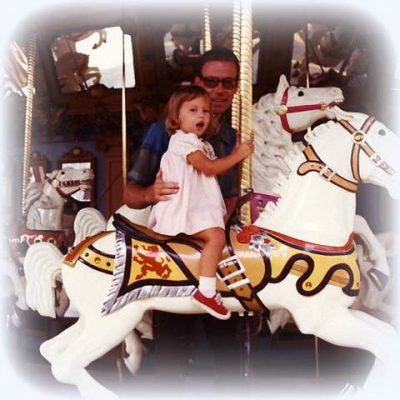 Opening and closing the park with Dad
Many of my early memories of Disneyland involve my father, who is one of the few people I know that visited Disneyland within a year of its 1955 opening. Back in the days of A through E ticket books, we went often. I think the photo above is my third birthday. Visitors to Southern California inevitably got taken to Disneyland.
As I grew, I couldn't wait to be old enough to participate in my father's favorite way to make the most of a day at Disneyland. He did "rope drop" before anyone made up the term. With him, you played hard all day, the goal being to open and close the park. He even found a way to extend the day an extra few minutes. We'd hop onto the PeopleMover just before the park closed. This gave us a last look around, and the chance to be some of the last guests out of the park. I think that's why I always have to ride the PeopleMover at night when I visit Walt Disney World.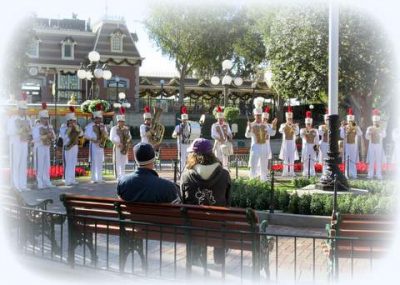 Marching merrily down Main Street
Growing up in the same county, we had performance opportunities most schools could only dream of. My high school marching band traditionally played at Disneyland every December, long before visiting for the holiday season was the thing to do. We marched down Main Street playing "Sleigh Ride," did a short concert in front of Sleeping Beauty Castle, and paraded back down Main Street to exit near the fire station.
We'd then get the remainder of the day to play at Disneyland with our friends. I remember trying out Star Tours while it was still in soft opening, circling around to ride Space Mountain over and over, and seeing the backstage of Splash Mountain as it was built. Now whenever I hear "Sleigh Ride," it makes me think of Disneyland and my great high school music memories.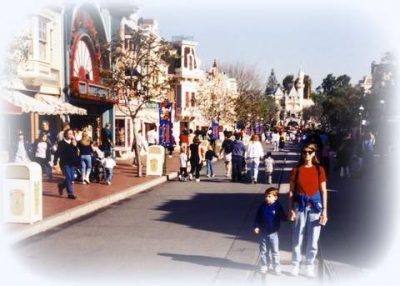 Sharing the magic with the next generation
We took our oldest son to Disneyland just before he turned five. I was eager to show him all of my childhood favorites and indoctrinate him into starting his own collection of magical Disneyland memories.  We saw the Autopia cars while on the train early that day, and he kept asking for them over and over until we finally made it to Tomorrowland at dinnertime. Much to his later chagrin, his favorite attraction from that trip was "it's a small world!"
The moment that really sticks out from that first day was seeing the nighttime parade. There are no pictures from that evening, but the memory is lodged in my mind forever. As we waited and then waved to all of the characters, I teared up because it meant so much to me to share this special place with him. I knew it was only the first of many family visits as my children grew.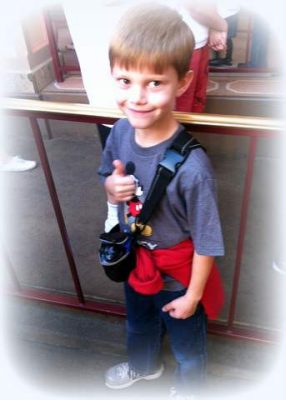 I hate it, I hate it … now I love it!
This memory involves my younger son. As he is blessed/cursed with a spring-break birthday, we have celebrated his special day in several states and theme parks. The morning of his eighth birthday would be the first time he experienced California Screamin' (now the Incredicoaster). He was excited until we got to the loading dock, then started to whimper as we entered the train. The Cast Member couldn't dispatch until my son verbally told him he wanted to go on the ride. With a big poke from me he agreed, but very skeptically.
His terrified California Screamin' reaction to the ride's magnetic launch made me certain I had made the biggest parenting mistake ever. I berated myself through the first half of the ride, until I realized the shrieks of agony were now howls of happiness. He bounced off the train and the first thing out of his mouth was, "Can we ride it again?!" And we did.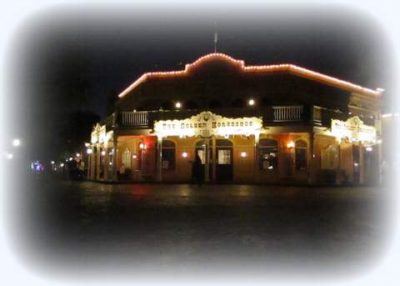 Family togetherness in Frontierland
As my children grew, I knew that our days of experiencing the park as a family of six were drawing to a close. One evening we watched the Remember Dreams Come True fireworks with the strategy to make a quick exit left into Frontierland. Big Thunder Mountain Railroad was down for a year-long renovation, and Fantasmic was dark on weeknights that spring, so I figured it would be an easy walk to Haunted Mansion and Pirates of the Caribbean.
When the fireworks ended, we all grabbed hands to stay together. I remember my older son and I put my little girl between us, and my husband and older daughter took our youngest. We fast-walked into Frontierland and found it practically empty and quiet. We strolled in silence all the way around the riverfront as I tried to imprint that memory of family happiness deep into my soul to save.
What magical Disneyland memories stick out to you? Who shares them with you? Share in a comment below or on Facebook or Twitter.
Did you like this article? Make sure to share it with your friends! Check below for easy ways to share!
Want to create your own magical Disneyland memories? Contact The Magic for Less Travel for more information and a free, no-obligation quote.

Incoming search terms:
https://www themouseforless com/blog_world/magical-disneyland-memories/