This post may contains affiliate links for your convenience. If you make a purchase after clicking a link we may earn a small commission but it won't cost you a penny more! Read our full disclosure policy here.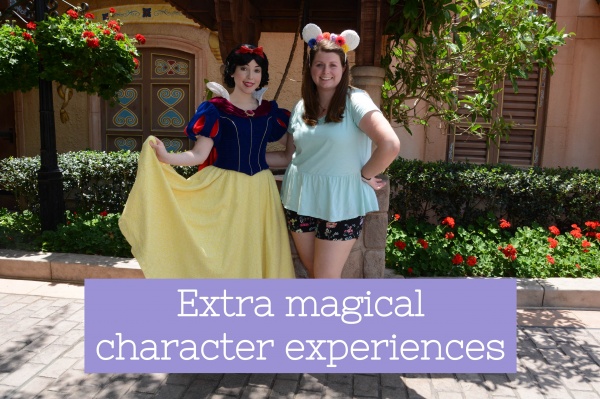 Meeting a character is one of the most magical things you can do at Walt Disney World and Disneyland. Of course, getting a hug and snapping a picture are the quintessential things to do, but what if I told you there are things you can do to get a longer, more magical character experience? You may get lucky and have this happen all on its own, but here are five keys to have the most magical character encounters ever!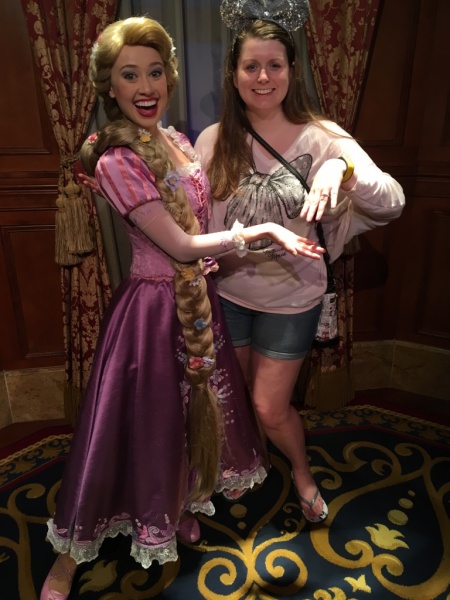 1. Celebration buttons
Rapunzel was so excited to find out I had just gotten engaged! This picture is a couple years old and still one of my all-time favorites.
You can get celebration buttons at most shops throughout the parks. They have first visit ones, happily ever after ones, birthday ones and general "Celebrating" buttons. Even if you don't have the button, tell them that you're celebrating something! It can be a big life event – you're expecting or you just got engaged. Or it can be something more mundane – like you got good grades or you're just having the best trip ever. Characters love it when you talk to them, even the ones who can't talk back! I guarantee you'll get a good reaction, no matter what your good news is!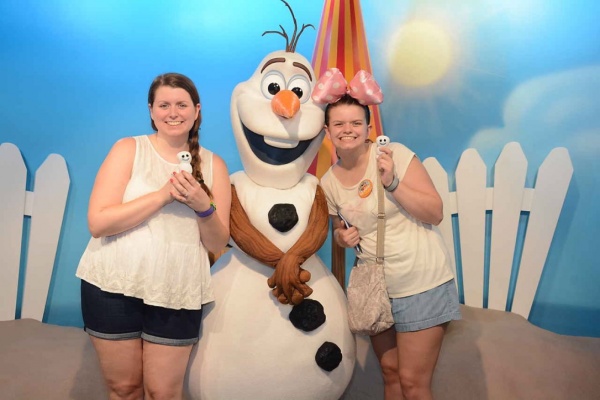 2. Bring a prop
My sister and I got brought little Snowgie stuffed animals to show Olaf. He was so excited, I wish I had taken a video. He was dancing around like it was summer.
Bringing a prop is a fun way to get a reaction but also to get a unique photo. Try bringing a stuffed Minnie when you meet Mickey and vice versa. Bring or wear something with the Resistance logo when you meet Kylo Ren. That's sure to get a reaction. Bring a picture of a family member who didn't make it on the trip or, even better, who didn't want to wait in the line at Princess Fairytale Hall.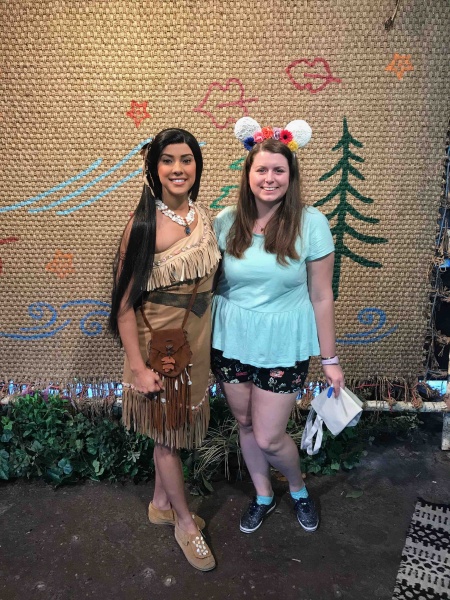 3. Say something funny
This picture was taken shortly after I told Pocahontas that I, too, paint with the colors of the wind.
My go to for this is song lyrics. Tell Ariel you like to hang out under the sea. Call Chip and Dale the wrong names. They freak out and it's adorable! Once we asked Gaston if he was still in love with Belle. That got a great response. Tell Peter Pan you'll see him in Neverland. This is also a fun way to set yourself apart as an expert Disney fan.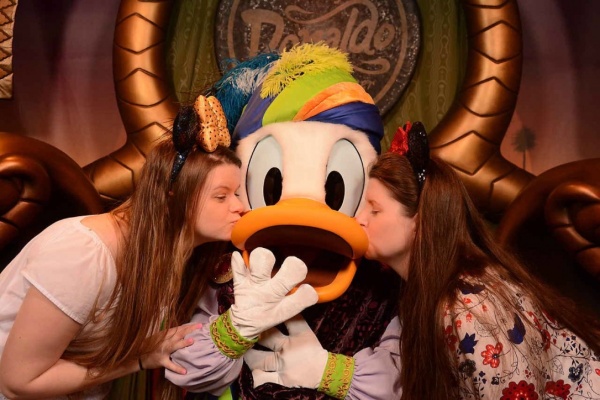 4. Do a cool pose
Donald would only let us do this kissing pose if we promised not to tell Daisy.
Do a star fighter pose with Buzz. Dance with a princess. Compare muscles with Gaston. Do snow powers with Elsa. This is a great way to get something different for your Instagram.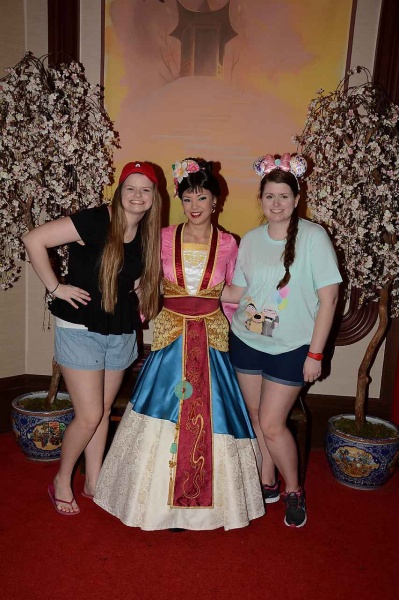 5. Ask about one of their friends
I asked Mulan how Mushu was doing and she told me a story about how he was hiding and she was sure she'd find him soon. She also showed me that her dress has a Mushu pattern on it. I wonder have never noticed if I hadn't asked about everyone's favorite dragon!
Ask Mickey about Minnie or Donald about Daisy. They're almost guaranteed to make a heart shape with their hands. Ask a hero from a story about a villain. Ask Buzz if he's seen Zurg recently. Or ask Tiana if she's seen any frogs.
The key to a magical character experience is engaging with the characters. Ask them questions. Tell them exciting things in your life. You'll walk away sprinkled with pixie dust.
What are some ways where you've done things to make a character experience a little more magical? Let us know in the comments, or on Facebook or Twitter.
Did you like this article? Make sure to share it with your friends! Check below for easy ways to share!
Want to visit a Disney Destination? Contact The Magic for Less Travel for more information and a free, no-obligation quote.