This post may contains affiliate links for your convenience. If you make a purchase after clicking a link we may earn a small commission but it won't cost you a penny more! Read our full disclosure policy here.
By Erica Colmenares
It was driving me crazy. Absolutely crazy. These friends of mine were planning a trip to Walt Disney World. Wait. Did I say planning? They were going, but they weren't planning. How could that be? I love to plan trips to Disney World. It may even be true that I enjoy the planning as much as the visits, although that's hard to fathom.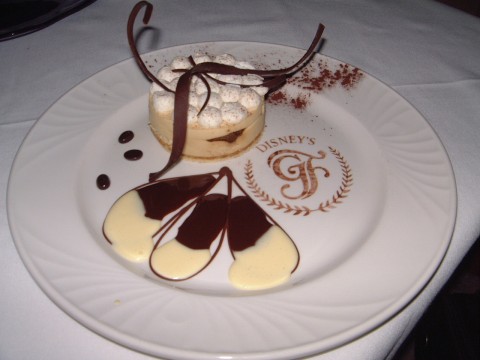 Anyway, here were my friends, going, but not planning, and with the Magic Your Way (MYW) Plus Dining to boot! Ye Gods and Little Fishes, I had to help. I wrestled the MYW dining package guide out of their hands and had at it. Little did I know I was about to enter a world about which I knew nothing. I can't use MYW dining, as I always book my Disney resort with an annual pass holder discount, and you can't book "room only" and get the dining plan as well. It's the whole package (room, tickets, dining) or nothin'.
Nonetheless, Magic Your Way Plus Dining is a nifty meal plan, a potential money saver, and just plain fun to plan for. Each night you and your party stay at a Disney World resort on the MYW Plus Dining package, each person gets a table service meal, a counter service meal, and a snack. The meals come with all the trimmings. And you have over 100 participating Disney restaurants to choose from (note: it is now accepted English usage to dangle a participle). The restaurant list is subject to change, and it already has, with many new Epcot and Downtown Disney eateries added to the line-up. Table service meals include an appetizer, entrée, dessert, a non-alcoholic drink, and a 15% tip. You could also use a table service meal for a buffet with a drink. Character meals are also considered table service meals. The counter service meals include an entrée with a side plus dessert and a non-alcoholic drink (or a combo meal plus dessert). For snacks, you can choose from a recently-expanded selection: ice cream, popcorn, a piece of fruit, apple juice, soda, or bottled water.
Did I mention the price? You get all the above for $34.99 plus tax per night per adult (that's $39.01) and $9.99 for kids ($11.14). Parenthetically, you pay 11.5% resort tax on the dining package, instead of the usual 6.5% rate you pay for food elsewhere, because it's part of your resort package. Another interesting aside (at least interesting to me) is that if you are staying at one of the All-Star Resorts, in Osceola County (not Orange), the resort tax is 13% and your dining package will cost $39.54 per night for adults and $11.29 per child. So for extra savings, stay at the Pop Century Resort!
My friends' kids are 6 and 9, so they didn't have to wrestle with one of the possible downsides of the MYW dining plan. Ten-year-olds are considered adults. Why is that, you ask? Well, it's because the MYW dining plan is tied to your tickets, and a 10-year old is considered an adult for admission prices to the parks. Bummer, eh? So suddenly your ten-year-old is an adult, and you have to figure out if it's worth paying $39.03+ per night for the chicken strips and pizza he habitually eats. Worse (in my humble opinion) is that children under 10 are only allowed to order from the kid's menu if the restaurant has one. So your adventurous six-year-old will be forced to choose between pizza, dogs, and such, when what they really want is that yummy sushi.
Now, if you've been paying attention, you know that the MYW Plus Dining package only covers two meals a day plus a snack. If that's just not going to cut it for your family, there's always the option of the Premium Dining package. This basically has you moving from WDW restaurant to WDW restaurant, fitting in attractions if you can in between. Breakfast, lunch, and dinner are all included, as well as tours, shows – basically, more than you can do in a year. The Disney site has a link to a very spiffy pdf brochure that takes ages to load and will have you entering lotteries in hopes of the Big Win! (http://disneyworld.disney.go.com/wdw/tickets/
packageDetail?id=PackageDetailMYWPrem05Page).
But back to reality and the MYW Plus Dining plan. I mean, really. May I share a couple more tidbits I learned while helping my pals? One was that your room key, which is your park ticket (aka your Key to the World card) is also where your meals are "stored." When you go to any table service, counter service, or snack location, all you do is give the Cast Member (CM) your card, and they can deduct your meal or snack from your total count (which is, remember, based on the number of nights you are staying on the package). The CM will even give you a receipt with your number of remaining meals and snacks. What else? Some folks love the plan, regardless of savings, because it allows them to prepay their meals. It makes budgeting food VERY easy, no?
Speaking of budgets, even if you aren't a big eater, this plan can save you money. My friends wondered at one point if they'd really eat enough to make the plan worthwhile, or if they'd stuff themselves and gain 50 pounds just so they'd feel they were getting their money's worth. To find out, I snuck (sneaked?) over to TheMouseforLess.Com and plagiarized their sample menus, impressing my friends at the voluminous research I had done for them. I found out you can really eat in your normal way, even if it's light as a bird (like me- grin), and still come out ahead.
For instance, take a family of four with two adults and two children to the Magic Kingdom for the day. They want lunch at Pecos Bills. Mom orders the chicken wrap and a soda (7.49 & 1.99) Dad orders the double cheeseburger and water (7.29 & 2.00) The kids each ordered the children's hot dog which includes fries and a drink (3.99&3.99), and they all enjoy that great toppings bar with the cheese sauce, sautéed mushrooms and more. For a total of 27.43 w/tax. Note, no one ate a dessert, although it's included with the plan. For dinner, the family has decided to eat at Cinderella's Royal Table for dinner. Mom orders the Caesar salad, and the Pork tenderloin, and a soda. ($5.00, $24 and $2) Dad orders the crab and seafood spring roll and the King cut of Prime rib and drink ($8.00, $26.00, and $2.00) The children both order a children's meal (4.99 & 4.99). They all split mom and dad's desserts: a Crown Sundae and a chocolate raspberry lava cake ($5, $6). The total w/ tax and tip: $106.90. After dinner, they use their snack vouchers for 2 popcorns and 2 drinks which they enjoy while watching Spectromagic and Wishes. ($2.59, $2.59, $1.99 and $1.99) 9.76 w/ tax. That day this family got $144.09 worth of food for the $100.30 they paid for the dining plan that day. Heck, they could have skipped lunch altogether and still come out ahead!
Planning ahead is essential, folks. Meals do expire, so you can't save them for another visit, or even the day after you check out. You can, however, use them from the moment you check-in, until midnight on the day you check out. For table service meals, planning becomes especially important. I've read reports on the net of people who were scrambling for priority seatings (excuse me, Advanced Dining Reservations) each day, and having to eat, say, at the Biergarten near the Oom-pah Band when what they really wanted to celebrate their special anniversary was a lovely romantic dinner at Les Chefs de France. Also, some restaurants "cost" two meals- those designated Signature Dining, like the California Grill and the Brown Derby. So keep that in mind while planning. Lucky for my friends they had me, huh? I've got them all set, with Ohana, Crystal Palace, Restaurant Marrakesh, Boma, Liberty Tree Tavern, Chef Mickeys . . . yum . . . I think I better plan a trip to Disney World.
For more information on MYW Plus Dining, visit:
https://www.themouseforless.com/tripplanning/discounts/myw.shtml
Click here to view and print the Magic Your Way Dining Guide in MFL Pocket Guide Format
If you want the info straight from the horse's mouth, try:
http://disneyworld.disney.go.com/wdw/tickets/
packageDetail?id=PackageDetailMYWDiningPkg05Page
Magically Speaking Featured Article
Library of Congress ISSN:1556-3863