This post may contains affiliate links for your convenience. If you make a purchase after clicking a link we may earn a small commission but it won't cost you a penny more! Read our full disclosure policy here.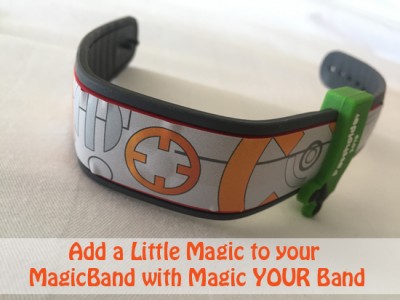 MagicBands! They are literally the key to your Walt Disney World vacation. These special colorful bands that look like a sports tracker (like a Fitbit) help to make your trip more magical all while eliminating the need to carry paper and cards. Everything you need is right there on your wrist.
So for those who don't know, what can MagicBands do? They can:
Unlock the door of your Disney Resort room
Enter theme and water parks (with valid admission)
Check in at FastPass+ entrances
Connect Disney PhotoPass images to your account
Charge food and merchandise purchases to your Disney Resort hotel room (only available during your hotel stay)
Connects to your Disney's Magical Express reservation
MagicBands are your link between you and your very important MyDisneyExperience account.
MagicBands are complimentary to those staying at the Walt Disney World resort and can be purchased by those staying offsite. They are not mandatory, but they are a fun way to help with the Magic of a Disney vacation. There's nothing like opening your resort room or charging your food purchases with the flick of a wrist.
As I mentioned, MagicBands come in a variety of colors. They include red, orange, green, yellow, blue, pink, grey, and now purple. But what if you want to do something a little more creative? Well, if you have a crafty side, you can do a DIY project. Unfortunately, I do not have a crafty bone in my body, so I instead went the route of Magic YOUR Band.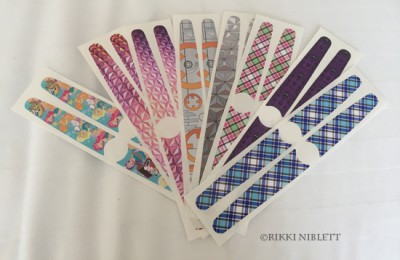 What is Magic YOUR Band? They offer custom stickers and skins that are available for purchase that can be placed on your MagicBand! What's great about Magic YOUR Band is that they have so many different options to choose from at reasonable prices. Feel like really blinging your MagicBand out with full on Disney, you can do that. Maybe you want to go a little low key with a nice simple pattern, you can do that too. The sky is the limit on the options that are available. You can choose themes like different holidays, celebrations like birthdays or weddings, glittery, or my favorite, Spaceship Earth!
The MagicBand Covers and decals are fully waterproof, UV resistant, and precision cut to the same shape as the MagicBand. They are ultra-flexible and include pre-punched holes for smaller sizes and offer an easy way to create custom Magic Bands. Magic YOUR Band offers skins that are available in two styles; 1-piece, which covers the entire colored portion of the band or 2-piece which leaves the logo exposed. Personally I like the 2-piece ones…as I find them easier to put on.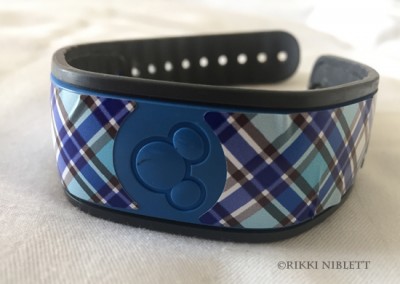 I decided to put them to the test. I have had my blue MagicBand for a while, so I decided it was time to give it a bit of a facelift and added this blue patterned sticker on top. The decal went on relatively smoothly, but it did have a few minor creases. I'm pretty sure that's just from user error though and not the covers themselves. (I told you…no crafy bone in my body.)
It was easy to line it up and I would suggest that you start from the ends and work your way to the middle than to start at the middle and work your way to the end. The reason? The pre-punched holes, which were perfect for me because I have a small wrist and like to wear my MagicBand snug. I don't like it flopping around my wrist.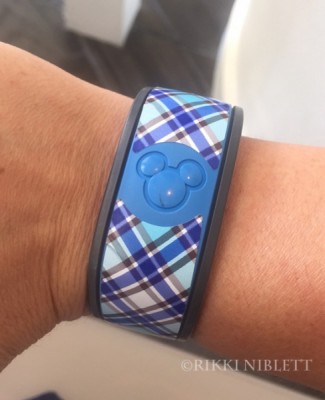 I wanted to really test this skin to make sure it is as good as they say it is.  So, I wore it around the parks throughout the hot summer days; days when it felt like your face would melt off. The decal stayed put.
Ok…sure…that's an easy one…what about it the water? So, I hopped in the hot tub. Sat in there for a good long while and made sure to submerge the MagicBand. Guess what? The decal stayed again!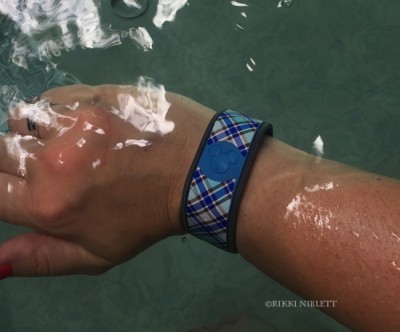 So, I decided to give it the ultimate test. I had another trip, about a month and a half later. I wanted to see how it would hold up with time and hold up it did! Weeks later, the skin is still attached to my MagicBand and looks just as good as when I attached it in the first place.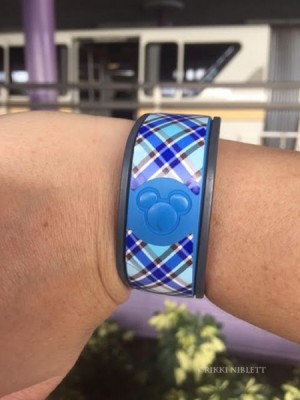 Now, my brother is a HUGE Haunted Mansion fan, so he tried out one of the Haunted Mansion versions. What was awesome about this one is that it actually glowed in the dark! It was seriously so cool to see it glowing with those spooky eyes.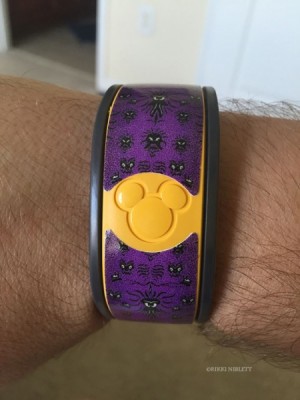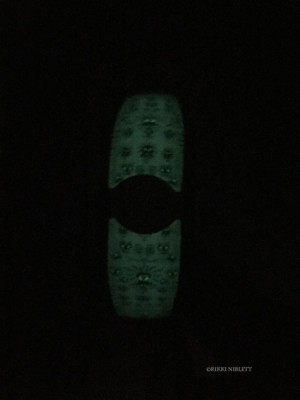 In the mood for a change? Luckily, the Magic YOUR Bands are not permanent. You can easily change your design as often as you like. And with the number of options they have available, I suspect you're going to want to change to a few different designs during your trip.
Oh and don't forget, if you don't see a design you like that they already have pre-made, you can customize your own decal too!
I'm gonna be honest. I had so many people comment how cool they thought my MagicBand was since it was totally unique. I highly recommend that if you're looking for a little fun to spice up your MagicBand, you consider a cover from Magic YOUR Band.
Disclaimer: I was invited to test the Magic YOUR Band product. I received no other compensation from Magic YOUR Band, nor was I required to give a positive review. The opinions expressed are mine.

Sponsored Ad:  Would you like to help support The Mouse For Less website in continuing their mission of being THE Disney vacation planning resource?  You can do so by purchasing Magic YOUR Band items from our Affiliate Links. Thanks so much for your support!