This post may contains affiliate links for your convenience. If you make a purchase after clicking a link we may earn a small commission but it won't cost you a penny more! Read our full disclosure policy here.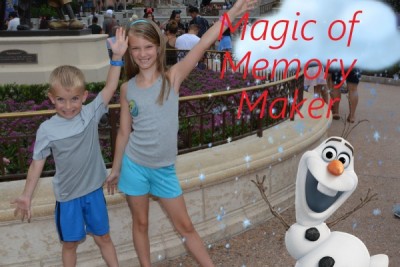 Many people go back and forth on the purchasing of the Memory Maker for their Walt Disney World vacation.  The Memory Maker is a Disney PhotoPass service you can purchase ahead of time which then allows you to download, share and print all the pictures you have taken by Disney photographers.  This includes all the iconic pictures throughout the parks, pictures taken during character meet and greets, and specific action shots from various rides.  After coming back from our Walt Disney World vacation, I would highly recommend purchasing this service prior to going for many reasons.
Prepaid
First of all, if you know you want to purchase the Memory Maker, you can purchase it prior to going.  By doing this you can actually have it factored into your vacation package cost right away which is what I did.  It was $149 ($20 off the price for purchasing ahead of time) at the time of purchase and as I booked through Disney, they just added it right into the cost of the trip.  The ease of this makes the additional cost easy to manage when already trying to budget for the vacation itself.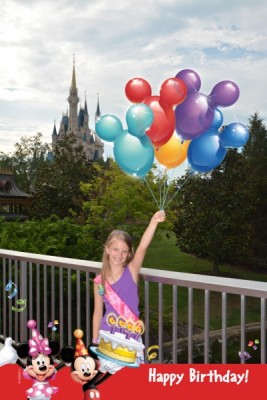 Magic Shots are the best
 Magic Shots
One of the things our kids loved about getting their pictures taken was that many of the photographers would take what are called Magic Shots.  These are special shots where the photographer has you pose in a fun way, but later adds some sort of Disney magic into the picture.  The magic can be Disney characters or balloons or something else, but either way it adds so much fun to the photos.  Our kids liked trying to guess what would show up later in the pictures and I loved having some of the fun Disney characters added right into our picture.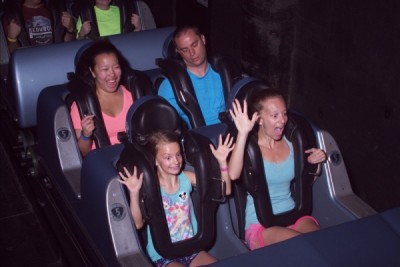 Capturing great moments on rides
 Rides
Back when I started going to Disney you had to purchase each ride picture individually.  Then people got smart phones and started to take pictures of the pictures, so then Disney started to put a watermark on them.  Now with the Memory Maker, you don't have to worry about that at all.  When you, or anyone in your friends and family list on your My Disney Experience account, rides an attraction that provides a photo opportunity all they have to do is either touch their MagicBand to the Mickey that shows their picture, or they can talk to the Cast Members and have it added to their My Disney Experience account through them.  This is such a great opportunity as you can get so many different fun action shots, as well as the new videos that Disney is creating with rides such as Tower of Terror, Buzz Lightyear, and Seven Dwarf Mine Train.  By purchasing Memory Maker, you are able to take these great moments of your friends and family with you and don't have to individually purchase pictures along the way it is all included in the original price.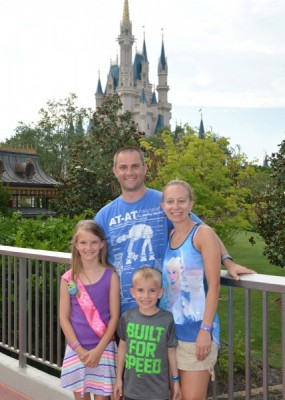 Look.. Mom's in the picture too
 Everyone is involved
As the photographer in the group, I love Memory Maker and the Disney photographers because it means that I get to be in the pictures as well!  We no longer need to ask random Disney friends to take our pictures, or have to try to fit the whole family in a selfie. We can now just find a friendly Disney photographer and all we have to do is smile.  This seems like a silly thing but it makes such a difference to me and we get so many more family pictures than we did in the past because it is so convenient.  This is a big seller for me.  Everyday we visit a Disney park, we make sure to take a group picture in front of the park's icon.  Not only is this a great keepsake later, but it also helps me remember what we did each day!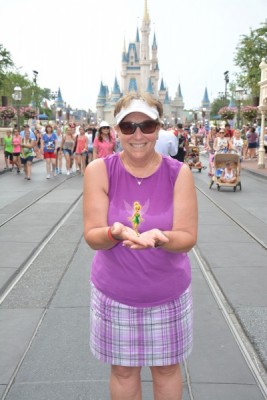 Even Grandma got in on the magic
 Whole group can participate
When you purchase the Memory Maker, it allows everyone on your friends and family list in your My Disney Experience to use and participate in the services of the Memory Maker as well.  That means, for me, my parents as well as sister and brother-in-law were also able to stop on their own and take pictures using the Disney photographers and those pictures, as well as any rides they went on. These were then loaded to my Memory Maker. (Ed. note: Keep in mind…you have to be connected as Family and Friends in your My Disney Experience account in order to take advantage of this perk.) They didn't have to purchase their own, but instead we were able to all get the benefit of the one purchase.  This makes the upfront cost a little easier as you could split it between those traveling with you as well.  My mom was excited that she was able to talk my dad into a few shots together along the way.
 Quick gratification
One of the services that was new to us this trip was the ability to see pictures on the My Disney Experience App.  As I absolutely love pictures, it was so neat to be able to walk away from the photographer and within 10-15 minutes all the pictures (except Magic Shots) were uploaded.  It was like being able to see your memories from the trip right away instead of having to wait until the trip is done and you are home.   Instead of waiting, we were able to look through the pictures and videos while in line and talk about the pictures and memories themselves.  This was a great distraction for the kids while waiting and a fun way to talk about our trip together while still on it.  Always fun to see what faces everyone was making down Splash Mountain.
 Sharing
Along with being able to view your pictures shortly after having them taken is that you can share them to social media right away as well.  There is a simple button on the pictures that allow you to quickly upload, send and share your photos right from the Disney App.  Although we didn't share a lot of our pictures right away, it was fun to send family back home photos through messages.  If you are a social media pro, having these professional pictures is a fun way to share your trip.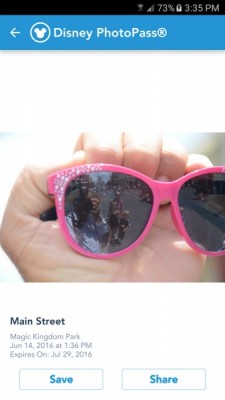 Quick and easy to share and save
 Download, Print and Save
If you aren't wanting to share with people back at home away, you can also start downloading and saving your pictures right away when you prepay for the Memory Maker.  As I am always worried that we are going to lose our pictures, I often download pictures from Disney PhotoPass on the My Disney Experience App each evening when we return from the parks.  With the Memory Maker, you can download and save the photos as many times as you want within your 30 day window.  This also means that my mom and sister can download and save and later print these pictures to as I share with them.  I really like this ability to download and save whenever I want during my 30 day window because it makes printing, making scrapbooks and sharing to social media once home so much easier.  The My Disney Experience App allows you to save, print, and download; however, I would suggest once your trip is completed you can download from the My Disney Experience website which is a little easier when you have hundreds of pictures.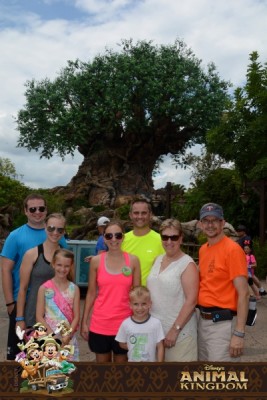 Adding frames is addicting
 Editing
The other part of the Memory Maker that I enjoy is the ability to edit photos through Disney Photopass when returning from our vacation.  I can spend hours editing our pictures adding frames, stickers, character signatures etc that Disney provides on their site.  Just be careful as you can get sucked in for hours at a time.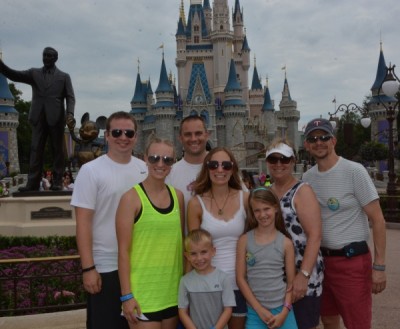 Memories together
 Memories
The final and main reason I would recommend that people purchase the Memory Make prior to their Walt Disney World vacation is because of all the wonderful memories it provides.  After going this June, we had over 400 pictures taken while visiting for seven days.  That is a lot of fun memories that were captured for us by Disney.  Now I take a lot of pictures, but there is no way I would have gotten this many quality and professional pictures without the help of the amazing Walt Disney World photographers.  Each one we encountered during our trip was professional, kind, exciting and willing to take as many different groupings as we asked.  And that was in the heat of June.
I know that $149 can seem extreme when you are thinking " they are just pictures", however, I would argue that they aren't just pictures they are a keepsake of your time in Walt Disney World and a reminder of the magic you had while there.
Have you ever purchased Memory Maker? What were your thoughts? Share in the comments.