This post may contains affiliate links for your convenience. If you make a purchase after clicking a link we may earn a small commission but it won't cost you a penny more! Read our full disclosure policy here.
In the final A-Z collection we visit Magic Kingdom, where the magic in Orlando all began. Our first installment starts with the ever popular autograph and ends with those ghosts that just might follow you home.
Autographs
Never been a fan of the autograph. Until now. I received some autograph books which I looked at and gave as gifts. I then began designing my own. If it gets done it will be great! I love the idea of collecting something from your interaction. Waiting with children- no problem, I'm an Elementary teacher. We'll try it and see how a day of autograph collecting goes. Right now, it sounds like fun!
Buzz Lightyear: Space Ranger Spin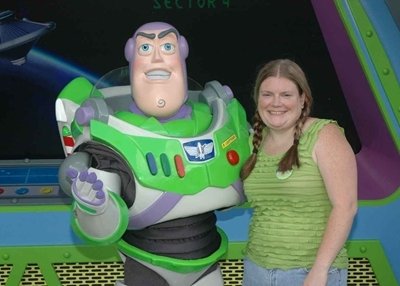 Since becoming a Galactic Hero three years ago on Buzz Lightyear's Space Ranger Spin I have tried repeatedly to conquer the ride and reach my top score again with no luck. That doesn't mean I don't have a lot of fun trying! I didn't have a method the time I maxed out my score so I try not to have much of a method when I play now other than to shoot a lot. I still let Jim drive and I focus intently but so far there has been no repeat. I haven't given up hope though and this summer may be the one when I once again reach Galactic Hero status!
Carousel of Progress
I've heard many people don't know what this is. Some get done and say they don't need to do it again. Not me. I find Walt Disney's Carousel of Progress (straight from the World's Fair) to be an interesting look at what people thought the future would be like years after that future has already happened. It's nostalgic and touching and I believe it still belongs in Tomorrowland.
Dumbo the Flying Elephant
I have never ridden Dumbo. I may never get too, but elephants with oversized-ears flying are intriguing. This ride is a classic "What do you think of when you think of Disney?" answer. I don't have a little one as an excuse and I'm not sure I, the roller-coaster rider, am ready to do this one alone. Instead I will watch and take in the joy of other first time riders as they learn baby elephants can fly.
Emporium
Did you know you can lose family members in this store (I speak from experience) It's that big. I love to shop and this is one of my favorite places to do it because it goes on and on and has such a variety of items.
Fireworks
I come to Disney World over the 4th of July every year and spend the 3rd at Magic Kingdom watching the most impressive fireworks display. Their regular nightly ones aren't bad either J  This place does fireworks well. I guess they should, they get a lot of practice. The lighting, precise timing, and music make it so memorable. We have a favorite spot that we're giving up this year to try Wishes Dessert Fireworks Party. That's new to me and I'm looking forward to it. I also hope to finally see Tink after years of spots where I couldn't. I'm one of those people who are always moved to tears by the fireworks. It makes the 4th of July a favorite holiday of mine. But at Disney, I get fireworks every night!
Ghosts at the Haunted Mansion
I did not get to see ghosts last summer. I have been reading of recent updates. I haven't made my touring plan for Magic Kingdom but I'm beginning to thing we may head to the back of the park first to visit Gus, Ezra, and Phineas and see how things are in the mansion. I've been trying to avoid leads about the updates so they are a surprise for me but I do know what I read sounded promising. Of course I liked things the old way so I won't be disappointed.
When we return to Magic Kingdom we get an interesting history lesson at the Hall of Presidents and then meet up on Main Street U.S.A.