This post may contains affiliate links for your convenience. If you make a purchase after clicking a link we may earn a small commission but it won't cost you a penny more! Read our full disclosure policy here.
From Our Magically Speaking Newsletter Archive – subscribe today!
By Roye Ann Morris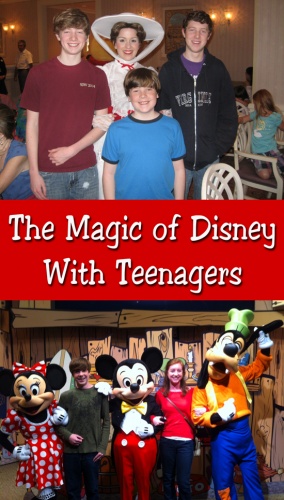 Our family started going to Disney World when our first son was only 2 years old. As our five children have grown older, we still go as often as possible, but the experience has changed much over the years. While my youngest son and my daughter are just as crazy about anything Disney as I am, my other three children and my husband can take it or leave it. I have found that changing what I expect from my family and being flexible are very important to having a good experience. Through years of trips, I have found that going to the parks with teenagers is very different from going with younger children, but it can be just as magical if you make some adjustments to your expectations!
The first trip to Disney we made with our three younger sons happened over Spring Break when the boys were 16, 14, and 10. Our first stop on our first day was for the character breakfast at 1900 Park Fare in Disney's Grand Floridian Resort. Our 14 year old was not happy about participating in a character breakfast, and walked into the restaurant with a rather bad attitude. (Albeit, not unusual for a teenage boy!) As a family, we had not had a lot of experience with "face characters" (those who can talk and interact with you.) The boys were actually a little nervous about having to carry on a conversation with a Disney character, but as soon as the first character, Mary Poppins, came to our table, they were immediately put their nerves to ease. She asked about how clean they kept their rooms and about their table manners. We even got some wonderful pictures with all the boys smiling.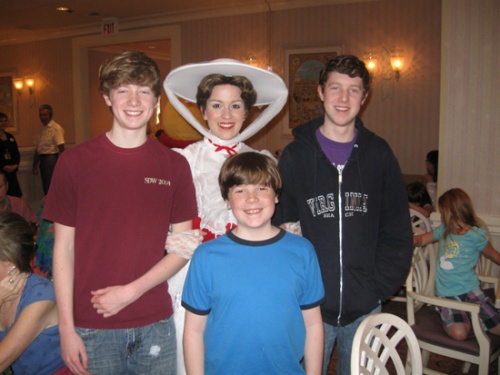 As we sat back down, the Mad Hatter was headed toward us. He made eye contact with our 14 year old, who turned to me and started asking if we could please leave now. Somehow, he seemed to know what was about the be in store! I don't know if the Mad Hatter had been watching him or what, but as soon as he got to our table he started joking with our unhappy teenager about his attitude "problem." Before long, we were all laughing so hard we were crying, including him! By the time the Mad Hatter left us, any attitude was long gone, and we were able to begin our day at the park on a happy note. The 14 year old, now almost 20, still remembers that meal as one of the best ever at Disney.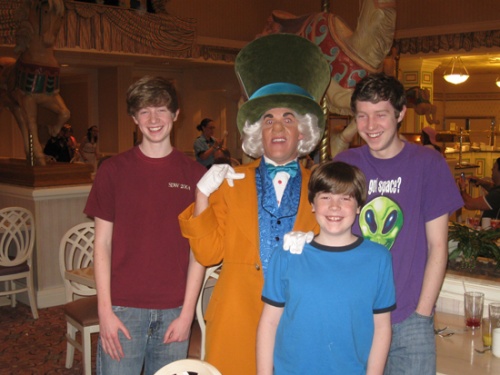 Another trip was with my daughter (now 23 and married) and my youngest son, who was 13 at the time. We were celebrating his last year of being home schooled before entering high school, so we splurged and stayed at Disney's BoardWalk Resort, staying in a studio villa. We slept in most mornings, took the boats to Epcot and Disney's Hollywood Studios, and spent 2 full days in the Magic Kingdom (his choice). We hit every ride, shopped, and had some great meals. It was truly a special trip for the three of us; no mad dashing around because we had a whole week to enjoy everything. We spent some great hours just talking and taking silly pictures of each other. One of my favorite moments was watching them walking around the Magic Kingdom, singing whichever Disney song was appropriate for the land we were in; Aladdin and Enchanted Tiki Room songs in Adventureland, "Grim Grinning Ghosts" from Haunted Mansion, and "You Can Fly" from Peter Pan in Fantasyland.  My youngest son and my daughter have always been especially close and this trip brought them even closer and gave them some great, special memories.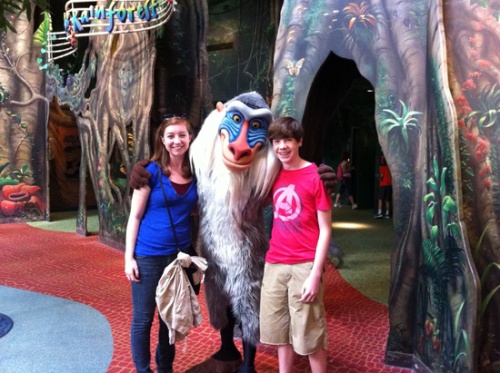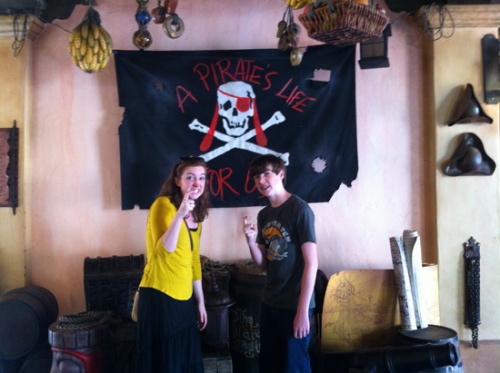 On a more recent trip, we went down was just my husband, me, and our youngest son, who is now 14. This, too, was a very different trip. It was during the Epcot International Food and Wine Festival. Having a child who was now willing to try different foods and new restaurants made it exciting in a whole new way. For the first time, he was not all that interested in rides, although he did manage to get me on Tower of Terror with him! He was content to hang out with us over meals, spend some time shopping, as well as just sitting and people watching. We did the Agent P World Showcase Adventure in Epcot, took in an Eat to the Beat concert at the American Gardens Theater at the American Adventure Pavilion and ate some great food. He was also very interested in catching all the bands playing throughout World Showcase, so we spent one evening going from band to band, managing to listen to them all at least once. It was a very relaxing trip, and we came home rested and ready to go back again!
Disney really does have something for everyone, and we have discovered that if you are flexible and willing to try new ways of seeing the parks as your kids get older, everyone can be happy. Sleeping in, slowing down, eating at new restaurants, and spending time just being together can make a vacation at Disney just the thing for families with teenagers. Oh! And it doesn't hurt to throw in a little Mad Hatter fun to turn someone's frown upside down!
Magically Speaking Featured Article
Library of Congress ISSN:1556-3863