This post may contains affiliate links for your convenience. If you make a purchase after clicking a link we may earn a small commission but it won't cost you a penny more! Read our full disclosure policy here.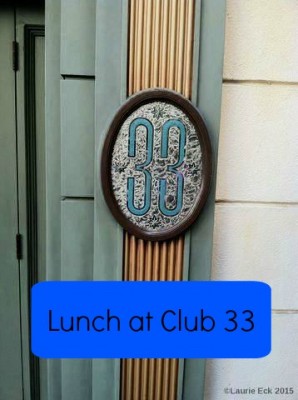 I had lunch at Club 33.  I still have trouble believing that statement 19 months later.  I was gifted an amazing opportunity to go inside the private club Walt had built to entertain dignitaries and celebrities at Disneyland.
What is Club 33?
When Walt was working with corporate promoters at the 1964-65 World's Fair, he noticed VIP lounges that were set up for the corporate elite and decided he would like to offer this as well at Disneyland.  When the plans were being made for New Orleans Square, he included this exclusive area.  Walt didn't want the public to know that Disneyland had a liquor license, so he used the address of 33 Royal St on the permit and the name Club 33 came to be.  Originally, Walt wanted this club for the Disneyland corporate sponsors and industry VIP's but individual memberships were offered when the club opened.  Walt passed away 6 months before the club opened on June 15, 1967.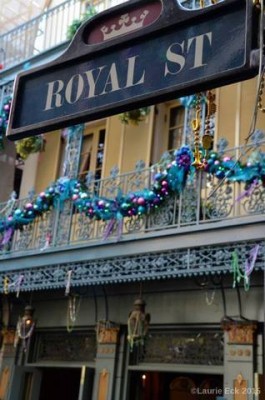 Memberships don't come cheap and in 2011, there was a 14 year wait list.  Membership Initiation in 2012 cost $40,000 for corporations and $27,000 for individuals.  Annual Dues ran around $12,000 yearly.  You cannot get into this club without a membership or as an invited guest of a member.  I never thought I would get a chance to go inside and experience a meal.  A friend of mine was given an invite where she could include a few friends and I was one of those lucky friends.  To the anonymous member who gifted her and our group this courtesy, thank you from the bottom of my heart.  You made a Disney fan very happy!!
Our lunch was in December 2013, right before they were going to close down for an extensive refurbishment.  I really appreciated getting to see the club as Walt had imagined it.  Our lunch time was at 2:00 p.m. and our small group gathered outside of the Club 33 door.  They ask that you wait until your reservation time to push the intercom button to the hostess.  You give the hostess the name on the reservation and she will let you in.
You steeped inside to the small lobby and were in awe of the beautiful rich red colors.  Stunning paintings, brass railings & the impressive French lift draw your attention immediately.  The French Lift was an exact replica of a lift in Paris that Walt fell in love with while vacationing.   Walt asked the owner if he would sell the lift and  the owner declined.  When Walt returned, he sent back a team of his engineers to get exact measurements of the lift and to attain a small sample off the back to ensure the proper finish.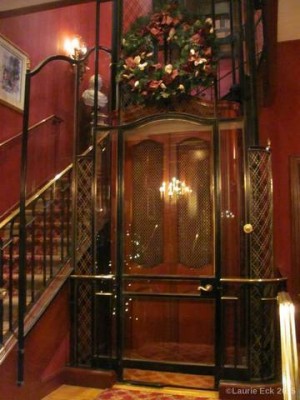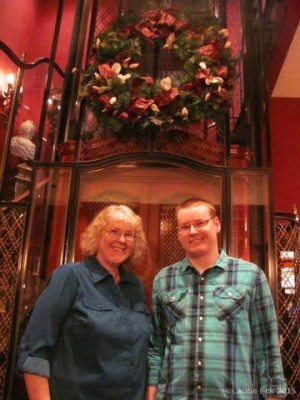 When your table is ready, you have the option of taking the lift (3 people max) or the stairs.  Our group split up so all of us could take the lift upstairs.  When we stepped off, the host/hostess greeted us and escorted us to our table.  We were seated in the private dining room, known as the Trophy Room.  We were thrilled to be seated in here, as this room would be no more after the remodel.  This area would be made into a dedicated kitchen for Club 33.  The Trophy Room had 2 large round tables and a long rectangle table.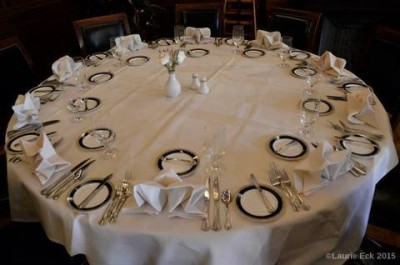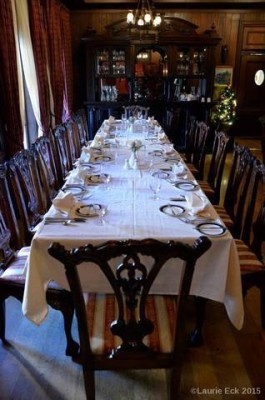 The dark wood paneling was originally adorned with native spears, masks and skulls but with a remodel imminent, a lot of the original pieces had been removed by the family.  Lillian decided to add a female touch to the room by adding butterflies on the wall, but when one of them went missing, the family removed them and now a few of them can be seen at the Disney Family Museum in San Francisco.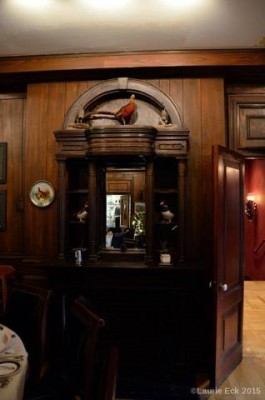 Walt originally had an idea of placing a microphone in the light fixture above the table so he could overhear the conversations and then have his audio-animatronic characters respond, but the system was never fully implemented but the microphones still remain.  The animals did talk up a storm in this room, but all of these were long gone.
Once we were seated, we were given the lunch menu.  Choosing what to have was difficult, as the menu had some very tempting dishes.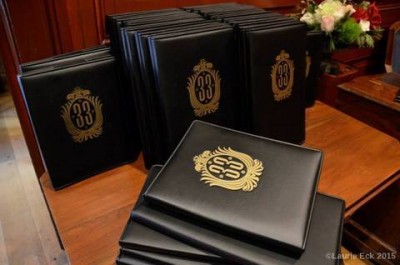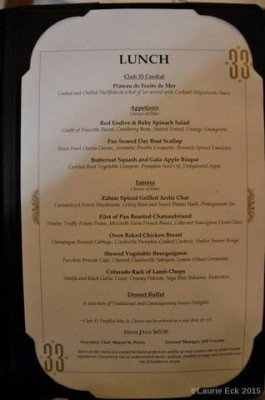 Our table was given a Club 33 Cordial or starter/tasting plate of Plateau de Fruits de Mer, which is French for a seafood platter.  The platter contained shrimp, lobster tail and crab claws on ice.  Two members of our party don't eat shellfish and received a plate of grilled then chilled vegetables.  The fried piece on top remains a mystery, no one could figure out what it was as the consistency was a bit strange.
The next course was our appetizers.  My son Tyler was my dining partner at this dream meal and he ordered the Butternut Squash and Gala Apple Bisque~~Curried Root Vegetable Compote, Pumpkin Seed Oil and Dehydrated Apples.  I chose the Pan Seared Bay Boat Scallop~~Black Pearl Osetra Cavier, Aromatic Risotto Croquette and Brussels Sprout Emulsion.
The entrée course for Tyler was the Colorado Rack of Lamb~~Salsify & Black Garlic Crust, Creamy Polenta and Saga Blue Balsamic Reduction.  I stayed with the seafood theme and had the Zahtar Spiced Grilled Arctic Char~~Caramelized Forest Mushroom, Celery Root and Sweet Potato Hash and a Pomegranate Jus.  So what exactly is Zahtar Spice??  Our waiter described it as a Mediterranean Spice that isn't hot or contain curry.  It was very good, but I couldn't explain it if I tried.
After a very fulfilling meal, you are able to head to the area between the Trophy Room and the Main Dining Room for the Dessert Buffet.  The bar is also located in this area.
Tyler & I chose the Angel Food Cake, Bailey's Cream Filled Éclair, Fruit Tartlet, Eggnog Cheesecake, Chocolate Mint Mousse, Gingerbread Cookie Shingle and Hot Chocolate.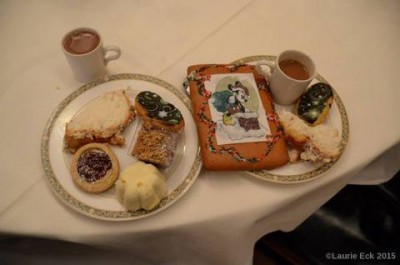 I was very impressed with our entire meal.  Tyler and I shared tastes of each other's selections and I don't think there is a wrong choice.  The plates are presented beautifully and our waiter was very attentive.  He even shared stories with us about his experiences over the number of years he had worked here.
After dinner, we were able to wander around a get some pictures, but unfortunately, the main dining room was being prepped for a private event and so we never really saw this room.  We did take a couple pictures in the restrooms, even these rooms were elaborately decorated.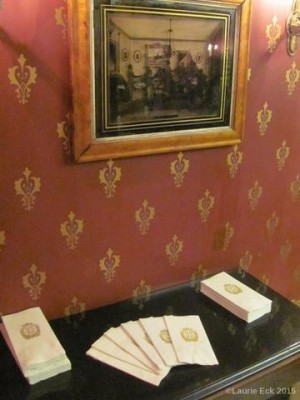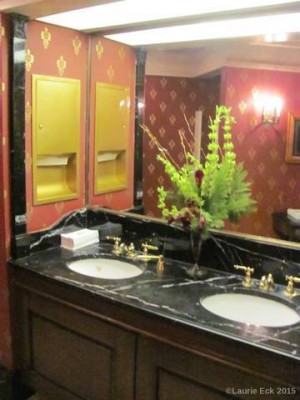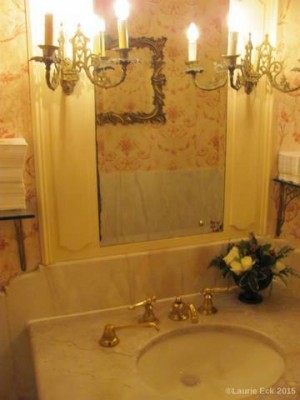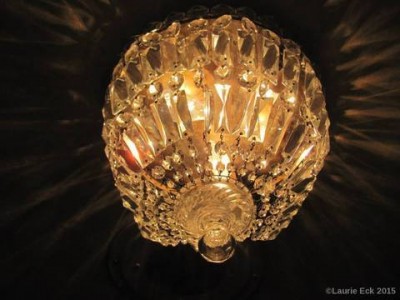 The Grandfather Clock and Phone Booth outside of the Trophy Room.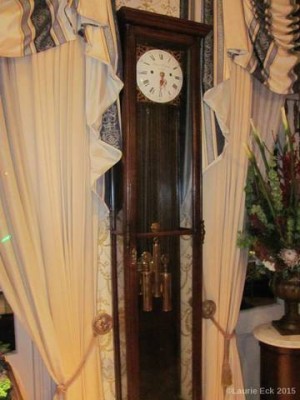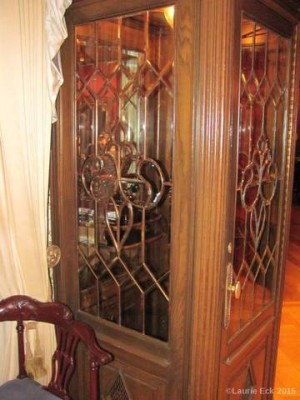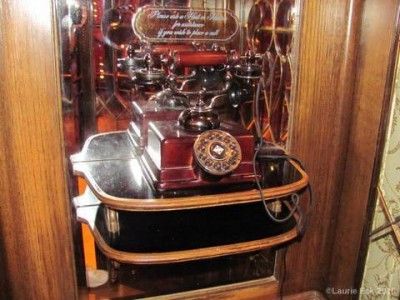 The last thing we did was check out the case of Club 33 merchandise.  We picked out a few mementos to celebrate our fabulous visit to Club 33.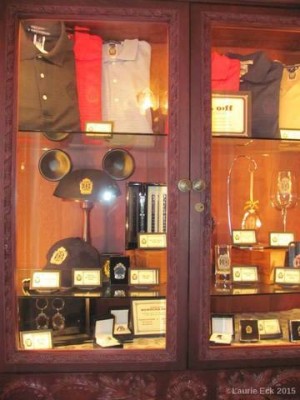 Club 33 closed for the first 6 months in 2014 for a major refurbishment that included taking over the Court of Angels area for the new entrance and waiting area.  I loved this little tucked away area in New Orleans Square and was sad to hear that it would no longer be available to the public.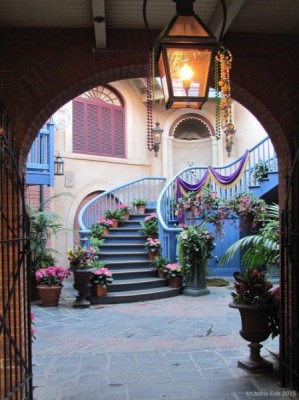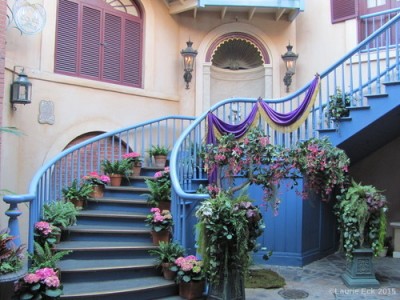 I would love to see all the changes but if I never get that opportunity, that's okay.  I got to see it as Walt wanted it to be.
 Have you visited Club 33 ever? What are your thoughts?