This post may contains affiliate links for your convenience. If you make a purchase after clicking a link we may earn a small commission but it won't cost you a penny more! Read our full disclosure policy here.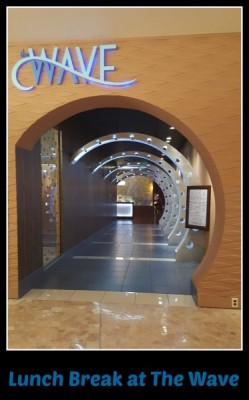 One of the best things about the Walt Disney Resort area is that there are so many great restaurants to choose from. I had heard good things about The Wave…of American Flavors restaurant at Disney's Contemporary Resort and decided to try it out for lunch.
When I arrived at the restaurant, I immediately loved the decor. It had a very modern, relaxed feel. I felt like I was miles away from the busy Magic Kingdom even though it was only a short walk or monorail ride away. The restaurant was surprisingly quiet for lunchtime, but I suspect that there are definitely times when it is very busy. I may have just happened to hit it at a slow time.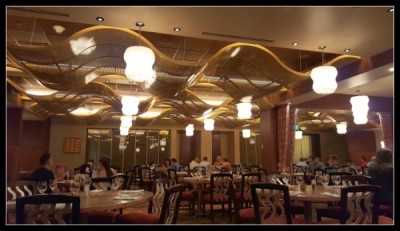 I made a reservation ahead of time and was seated very quickly. I had a hard time choosing what to order since there were quite a few things on the menu I wanted to try. I finally decided on the bacon, lobster, and tomato club. I love a good BLT and adding lobster to it sounded delicious. It's not everyday that I get to have lobster, so I decided to go for it even though it was a little bit more expensive than some of the other items on the menu.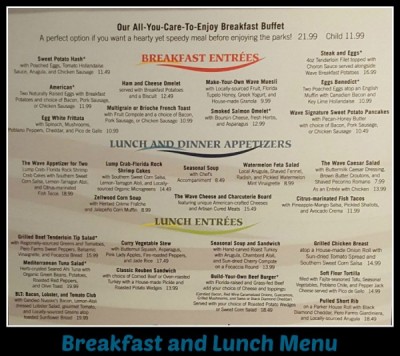 My meal arrived within minutes and looked great! The BLT sandwich was served on thick, sunflower bread. The lobster was served cold and it was really tender. The bacon was nice and crispy and had a fantastic flavor.  It tasted lightly candied and was certainly the best part of the sandwich (as you would expect from a BLT). I could have eaten an entire plate of that bacon. It was so good!
The tomatoes on the sandwich were perfect. I love tomatoes, but I will admit that I am picky about them and usually end up taking them off if they are too ripe or not ripe enough. These were perfectly ripe and juicy. Finally, the sandwich was topped with an aioli that really complimented the bacon and lobster.
This dish was served with potato wedges that were lightly breaded and baked rather than fried. I thought they were yummy and I liked that they were not too heavy or greasy.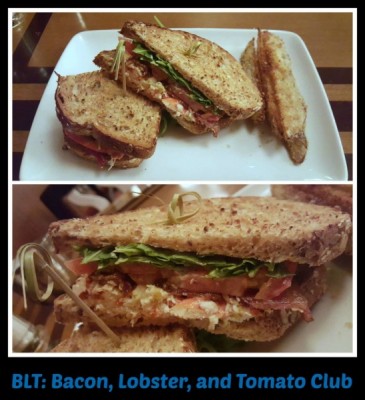 I didn't really plan on ordering dessert, but once I saw the menu, I couldn't resist. I immediately decided on the American Flavors Flight because it was like getting 3 desserts in one. This dessert dish included a key lime cube, a blueberry-almond shortbread bar, and brownie sundae.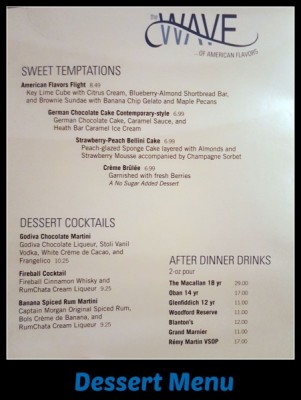 I started with the key lime cube since key lime pie is one of my favorite desserts. It was wonderfully creamy and tangy. The citrus cream on top blended really well with the key lime flavor. It was delicious!
Next, I sampled the blueberry-almond bar, topped with vanilla ice cream. It was good, but not nearly as flavorful as the key lime and the vanilla ice cream was pretty standard.
The last dessert was the brownie sundae. This was by far the most unique out of the three. The brownie was thick with a fudge-like texture and taste. On top of the brownie was a banana chip gelato and maple pecans. The gelato was great if you are a fan of banana flavored desserts. This dessert was my favorite of the trio and I was happy that I saved it for last.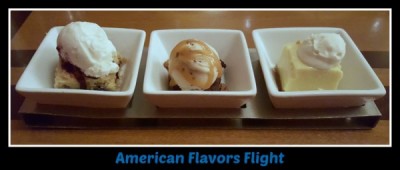 As I was tasting my desserts, one of the chefs came around to visit various tables to ask how the meal was. Around the same time, the people at the table next to mine were getting ready to leave and their server sang them a Zip-a-Dee-Do-Dah farewell. He then did a fantastic impression of Mickey Mouse for the kids at the table. I was impressed. My server was not so musically inclined, but she was extremely kind and attentive. I love that Disney cast members go so far above and beyond to make experiences magical!
I enjoyed my lunch visit to The Wave and I am glad I finally got to see what all the fuss is about.  I will certainly be back.  I can't wait to try breakfast or dinner someday soon!
Have you visited The Wave? What's your favorite thing on the menu?