This post may contains affiliate links for your convenience. If you make a purchase after clicking a link we may earn a small commission but it won't cost you a penny more! Read our full disclosure policy here.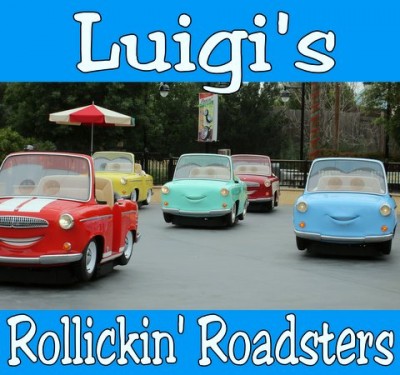 The cars are all lined up for you to take a spin on Cars Land's newest ride, Luigi's Rollickin' Roadsters. This attraction replaced Luigi's previous offering of entertainment, the Flying Tires, which never quite caught on with tourists. Now Luigi's showroom had been updated with a new trackless ride that is fun and repeatable.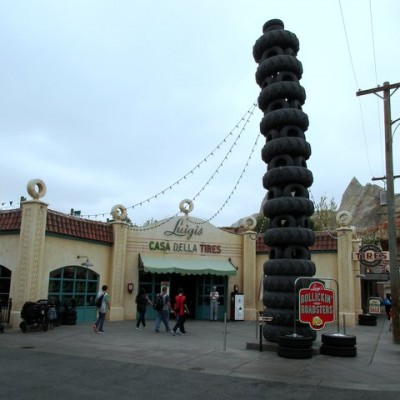 The exterior of the attraction still looks very similar and recognizable with the leaning tower of tires out front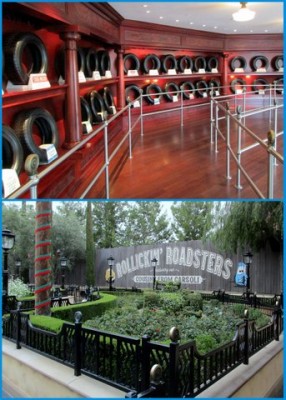 The backstory is that Luigi has invited his family from Italy to show off their dances. The queue's posters and signage changed to reflect that but little else is dramatically different until you get to the ride itself. Instead of looking like a giant air hockey table with hundreds of airflow perforations, the surface is now smooth and give no hint of the ride's mechanism.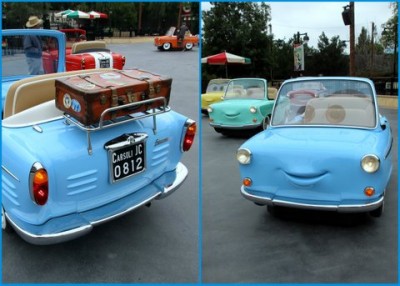 The cars themselves are unique. Some have luggage racks or mustaches, and each has a different expression. The candy-colored cars remind me of classic autos from the 1950s.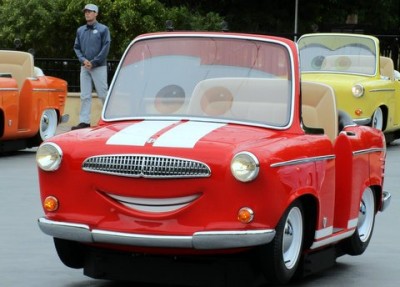 Each cars seats up to two people (32-inch height requirement) and has a lap belt. There are several gates leading into the attraction from the loading zone, but you are free to choose any car. There are handicap-accessible cars available.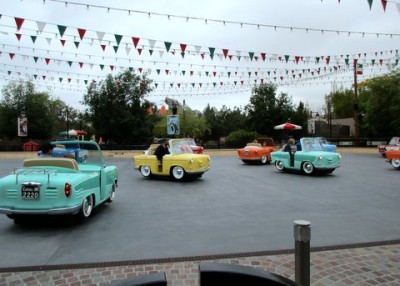 After buckling in, the cars treat you to one of their five dances. The movement is less whip-like than Mater's Junkyard Jamboree next door. The trackless vehicle system means that the patterns seem random — there are apparently up to 18 paths to follow — and will be different each time you ride.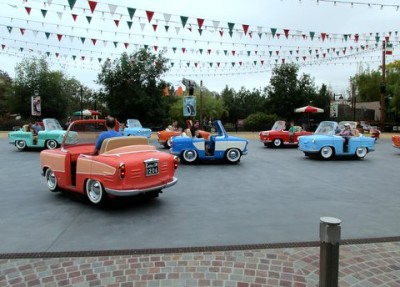 This attraction is almost as much fun to watch as it is to ride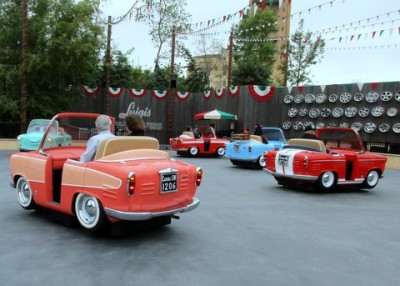 No matter the tune, near the end of each ride cycle, all of the cars do a cute like box-step together and then spin. Then they all reset smiling toward their new riders.
The trackless system means that Imagineers could update the attraction with different songs (maybe for the holidays?) or new patterns with software modifications and limited downtime. I hope we get to dance to Christmas music!
Touring tip: Many visitors don't realize that the ride has changed. 99 percent of the rope-drop crowd still rushes to Radiator Springs Racers. Turn left instead of right to ride Luigi's Rollickin' Roadsters instead, and you can walk onto it twice before anyone else catches on. Circle back to Cars Land at dusk to see the CarsLand neon lighting on Route 66.
Have you tried Luigi's Rollickin' Roadsters? Do you like it better than the Flying Tires?
Incoming search terms:
https://www themouseforless com/blog_world/luigis-rollickin-roadsters/