This post may contains affiliate links for your convenience. If you make a purchase after clicking a link we may earn a small commission but it won't cost you a penny more! Read our full disclosure policy here.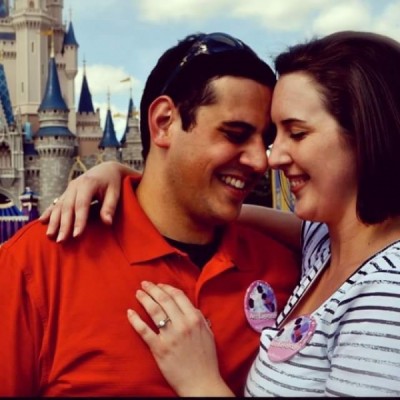 Whitney and Roshan
It's true…both Disneyland and Walt Disney World are quickly becoming the place to pop the question. Disney even offers engagement packages through their Disney Fairy Tale Weddings division. The choices are only limited to your imagination (and of course within Disney Law…no swimming in the moat to propose!). You can have cast members help you in your proposal or simply drop to one knee anywhere you'd like. Don't forget to get your celebration pins and a stunning picture in front of the castle with your new ring like Whitney! Listed below are 10 ways to propose in Disney, some even include my friends and their love stories.
1.In front of the castle.
We've all seen these pictures on blogs, on Facebook groups, t shirts, information pamphlets…you get the point. This is a top spot to ask your loved one to spend the rest of their life with you. Justine met her fiancée while working in Walt Disney World, so to make their engagement extra special Dan waited till they were on vacation in Disneyland at Christmas to propose!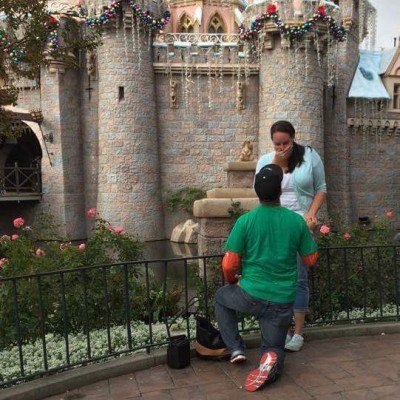 Justine and Dan
2. Cinderella's Royal Table.
This popular proposal spot is actually included in the Disney Proposal package. After a wonderful dinner out comes a special dessert. A glass slipper presented on a bed of rose petals under a silver dome. You can even use it later in your engagement photos like Josh and Karlie did!
Karlie and Josh
3. Napa Rose/Victoria and Alberts.
Is your significant other a Disney foodie? Do you want a nice quiet environment? Look no further than Victoria and Alberts at Walt Disney World or Napa Rose at Disneyland. They offer high end cuisine and marvelous romantic atmosphere. Samantha and Andy met while they both worked for Disney out in California so what better what to celebrate their love than at Napa Rose in Disney's Grand California hotel.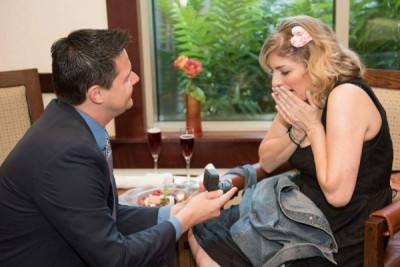 Samantha and Andy
4. Snow White's Wishing Well.
The wishing well is an often overlooked place in my opinion. There are many people who don't even know where it is which gives a certain amount of privacy for the perfect proposal.
5. During Wishes/Disneyland Forever.
The fireworks are bursting in the sky as your significant other stares up in wonderment, they look to see if you are enjoying it as much as they are and there you are down on one knee! What could be more perfect?
6. On your significant others favorite ride.
When I worked at Pirates of the Caribbean, we had a very nervous man ask if he could propose on the ride. Of course we said yes! We put them in their own boat and sent them through…we even watched him propose in the burning city on our security cameras and there may have been some phone calls down to the unload area to find out what the answer was.
7. Osborne Spectacle of Dancing Lights.
Sadly this is no longer an option but when the lights were out and the Christmas music was all around you would often see someone down on one knee. Emma and her husband Tom met while working in the "backlands" of Hollywood Studios so of course they got engaged there (and yes that is a Tardis the ring is in).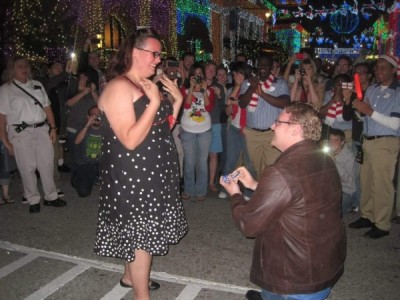 Emma and Tom
8. Disney Cruise Line.
The Disney Cruise Line has so many proposal options it could be its own article. There's dinner at Palo, character interactions, dinner with the captain, that amazing grand stair case in the atrium, but my favorite is Disney's private island. You've had an amazing cruise vacation and are soaking up the sun at Castaway Cay, there is no better way to end the day then to proposing to your love.
9. Electric Water Parade.
This is where I was proposed to so I had to put it on my list. The water pageant is the perfect time to propose to your sweetie especially if they love the water pageant or the beach! There is sadly no photographic evidence of my actual proposal but I made my husband reenact the entire thing in front of the castle for pictures.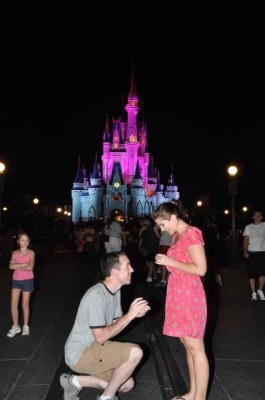 Jessa and Curtis
10. I'm rounding out the list with an idea that I hadn't heard of before. Imagine enjoying a nice horse drawn carriage ride through Fort Wilderness or around Port Orleans and asking your love to spend eternity with you. Doesn't it just make you sigh with the romance of it all.
So when you want to pop the question to your special someone, there really is no better choice than to include some Disney magic!
Have you ever proposed at Walt Disney World or have you gotten proposed to? Share your experience in the comments!