This post may contains affiliate links for your convenience. If you make a purchase after clicking a link we may earn a small commission but it won't cost you a penny more! Read our full disclosure policy here.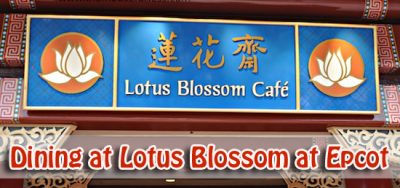 One of the least favorite countries to dine in at Epcot seems to be the China Pavilion. It always seems like people pass by here, likely because there are other great and delicious options to choose from and Chinese food restaurants are so prevalent around neighborhoods, oftentimes with better food than what's found around the World Showcase pavilion.
However, one day, I was walking around World Showcase and knew I needed to grab a bite. Given that I was near the China Pavilion, I thought, what the heck. (I know…what a glowing endorsement to start with!)
The Lotus Blossom is an open air counter service dining establishment. The restaurant offers traditional Chinese food fare, such as Orange Chicken, Shrimp Fried Rice, and Hong Kong Style Vegetable Curry. The only downside to Lotus Blossom is that there aren't nearly the number of options to choose from, unlike popular local quick service locations. (I'm looking at you Panda Express.)
There's also one more small disappointment…and that is that my favorite dish isn't offered as an adult entree, however, it is offered as a kid's choice! Adults can choose to order dishes off the kids menu, if they choose, and that's exactly what I did!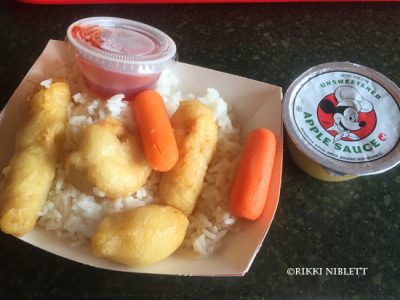 I got the kid's Sweet and Sour Chicken served with rice. Since I chose a kids meal, I also got to choose another side, so I went with the applesauce. Finally, my meal came with a drink, so I chose the milk.
While the portion size isn't huge (I mean, again, it is a kids meal), I found it to be a satisfying meal, though I do have a pretty small appetite usually.
The chicken was cooked perfectly, with a good crunch. The sweet and sour sauce, was tangy, as you would expect. But the good thing is that it was on the side, so that if you were getting this for a small child and they really just wanted the chicken, and didn't care about the sauce, they would essentially be able to eat the dish like chicken nuggets.
There was actually quite a large portion of rice that came with the meal. It was sticky, not over cooked. It was also surprising to see the couple of carrots that came with it too.
The applesauce was the traditional Disney applesauce that you receive with kids meals. It is unsweetened and quite good.
Honestly, I thought my meal was quite delicious. Again, I do wish they served Sweet and Sour Chicken as an adult option as well, but at least I can still order it, if I want it!
Have you tried Lotus Blossom? What did you think? Share your thoughts in the comments.
Incoming search terms:
https://www themouseforless com/blog_world/lotus-blossom-epcot/