This post may contains affiliate links for your convenience. If you make a purchase after clicking a link we may earn a small commission but it won't cost you a penny more! Read our full disclosure policy here.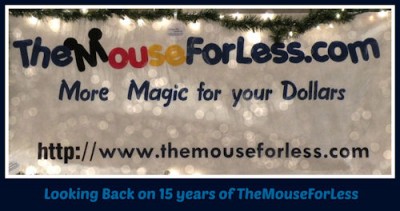 It was fifteen years ago, March 16, 1999 to be exact, that a little Yahoo group called DisneyDollarless was born. The group was launched by Binnie Betten as a way for Disney fans to chat, plan, and just talk about their favorite subject.
From those initial few members, DisneyDollarless quickly grew to boast 500 members, Those 500 people knew they had stumbled onto something special. So much so that there is still a list of those charter members hiding on the Yahoo group. The group continued to grow, and today, boasts over 14,000 members!
As DisneyDollarless grew, so did the need for a more permanent way for information to be shared. Thus, the website was born. Now DDLers (as the group members called themselves) could have a handy reference to find the information they needed.
But wait, you might wonder, what does DisneyDollarless have to do with TheMouseForLess? Well in order to create a name that not only reflected who the group had become, but also to avoid confusion with the Disney Company, the name changed to TheMouseForLess. (Apparently no matter what the name, we don't like spaces between words.)

Over the last 15 years, there have been many changes. As you might imagine, as a list and then a website grows, so do the demands it places on resources – both financial and personal. A wonderful band of helpers emerged to help run the operation. They were known as the ImaginEARs. This fun group spent much time working on supporting the group and website. They were behind the contests and trivia on the list, moderated the discussions, and helped with many aspects of the website. I remember when I became an ImaginEAR. It was great fun to be a part of that enthusiastic group.

While the ImaginEARs answered the need for people, there was still a need to support the operations. From here, The Magic For Less Travel was born. Now a wonderful and successful Earmarked travel agency, The Magic For Less sponsors many of our TheMouseForLess endeavors.  While The Magic For Less maintains its own website and operations now, we benefit from the relationship between the organizations. The Magic For Less Travel is, of course, the sponsor travel agency of TheMouseForLess, and it is a benefit having knowledgeable travel agents who also work with the folks who support the fan site side of things.
Today, TheMouseForLess not only hosts the original Yahoo Group, but there are message boards as well. The MFLBoards were launched to give users an option. It seems that there are some people who love the group format, and some who love message boards. Now there are ways to meet the needs of everyone. If you haven't wandered over to our forums lately, you should give it a try. There is so much information and fun on the MFLBoards. It's a great, friendly group of people who frequent the boards.

The website has also grown, and recently got a fun, new look, too! There is so much information on the site. It now not only includes Walt Disney World, but also Disneyland, Disney Cruise Line and even Universal Studios. There is general trip planning information, money saving tips, and lots and lots of menus and photos.
Nine years ago, we revamped the bi-weekly newsletter. What used to be just for sending out quick announcements became a great publication full of articles, tips, photos, and information. Magically Speaking continues to help readers stay informed on so many aspects of planning a trip.
We are also busy on social media in the form of Facebook, Twitter, and Pinterest. None of these was even thought of when TheMouseForLess was launched. We use these channels to keep people informed, share travel tips and photos, and just generally have fun.
If you want to hear what a wide variety of authors is saying about Disney planning and Disney Company, we have a fantastic blog full of information. Head on over to the blog and see for yourself.

But after all of the changes, all of the growth, and all of the new possibilities, we haven't lost sight of our original goal – to help you plan your vacation the "Dollarless" way! No, sadly, that doesn't mean free, but it does mean that if there are money saving tips, or ways to help budget for a trip, we love to share them.
I joined the Yahoo group back in its DisneyDollarless days – sometime around early 2001. Since then, like so many of our members, I have shared trip reports, photos and parts of my live with other people in our TheMouseForLess community. I have gotten to know so many people whom I have never met in person, but who have become a part of my life.
Sometimes we find that trips coincide, and we are able to finally meet face-to-face. It's so much fun to meet an old friend for the first time. I've met friends who live in nearby communities whose path I may have never crossed without TheMouseForLess. I've met people who live an ocean away, but I would never know it because they seem so close when we are online.
So, happy birthday to TheMouseForLess! May you keep sharing the joy of planning Disney vacations (for less!) for many, many years to come.