This post may contains affiliate links for your convenience. If you make a purchase after clicking a link we may earn a small commission but it won't cost you a penny more! Read our full disclosure policy here.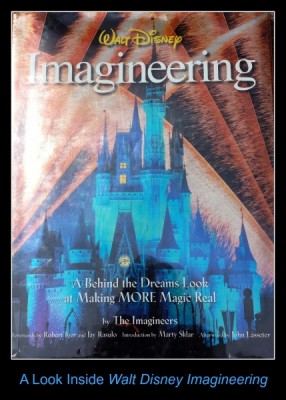 If I could choose any job in the world, I would be a Disney Imagineer. Imagineers are the amazing people behind all of the creative ideas that are brought to life in the Disney parks. When I found this book, I couldn't wait to read it! After all, it's an entire book devoted to the process of creating a Disney park. How exciting to have a behind-the-scenes look!
As soon as I picked up Walt Disney Imagineering: A Behind the Dreams Look at Making MORE Magic Real, I knew it was going to be great. The emphasis on "MORE magic" in the title is because there is an older version of the book that was published in 1998. I have the older version as well and would recommend it to anyone who loves to read about the earlier years of the Disney parks. The book retails for about $60, but I found it for less. Don't let the price tag scare you off. There are close to 200 pages, so there is a substantial amount of information in the book. If you want to take a look before purchasing, you may be able to find it at your local library.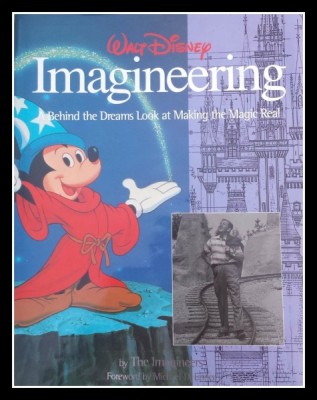 Earlier version of the book published in 1998
My favorite part of this book is definitely the pictures. The photographs and concept art are stunning and before I even read anything, I spent an hour flipping through the book just looking at the artwork and photos.There is so much more to this book than pictures though!
The Imagineering book is divided into 3 main sections: Theory, Tools, and Portfolio. Those sound like boring, technical terms, but trust me, nothing about the development of the Disney Parks is boring! Even though it is divided into chapters, it doesn't read like a novel. You could very easily pick it up and read a few pages here and there.
Part I: Theory
The first section of the book focuses on all of the ideas and thought processes that go into developing each individual attraction as well as how each detail fits into the Disney park experience as a whole. When you step into a Disney park, the Imagineers want you to feel like you are in another world and they go to great lengths to make this happen. So many components are considered during this part of the process before anything tangible is ever created. You get to see what many of your favorite attractions looked like on paper in the research and development stages in this section. It was eye opening for me to take a look at all of the tiny details that Imagineers have to think about before they build anything.
Part II: Tools
Once a storyline is born, the Imagineers begin the process of turning that story into something that you can see, feel, hear, touch, and sometimes, taste. It's one thing to come up with the idea of a larger-than-life castle or a gigantic mountain with a roller coaster running through it, but actually creating those requires a lot of brainpower, hard work, and a little bit of Disney magic.
Disney Imagineers often rely on outside help to bring an idea to life. For example, when developing Mission: Space, Imagineers worked with NASA to ensure that the experience was authentic. Most of us will never have the opportunity to fly into space, so the Imagineers want to give us an experience that is as close to the real thing as possible. I liked seeing how collaborations such as this one have enhanced so many Disney attractions.
One thing about this chapter that I truly enjoyed was seeing how the final product compared to the original concept artwork. They are surprisingly similar in many cases which I think really shows the talent that Imagineers have for taking an idea and making it a reality.
Part III: Portfolio
Disney Parks from around the world are showcased in the book and it was really neat to be able to see the differences in each location.  Even though many attractions are very similar, each park has its own special touches and details. What was involved in translating the jokes from the Jungle Cruise for the Hong Kong Disneyland audience? How was the Tower of Terror adapted to fit in with Japanese culture? How was a park created to house live animals living in natural habitats? How did Imagineers take the Disney theme and create an entire cruise line? In the Portfolio section, this is all discussed in detail.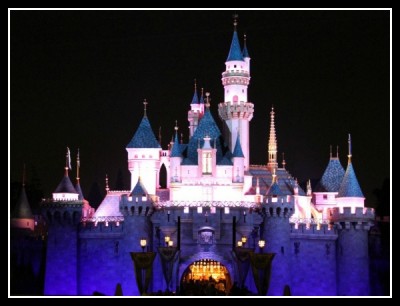 Imagineers take ideas and make them a reality
Even though I would love to work as an Imagineer I know that this will most likely never happen. I think the authors knew this would be the case for many readers and concluded the book with suggestions for how people just like me can have the mindset of an Imagineer in our everyday lives.
I would recommend Walt Disney Imagineering to any Disney fan. Reading this book made me really want to visit all of the parks around the world.  I have to say, my bucket list has grown quite a bit since I finished reading!
My only complaint is that it was published in 2010, so it is several years old.  I am crossing my fingers that a new version will come out in the future since I love the 1998 book and this one.
Imagineering makes a great coffee table book and it is easy to pick it up and read little bits when you have a free moment. Or, you can do what I do most days, flip through and look at the pictures and dream of visiting a Disney park!
Have you read Walt Disney Imagineering?  What did you think?
Incoming search terms:
disney imagineering book
inside the imagineering workbook
walt Disney imagineering