This post may contains affiliate links for your convenience. If you make a purchase after clicking a link we may earn a small commission but it won't cost you a penny more! Read our full disclosure policy here.
Innoventions, one of Epcot's mainstays has been going through a lot of changes recently, all of which seem restricting. There are only a handful of exhibits left, much of the usable space is for character meet and greets, and it sometimes feels like a storage space to house odds and ends. But just because Innoventions seems to be withering doesn't mean it's down for the count.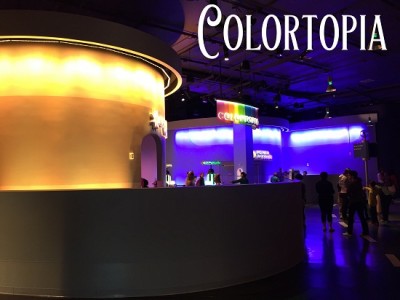 Enter Colortopia presented by Glidden, one of the largest paint manufactures in North America. It's the newest exhibit at Innoventions with a focus on, you guessed it, color! But instead of just showing guests a bunch of cool colors, the exhibit focuses on some of the psychological aspects of color like how color can make us feel.
Launched in late 2015, Colortopia is broken out into three sections: theater, play area, and high tech coloring room. The play area is visible as guests walk up, but the rest is hidden from view. Hiding most of the exhibit from passers-by adds an air of mystery to the booth and draws guests in, that's how they got me. But the thing you'll notice before anything else is the color, or colors, of the booth. It's bright, it's loud, and it's constantly changing color palette draws your attention immediately. The outer walls turn red then green then blue and everything in between thanks to the exhibits lighting rig. The burst of color is so different and unique when compared to the typically muted colors presented in other Innoventions exhibits that you can't help but investigate.
The line to the attraction starts outside The Power of Color Theater, a cylindrical theater reminiscent of the O Canada! theater at the World Showcase, only smaller. Once inside you're greeted by the narrator (Bill Hader?) who walks you through a quick color changing presentation. As he talks the theater changes color to show how different colors can correlate to a mood or feeling such as sad, happy, or creative. It's a short presentation, but a great primer on how we interact with colors and the profound effect they can have even if we're not paying attention.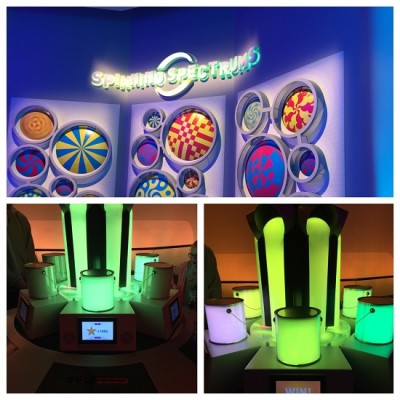 After the theater presentation you're let out into the Color Lab, the area that's visible from outside the exhibit. In this area you can play a color matching game called Color Mix n' Match where guests are pitted against each other to match a specific color using red, green, and blue sliders. The machines are finicky and the few times I've played they seemed occasionally unresponsive, but they're forgiving enough to make everyone feel like a color master.
If competition's not your style, the back wall has patterned wheels of varying sizes in a section called Spinning Spectrums. Each wheel has two colors arranged in a pattern and a corresponding button on a large console below the wheels. When a button is pressed a wheel spins, melding the two colors into a new color. The Color Lab is a great diversion while you wait to enter the final, most magical, area of the entire exhibit.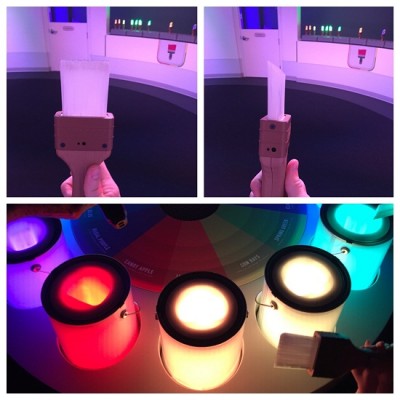 Color Our World is the final area of Colortopia and is split into two rooms. The first introduces you to the magical paintbrush you'll be using in the second. This magical paintbrush is supposed to be able to sense the color you're thinking about. Okay, it can't really tell what color you're thinking about, but it does change colors when prompted. You're also given time to play with your shadow. Depending on your distance to the back wall, your shadow will change colors thanks to a special array of lights in the room. It's a neat effect, one that you're encouraged to take pictures of.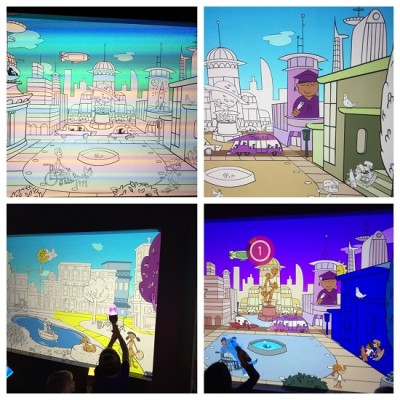 Once everyone is done making shadow puppets and has their magical paintbrushes you'll enter the final room of the exhibit which house several screens with differing scenes, all of which are devoid of color. Your job is to bring the scenes to life using color. How? In the center of the room is a bank of colored paint cans, your color pallet. Simply dip your brush into a can, and your paintbrush lights up with that color and you're ready to paint. Using your paintbrush you can paint almost anything: buildings, scenery, people, and animals on any of the screens. As you fill the world with color things will start to come alive. You can even change the color of certain items to change them completely. Color a cat blue and he'll sleep, color him orange and he'll become a courageous lion. There are a limited number of screens so chances are you'll have to share, but that's part of the fun.
After you've got everything filled in you're given a code which allows you to download your colored pictures via a smartphone app. There's even a website attached to Colortopia that offers additional information and a color personality quiz.
Colortopia is fun for the whole family and is a welcomed departure from the typical exhibits at Innoventions that focus on practical applications like creating a savings account, preventing fires, or staying safe in a windstorm. Instead Colortopia dives into the emotional side of things and shows how colors can affect your mood and your ideas.
Have you ever done Colortopia? What were your thoughts?
Incoming search terms:
https://www themouseforless com/blog_world/look-colortopia-epcots-innoventions/