This post may contains affiliate links for your convenience. If you make a purchase after clicking a link we may earn a small commission but it won't cost you a penny more! Read our full disclosure policy here.
Mission Impossible or How to have fun at Mickey's Not So Scary Halloween Party
You cannot do it all! I have attended quite a few parties now and over the years crowd management has become an issue, but is it still a fun event? Of course it is, but you have to be prepared to make choices and do what is most important to you. Is it the shows, the character meet and greets, and the trick-or-treat stations? Do you want to ride attractions, or do you simply want to take in the atmosphere?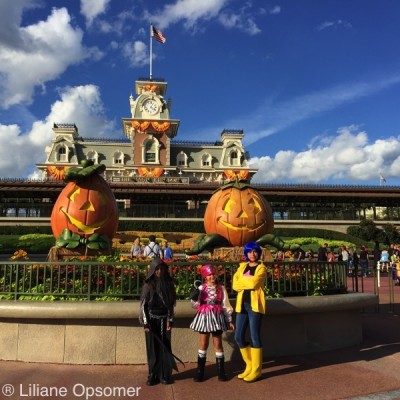 I personally go for the atmosphere, and a few highlights; but I also realize that this is a luxury that is only satisfying for repeat visitors. My favorite part of Mickey's Not So Scary Halloween Party is really seeing all the wonderful, imaginative costumes that guests put on, kids and grownups alike.
I cannot decide which was my favorite group I really loved them all. Which one is your favorite?
I love the Boo-to-You parade, and usually aim to see it twice. If you only have time for one viewing, aim for the first parade because inclement weather could lead to the cancellation of the second parade. If, during your visit, there are fair skies, aim for the second parade, as that parade is usually less crowded.
Make sure to get a good viewing spot at least 30 minutes before the start of the parade. The headless horseman always comes about 5 minutes prior to the start of the parade, and you do not want to miss him. In the parade my favorites are the gravediggers. When they hit the concrete with their shovels, the sparks are flying!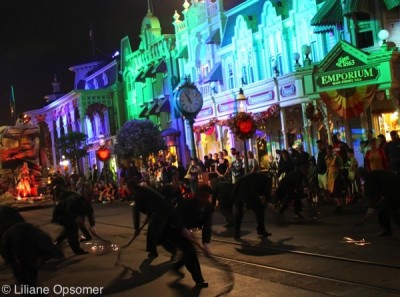 The HalloWishes fireworks display is of course another must. The problem is where do you go for a good spot and most importantly how long in advance are you going to claim this precious location? Once you claim a good spot you are losing precious touring time and I generally do not like to do that. Currently however, I think that there is no other way. Something has to go and you need to make a choice. Enjoy the rest of the park, or claim your spot and let go of some of the entertainment. While you can see the fireworks all around the castle, the best spot is in front of Cinderella's castle in view to enjoy the projections unto the castle.
Every year there is a villain show, and this year the Hocus Pocus Villain Spelltacular is absolutely spectacular. Held in front of Cinderella Castle, the show, like HalloWishes it is very popular, and you have to carefully pick a show. I suggest the last one, in view to avoid losing too much time claiming an unobstructed spot right in front of the stage.
Lines for candy are long in the first hours of the event. Unless it is very important to you I would say skip trick-or-treating till much later in the night. If there is one thing not to worry about, it is the fact that there is plenty of candy to be had, all night long, and till the very end.
The character meet and greets are the real tricky part. I strongly recommend you pick a few and do not attempt to meet them all. Go for your favorite, those that are not out at other occasions. Have a plan. Many are a long wait and you could end up spending hours standing in line for a few character meetings and candy.
Granted small children will want their candy and who does not want to meet Jack Skellington and Sally? This year, Jack and Sally were meeting guests prior to the official opening time of the party. The wait at 5:25 p.m. however, was already 45 minutes.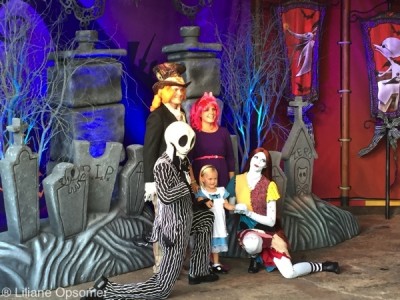 Years ago I was able to do all the meet and greets, see both parades, enjoy HalloWishes and the main villain show without feeling suffocated; and yes, I would get lots of candy and even rock out the night with my son at the dance parties. This is no longer possible.
While one can still have a great time just people watching I do not recommend this event for a first-timer until Disney reduces the amount of tickets sold for each night. (Which of course, doesn't seem likely to happen.)
Did you visit this year? What was your experience? We would love to hear from you.