This post may contains affiliate links for your convenience. If you make a purchase after clicking a link we may earn a small commission but it won't cost you a penny more! Read our full disclosure policy here.
A number of The Magic for Less Team members were privileged to tour and sail on the Disney Dream prior to its maiden voyage.  I am excited to share my impressions.  We promise to have more first-hand reports and photos from Disney's newest cruise ship in the coming weeks as well!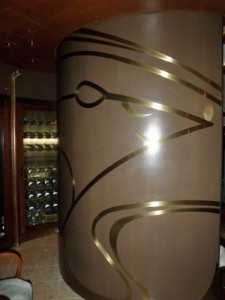 ===
I have sailed on Disney's Wonder and Magic many times and love both ships.  The Disney ships are classic, elegant, and fun.  The Disney Dream is even more so.  From top to top to bottom, this ship is gorgeous, and exciting, and magical. So, please excuse me if I gush a bit.
When I stepped on the ship, the atrium lobby literally took my breath away.  I was in awe and could not stop taking pictures of everything I saw.  Just look at the chandelier and the staircase!  But, the atrium is really just the introduction to the rest of this magnificent ship and I'll mention some of the highlights of this new ship.
Dining (Since I know a lot of people are interested in this one!)
Disney Cruise Line has re-imagined one of their most popular restaurants, Animators Palate, and also brought us two new restaurants.  Animators Palate is more interactive than before, and will keep everyone entertained.  I don't want to give too much away, but guests will enjoy dining with their favorite Pixar Duuuude.  Also make sure you notice the creative nods to Pixar located throughout the restaurant.  There are some nice touches and this restaurant has some great details.  The chairs, the serving pieces and even the butter knives really reflect the spirit of this restaurant.
Enchanted Garden is truly enchanting, and the themed setting is a relaxing space to enjoy a meal.  The lighting effects are subtle but really add to the experience.  The Royal Palace dining room is the most elegant of the three dining rooms.  There is a spectacular light fixture in the middle of the room that features a very famous glass slipper.  There are also some great princess portraits located around the dining room.   The marble floor leading up to the restaurant is also worth noting, and photographing.
Palo, the adult-only restaurant is also back on the Disney Dream as well as the newly added Remy's.  Both have wonderful ocean views and offer a great dining experience.   Palo was as good as I remember, and I can't wait to try Remy's on a future cruise.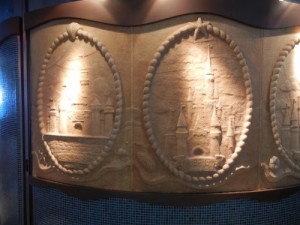 Cabana's is the new buffet style meal and they had some good selections. There is some cool décor and Disney touches to check out here as well.  I really loved the Disney sand castles depicting the castles from the different Disney Parks..  There are also lots of spots to grab a quick meal or snack at Flo's Café.  If you are familiar with the Cars movie, you will appreciate the food stations including  Tow-Mater's Grill, Luigi's Pizza and Fillmore's Favorites.
Spaces for Adults
The District is the adult night club and lounge area on the ship. I'm so glad to report that this area of the ship has been expanded.   The District features 5 unique areas to enjoy including the ultra themed Pink, designed to make you feel as if you are inside a champagne bottle.  The District also includes District Lounge, The sports Bar 687, Evolution, and The Skyline Bar.  The Skyline Bar is another spot you won't want to miss.  Make sure you stop by to catch a glimpse of the changing skyline behind the bar, and the fireplace – complete with crackling fire.
Spaces for kids
Of course the spaces for kids has been enlarged and improved too.  It's a Small World Nursery is available for children ages 3 months to 3 years, and it  really captures the look of its namesake attraction.  It is really charming and has such a great theme.  It looked like a great spot for young children.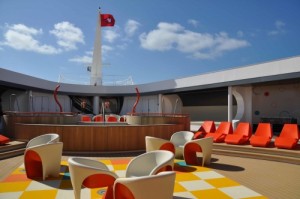 The Oceaneer Club and Oceaneer Lab are full of activities and areas that will be appealing to kids ages 3-10.  In the Oceaneer Club, kids will have the opportunity to play in Andy's Room, Monster's Academy and Pixie Hollow.  The Oceaneer Lab has a Media Room, Sound Studio and Animators Studio
Vibe is the spot for teens and this is an amazing space.  I'm not sure I will ever see our daughter after she finds this spot.  There are lots of places just to hang out and play video games and watch movies.  In addition there are there really cool round seating areas with iPod docs and speakers.  In addition there is a awesome outdoor space complete with whirlpools, sundeck and so much to do.
Shopping
Thankfully, the shopping area has also been expanded on the Disney Dream.  If you are sailing during the first year, you can look for the merchandise with the Disney Dream inaugural logo.  Make sure you pick some up early in your cruise because some items will sell out.
Mickey's Mainsail carries Disney Dream logo merchandise, clothing, pins and other souvenirs and gifts. Sea Treasures features, watches, jewelry, chocolate, purses, and more.  White Caps carries fragrances, cigars, and liquors.   Whozits and Whatzits is located by Donald's pool and carries souvenirs, pool items and also some sundries, and you have to love that name!
Entertainment
Disney Cruise Line has always had top of the line entertainment and you will find that again on the Disney Dream.  Highlights include the all new show, Believe.  This heartwarming show shares the story of a father and daughter who reconnect using the power of magic.  Are they trying to make us cry?  The Golden Mickeys: A Timeless Tribute has been expanded to include new scenes and special effects.  Also, the popular Villains Tonight brings all your favorite bad guys and gals on stage in a show that the whole family will enjoy.  I also love the fact that the Walt Disney Theater now has a balcony section.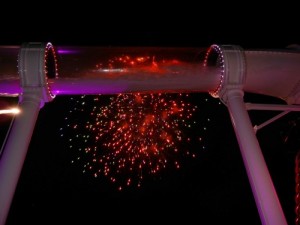 In addition, The Pirates IN The Caribbean Deck Show becomes Mickey's Pirates IN The Caribbean on the Disney Dream.  The show features many of your favorite characters as well as the Buccaneer Blast! Fireworks spectacular.  Since Disney Cruise Line is the only cruise line that has a fireworks show on the ship, this is show that you won't want to miss!  It really is an awesome experience to watch the fireworks above the Aquaduck tubes!
Pools & Water Fun
One word –  Aquaduck!  Only Disney could have imagined something this exciting and innovative on a cruise ship.   It is truly a water coaster with a lot of surprises.  The famous Mickey slide is still on the ship as well.
Adults' will want to visit the adult-only Cove pool which is surrounded by some very comfortable chairs.  The whole family will enjoy Donald's Pool and Mickey's Pool.  Both pools have great views of the Funnel Vision Jumbo screen television.  There is also the ultra-themed Nemos Reef where kids can splash around with familiar Finding Nemo characters.   This is such an awesome and accessible space.  I know it may have been designed for younger children, but everyone should check it out!
Everyone will want to play a round of golf at Goofy's Golf course.  It is distinctly Disney and offers some great photo opportunities as well as some fun.  Also look for the Arr-cade where pirates of all ages can display their video game skills.
There are so many things on the Dream to be excited about.  I hope this gave you a brief glimpse and gets you thinking about spending some time on the Disney Dream!
Let me know your thoughts and if you have questions, please post!