This post may contains affiliate links for your convenience. If you make a purchase after clicking a link we may earn a small commission but it won't cost you a penny more! Read our full disclosure policy here.
By Lindsey Tullier
Many of you have probably already seen "Little Timmy Tours Magic Kingdom," the five-minute Disney video that is shot from the perspective of a stroller-bound youngster visiting the Magic Kingdom with his hyperactive parents. If you haven't seen it, you can view it here. Although the video parodies the jam-packed day the excited parents have planned, I think it could lead to frustration for those parents who might think they actually can rush from attraction to attraction with their toddler and expect to conclude the day with a magical, brochure-ready picture with Mickey Mouse. (Although isn't it a relief when poor Timmy gets some peace and quiet at the end? At least Mickey Mouse isn't going to jabber at him while he gives him a hug.)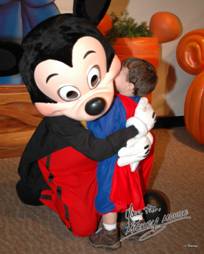 Now, I am certainly not saying that you shouldn't take a young child to Walt Disney World. My youngest son was eight months old on his first visit. Well, technically, his first visit was in utero, but you get the picture. I cherish the memories that we made as a family, and I enjoyed watching the wide-eyed wonder on my children's little faces when they saw their favorite characters for the first time. I can tell you, however, that if we toured the parks the way Little Timmy's parents did, then those visits would be less than magical (the movie Child's Play comes to mind) for everyone involved.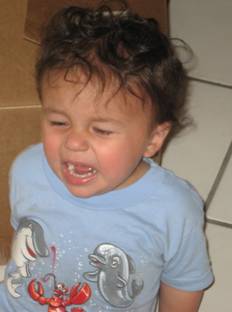 Like all other Disney vacations, traveling to the World with small children requires planning. It also requires flexibility. While this may seem like an oxymoron, both are essential in preserving any kind magic you're trying to create on your trip. At any given moment, Little Timmy could take an interest in a butterfly floating around or a duck eating scraps near the sidewalk. Take some time out of your touring plans to savor these little moments; they are as magical as any theme park experience.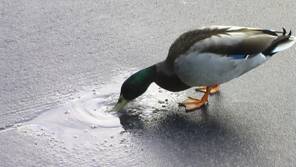 The most important planning you can do is to make sure that Little Timmy's basic daily schedule remains, for the most part, consistent with his normal routine. That means keeping meal times, nap times, and bed times, as close to a typical day at home as possible. Keep in mind the possible time change, too. We live in the Central time zone, but even the one-hour difference between Central time and Eastern time can throw my children off. If you will have a time change of several hours, you may want to try to adjust your routine at home well in advance so the difference won't be as much of a shock to anyone's system.
When planning your Disney dining, consider Little Timmy's personality. Is he at his best in the morning? Will he sit for a meal, or is he more of a grazer? My children are most likely to be cooperative for sit-down meals at breakfast or early lunchtime. They will also need something to entertain them before their meals arrive (and those crayons and coloring menus get old after a while). A favorite book or small toy can be easily stashed for just these moments. Don't assume that a character meal will keep Little Timmy entertained, as he may be frightened. See how he is with "live" characters at home (such as Santa Claus, the Easter Bunny, or Chuck E. Cheese) first. If he's scared of them, then he will likely be scared of the Disney characters, too.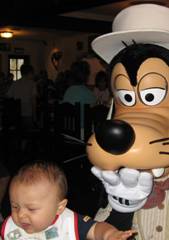 After you have thought about dining and naptimes, you can look at arranging your park time. You will not get to see everything, so just pick your top three to five favorite attractions in each park. These choices are more for you than for Little Timmy. He is likely to view the attractions the same way he does a stroll in the park. It's something interesting to pass the time.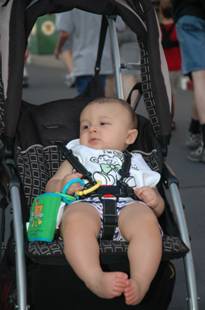 So, how do you tour the park? I would recommend hitting your favorite attractions first thing in the morning, when Little Timmy will be fresh and likely to be the most cooperative. Mid-morning, head to the Baby Care Center. There is one in each of the four major parks. My children were always afraid to have their diapers changed in most public restrooms, but the Baby Care Centers offer large, comfortable changing tables where they don't have to constantly hear toilets flushing (a sound they find quite disturbing). There are also high chairs, private nursing rooms, and a TV room/play area. Don't just pop in for a diaper change and leave. Let Little Timmy spend some quiet time eating a snack, playing on the floor, or coloring. Walt Disney World can be over-stimulating, so let him have some down time.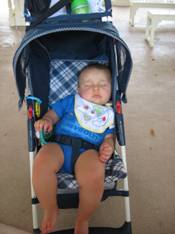 Even if Little Timmy is content to nap in his stroller, I still recommend returning to your hotel after lunch for a break from the parks for everybody. Spend quiet time in your room or visit a quiet pool. The goal here is to find a calm and soothing activity (or to take a nap).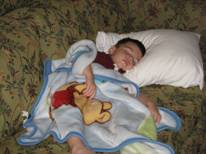 After your break, you will need to make a decision about your late-afternoon and evening plans. If you think Little Timmy is up to it, return to a park. This is where Park Hoppers come in handy. While you can certainly return to the same park you visited in the morning, Little Timmy might appreciate the new sights and sounds of a different park. I would not plan on doing many attractions at this time. Instead, explore some of the hidden gems in each park.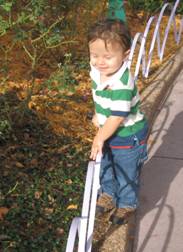 So what will Little Timmy be likely to enjoy the most? In the Magic Kingdom, the attractions that my children enjoyed the most were "it's a small world" and the Tomorrowland Transit Authority (TTA). While the TTA did not provide the bright, colorful images that they loved in "it's a small world," they seemed to find it quite calming. Keep the TTA in mind if Little Timmy starts to get fussy, as there is rarely a wait, and the cast members will usually let you stay on as long as you want. Also, they loved to run around and play at Pooh's Playful Spot and the playground area in Toontown. With the Fantasyland expansion underway, it is uncertain how much longer the Toontown playground will be open. I certainly hope that they include a similar playground in the renovations, since Pooh's Playful Spot is geared more towards the five-and-up crowd.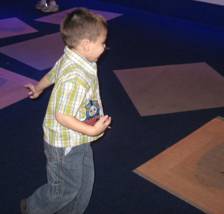 In Epcot, my children loved all of the water features. This included not only the fountains and splash areas, but also the aquarium in the Seas pavilion. My four-year-old son is only now enjoying the Nemo ride there, so don't expect it to be a big hit with Little Timmy (although he may get a big kick out of the "Mine, Mine" birds outside the attraction). They also enjoyed the Kodak "What If" labs at the Imagination Pavilion. The one ride in Epcot my children enjoyed was the Gran Fiesta Tour in the Mexico Pavilion, which is similar to "it's a small world." Also, the miniature train display outside the Germany Pavilion really held my children's attention.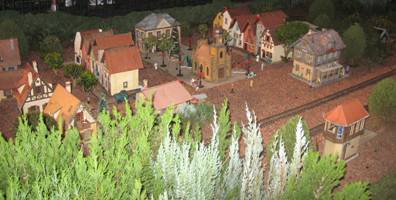 Animal Kingdom and Disney's Hollywood Studios are always half days for us. Little Timmy will likely enjoy looking at all the animals on the trails, but don't expect him to care for the rides at Animal Kingdom. If Little Timmy watches Playhouse Disney at home in the morning, then he will enjoy "Playhouse Disney Live on Stage" at the Studios. While you're visiting these smaller parks, keep in mind that Animal Kingdom has, in my opinion, the best Baby Care Center for toddlers. The TV room is quite large and perfect for crawlers and wobbly walkers. On the other hand, Disney's Hollywood Studios has the worst Baby Care Center because it is very small. It still beats changing a diaper in a typical public restroom, but a diaper change is about all I'd want to do there.
With all of this focus on Little Timmy's needs, you may be wondering how you and your significant other can enjoy some of the more grown-up attractions and entertainment. You will find in-room babysitting to be a godsend. While there are a few different services in the Orlando area, Disney recommends Kid's Nite Out. While it's a little expensive, I have used this service before with excellent results, and the extra expense can be well worth it.
As you can see, a Disney vacation with small children will be different from any vacation you may have taken pre-children. However, with careful, child-centered planning, hopefully it will also be different than the frantic, rushed vacation spoofed in the Disney video, and you and Little Timmy will have a whole trip's worth of magical memories.