This post may contains affiliate links for your convenience. If you make a purchase after clicking a link we may earn a small commission but it won't cost you a penny more! Read our full disclosure policy here.
By: Rikki Niblett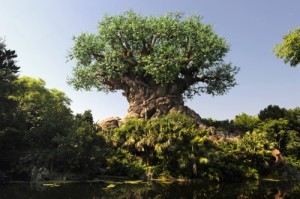 Did you know that this year is Disney's Animal Kingdom's 15th Birthday?  That's right, the baby in the Walt Disney World Family is already 15!  How has time flown so fast?!
With such a big anniversary on the horizon for this theme park, I thought I'd take a look at some of those hidden gems that can be found all over park.  These little hidden gems can be found all over all 4 theme parks, but it seems to me, that this park, because of the attention to detail that has lovingly been put into place by the Imagineers, has some of the best little things that often get overlooked. I'll admit, even I overlook some of them. But, I don't want you to miss them any longer. So, here is my list of some of the best Little Things At Animal Kingdom!
First, do not miss the Pangani Forest Exploration Trail and the Maharajah Jungle Trek. These two trails afford you the opportunity to get up close and personal with some amazing animals that you may otherwise not seen in that light before.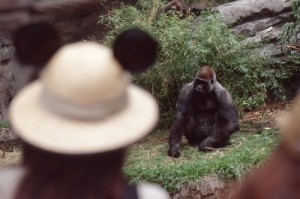 At the Pangani Trail, you'll get to actually see gorillas RIGHT THERE! You are up close and personal, being able to get some great photos of these fun animals! And it's so amazing to watch these animals because they are simply breathtaking! Also fascinating is the fact that you can see hippos here-swimming underwater! How many times are you going to be able to see that in your life? They are such big animals but are so graceful underwater.  Keep in mind that this trail can be a bit more crowded at times because of the fact that Kilimanjaro Safaris lets guests out right in that area.
Over at the Maharajah Jungle Trek, which is my favorite of the two trails, you'll be able to get in the same pen as bats! Now, I know a lot of people may freak out at the word bats…so why would you want to be in the exact same area where they could fly around you? Because, they're actually not as scary as you think. Most of the time, they're just sleeping. And if you don't want to see the bats here, you can bypass them, but I think that's a mistake. They really are interesting creatures.
Another animal that can be found on this trail that you do not want to miss are the tigers. It's so interesting to see how they behave, just like my cats at home, on a much larger, more ferocious scale. Watching them, I've realized they really are sweet animals…well, except for the fact that if they wanted to, they could potentially eat you. You know…that minor aspect. But at least at WDW, there's no chance of them eating you here! So, get up to that glass as close as you can!
Another thing that you do not want to miss at here is Devine. If you don't know who Devine is, it's hard to describe. She is this beautiful "walking plant" who often surprises people on the path from Asia to Africa. She's so graceful and silent…sometimes you don't even know she's lurking in the plants. But trust me. If you see something that possible looks a little different moving in this area…stop for a moment. You do not want to miss her surprise shows. They are spectacular.
I'll admit fully that I haven't spent as much time at this park as I have at the other three.  It is always a park I spend the least amount of time in for one reason or another.  So because of that, there are a few things at this park that I think should be on this list that even I haven't seen. Things that I know I miss, so, I'm sure if I do, the average park guest would too. But it is my goal to take these things in on my next few trips, because they are definitely some special Little Things.
First, I've heard such great things about Rafiki's Planet Watch. I haven't been there yet, but hear it is amazing. You can potentially see actual veterinary procedures happen.  Make sure to ask when you get there to see if there is anything going on that day.  You can get up close and personal with some animals at the petting zoo, Affection Section.
Also, the Flights of Wonder show in the Asia section of the park is also supposed to be fabulous. This bird show showcases natural talents of the avian variety. But unfortunately, I just keep missing this not so hidden gem.
Lastly, one of the best little things at this park are the details. It's so hard to suggest really stopping and smelling the roses here to soak everything up (I mean, even I have trouble doing that here) but I suggest it highly. There are so many little things that the Imagineers have included, for no other purpose than to make this park one of the most themed parks around. I mean, walk in Africa's Harambe and try not to feel like you're actually in Africa. And you can't tell me that you don't marvel at the wonder that is the Tree of Life. Even Dinoland USA, an area hated by most Disney-fanatics for this tacky feel, is full of small little details that help to make it as boisterous as it is.
Oh! And do NOT miss listening to the music at this park! It does such a good job at transporting me to the park. Some of my favorite tracks are the background loops you hear at Flame Tree BBQ. So, in addition to opening your eyes make sure you open your ears as well!
Next time you're at Disney's Animal Kingdom, make sure you take a good hard look around because I can guarantee, you won't regret it. What is it at this park that you think is a great "Little Thing" at Disney's Animal Kingdom?