The Little Mermaid Standard Room at the Art of Animation Resort
|
Let's dive Under the Sea to explore an Art of Animation Resort Little Mermaid room!  The details in The Little Mermaid rooms are amazing, and we found the room to be a comfortable and fun place to stay.
The room size measures 277 square feet and has two double beds.  We thought there was plenty of room for two people, and I think a family of four would be fine here as long as they stay organized with their belongings and do not mind double beds.  The Little Mermaid section of the Art of Animation Resort is the farthest from the bus stops and Animation Hall, but it's such a nicely themed resort that we did not mind the walk.  Unfortunately, these rooms usually do not qualify for discounts.  They are still less expensive than rooms in a moderate resort, and for an Ariel fan you can't beat the theme!  The Art of Animation Resort as a whole is a fun and whimsical place to stay for all ages.
The beds have colorful clamshell headboards, and the Little Mermaid theme is woven throughout the entire room.  We liked the artwork, and the details in the carpet!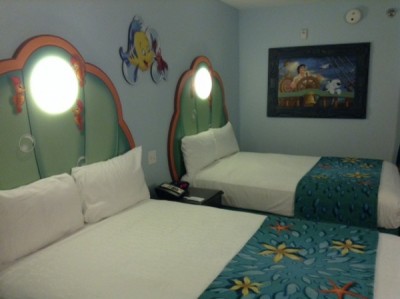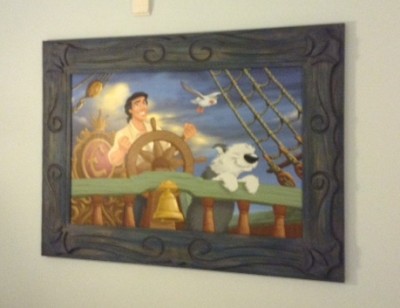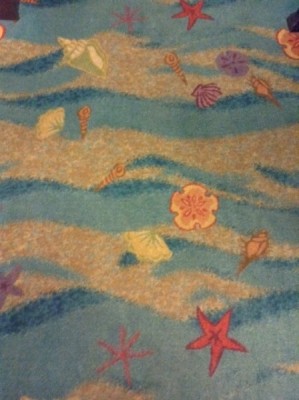 The table features sheet music and the chair backs are shell shaped.  Over the table and chairs is a mirror with a light fixture, also themed to Under the Sea.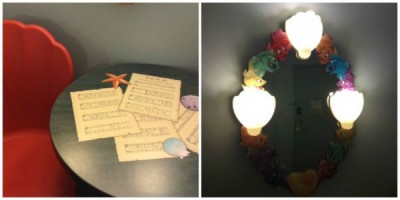 The bureau has three large drawers, and also houses the beverage cooler.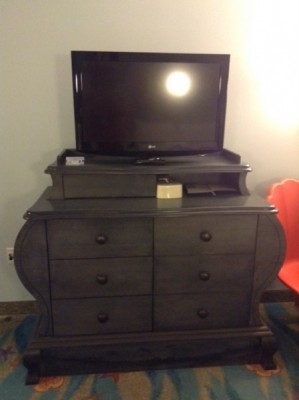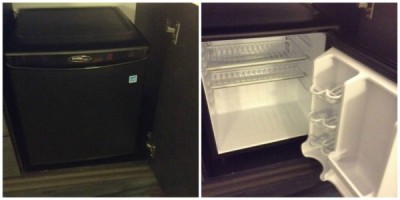 Hats, lanyards, and water bottle holders can find a home on this cute and functional octopus!
There was one area in which I at first thought there was wasted space against the wall, and wished there were a bench for sitting or luggage rack for storage.  However, maybe this space comes in handy for those with pack and plays or for parking strollers and isn't wasted after all.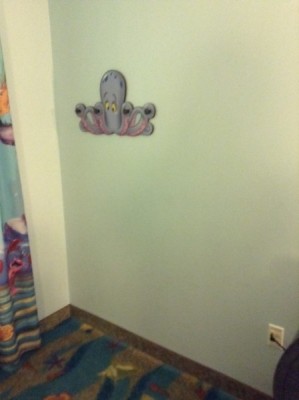 There is a curtain featuring Ariel's Under the Sea friends that divides the bedroom area from the sink area.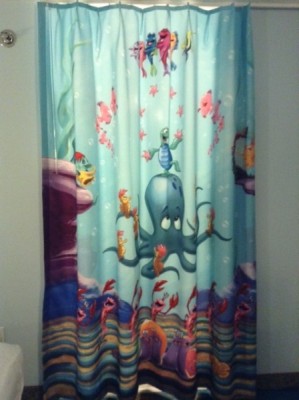 The sink counter top was large enough for teen girl, and the open closet area is perfect for storing luggage.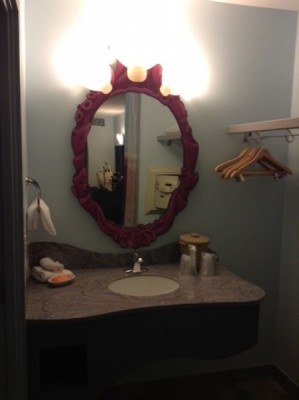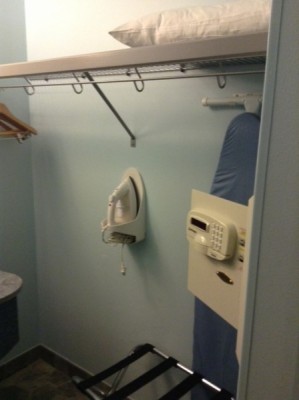 We were impressed with the bathroom because the shower interior makes it feel as if you're showering in Ariel's Grotto with "gadgets and gizmos aplenty!"  If you look closely, you may spy a Hidden Mickey as you shower.  The value resort rooms currently provide Blushing Orange H2O products.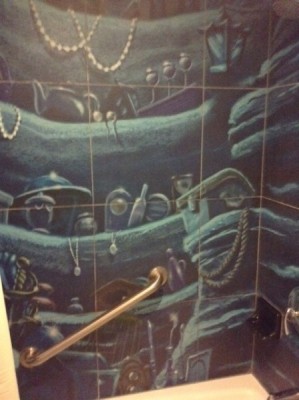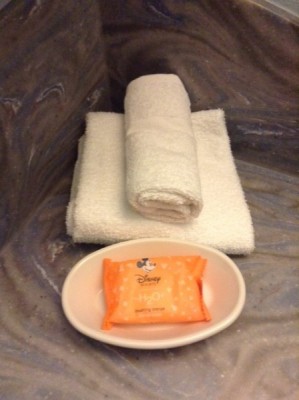 Before we stayed at the Art of Animation Resort, I thought that the Little Mermaid room might be a bit over-the-top with Under the Sea décor, but it was done well and we enjoyed our stay!
Have you stayed in a Little Mermaid standard room at the Art of Animation Resort?  Tell us what you thought of the room in a comment below.  
Incoming search terms:
what size beds are in the little mermaid rooms
the little mermaid standard room art of animation
The Little Mermaid Standard Room
measurements of art of animation rooms
little mermaid standard room
entrance to your starndard art of animation little mermaid room
does art of animation standard room have queen size beds?
do all little mermaid standard rooms at art of animation have queen beds
art of animation mermaid room size
ART ANIMATION LITTLE MERMAID STANDARD ROOM