This post may contains affiliate links for your convenience. If you make a purchase after clicking a link we may earn a small commission but it won't cost you a penny more! Read our full disclosure policy here.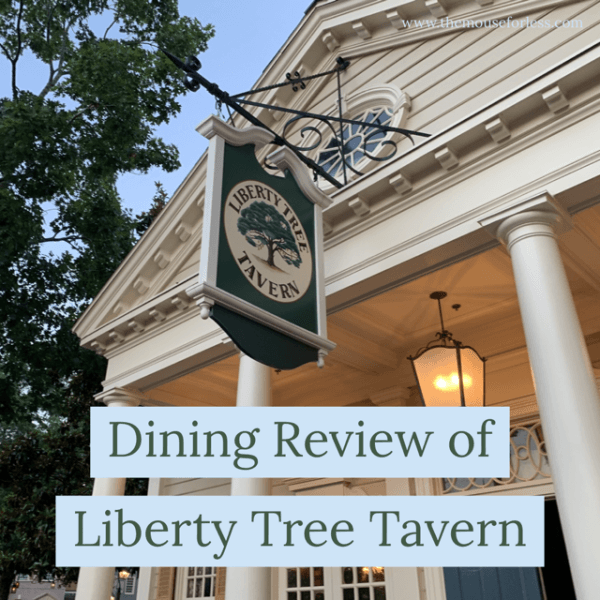 It's a salute to all dinners….but mostly the Liberty Tree Tavern.
Since today is the Fourth of July, I thought we'd take a look at this all-you-care-to-enjoy table service restaurant found in Liberty Square at the Magic Kingdom. The restaurant is themed after an 18th-century colonial inn. Each room of the restaurant is themed after a different founding father (or mother) for our great country.
While you wait, play a game of checkers!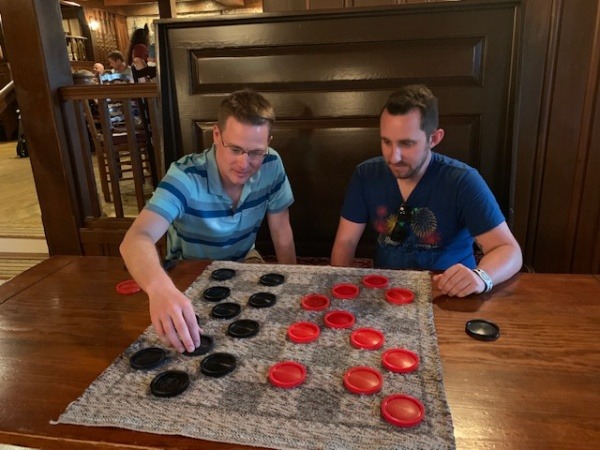 Dinner starts with a delicious salad. This is tossed mixed greens with house-made salad dressing. And let me tell you – that dressing is delicious!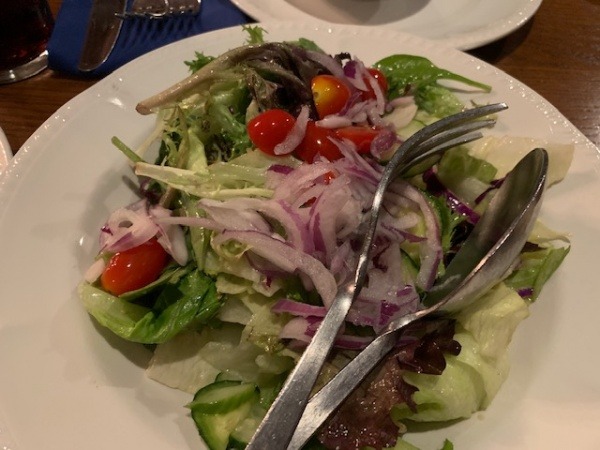 The main course, features Roasted Turkey Breast, Pot Roast, and Oven-roasted Pork.. The best of the three was the pot roast. It was extremely tender. Then was the pork, which had good flavor too and the mushrooms on top were a nice bonus. My least favorite was the turkey, but I don't love turkey overall anyway.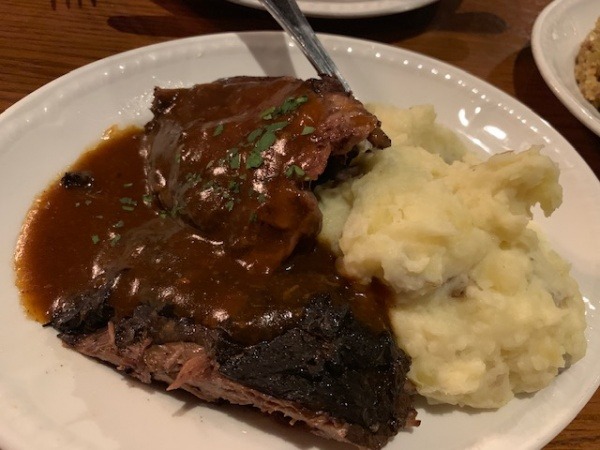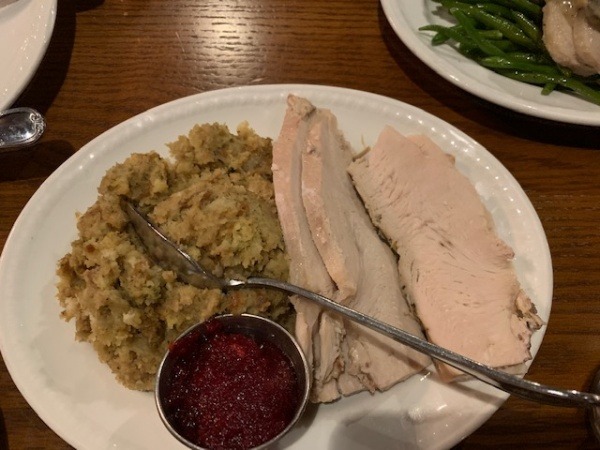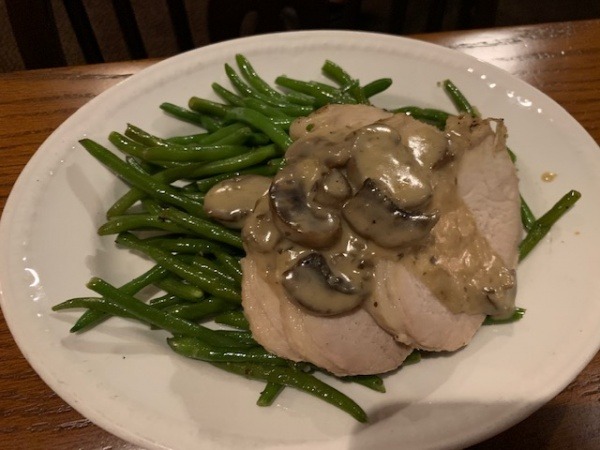 As far as the sides go, there were Mashed Potatoes, Green Beans, Herb Stuffing, and House-made Macaroni and Cheese. All of the sides were delicious. The mashed potatoes were decent, the stuffing was flavorful, the green beans were fresh, and the mac and cheese was indeed homemade and creamy.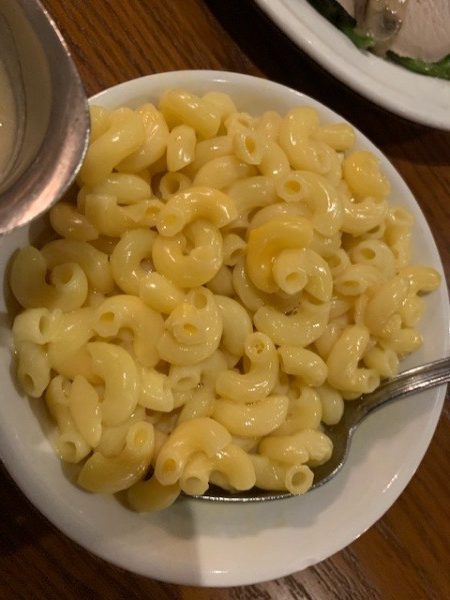 Now, let's move to dessert. Liberty Tree Tavern is famous for their Oooey Gooey Toffee Cake. This is Vanilla Cake with Gooey Toffee Filling, Caramel and Chocolate Sauce, and Vanilla Ice Cream. This was my only disappointment, and that made me sad because I was so looking forward to trying this. I found the dessert to actually be very dry. The ice cream helped, but I was expecting a much more moist cake and it just wasn't.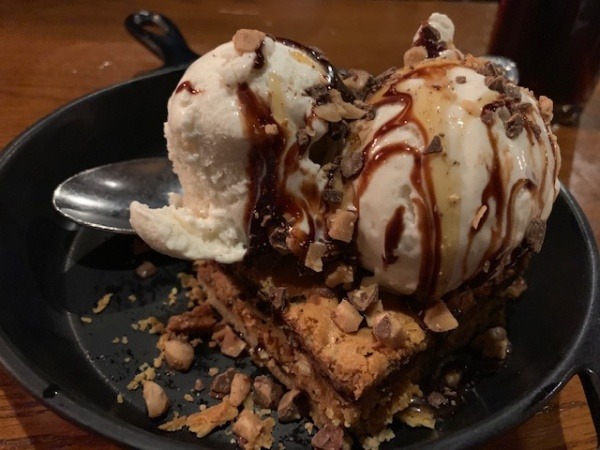 Overall though, I find Liberty Tree Tavern dinner to be a fantastic meal and even with the miss of dessert, I would absolutely make sure to stop here again. The main meal/salad were fantastic.
A couple of things to keep in mind – lunch serves both the all-you-care-to-enjoy option AND they also offer a la carte options. Dinner is only the all-you-care-to-enjoy option.
Also, if you are looking for a Thanksgiving or Christmas meal, Liberty Tree Tavern is the most popular choice. If you want to dine here during either of those days, make sure you make your reservations at the 180 day mark.
Have you tried Liberty Tree Tavern before? What do you think of it? Let us know your thoughts of the experience in the comments, or on Facebook or Twitter!
Did you like this article? Make sure to share it with your friends! Check below for easy ways to share!
Want to visit the Walt Disney World Resort? Contact The Magic for Less Travel for more information and a free, no-obligation quote.