This post may contains affiliate links for your convenience. If you make a purchase after clicking a link we may earn a small commission but it won't cost you a penny more! Read our full disclosure policy here.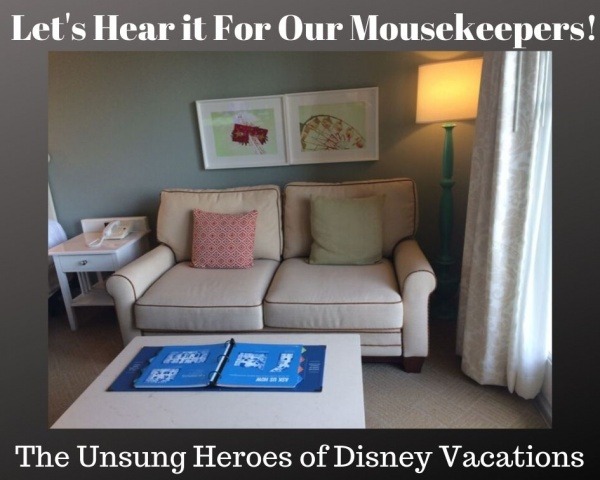 A Boardwalk Villa
There are many Disney Cast Members who band together to make your Disneyland, Walt Disney World and Disney Cruise Line vacations great. The ride operators, the transportation drivers, the waitstaff, the chefs, the animal trainers – the list goes on and on.
But today I want to sing the praises of some hardworking, often-underappreciated cast members: Mousekeepers. At any other hotels, they'd be known as housekeepers, and they perform the same function at Disney-owned resorts: empty the trash, clean the bathrooms, vacuum the rugs, change the linens, and generally keep your room in nice condition.
But they sometimes do more than that! Years ago, my parents took us on a magical vacation at the Grand Floridian. We were given a complimentary upgrade to a suite, which meant we had two bathrooms. One morning, one of the toilets stopped flushing. This wasn't a huge deal since we had another one. My mother called to report it. When we got back to the room after a lovely day at the Magic Kingdom, not only was the toilet fixed, but there was a lovely handwritten note of apology from the head of Mousekeeping, along with a box of Twinings Tea!
I also remember coming back to our two-bedroom Beach Club Villa after a fun day in the parks. My daughter's teddy bear had been propped up on the sofa, and the TV remote control had been placed in his paw. Looks like he also had fun while we were out!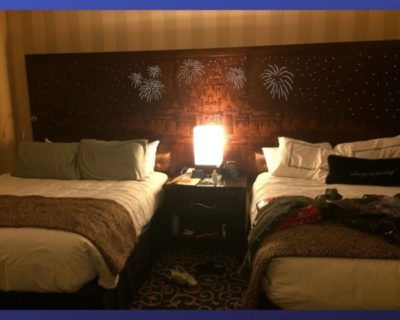 A room in the Disneyland Hotel
When I turned 43 and celebrated my birthday with a stay at the Disneyland Hotel, we happened to come back to the room in the middle of the day. My husband had splurged for a birthday package which included a big "Surprise" banner on our hotel door. The busy Mousekeepers who were going down from room to room all managed to smile and wish me a happy birthday, even though they were in the middle of cleaning!
Those who clean the cabins on board the Disney Dream also do their part to spread some magic. Our towels were arranged to resemble different animals throughout our trip. In fact, one day I left my sunglasses in the room and found a towel animal sporting them!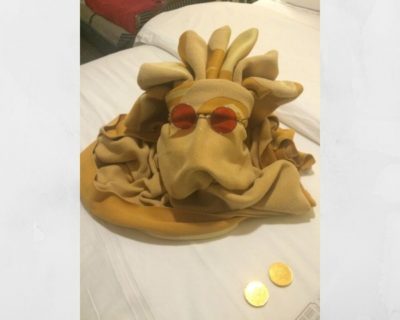 Some Housekeeping Art on board the Disney Dream
So on your next Disney vacation, if you happen to see Mousekeeping staff on your way into our out of your hotel, be sure to give them a smile. They work hard, doing their part to make your vacation as magical as it can be.
What are some of the memorable things that Mousekeepers have done for you? Share in the comments or on Facebook or Twitter!
Did you like this article? Make sure to share it with your friends! Check below for easy ways to share!
Want to visit a Disney Destination? Contact The Magic for Less Travel for more information and a free, no-obligation quote.