This post may contains affiliate links for your convenience. If you make a purchase after clicking a link we may earn a small commission but it won't cost you a penny more! Read our full disclosure policy here.
From Our Magically Speaking Newsletter Archive – subscribe today!
By Ginamarie Palmieri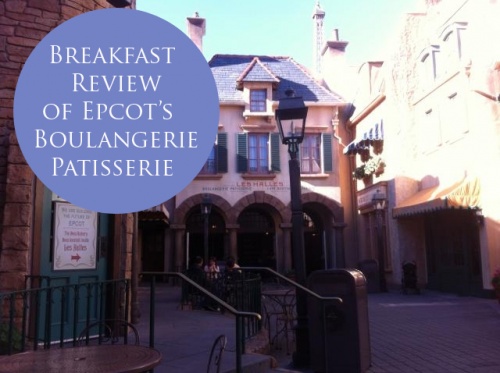 World Showcase at Epcot is known for its many delicious food offerings, but many people do not realize there is a unique breakfast option available within the France pavilion without any need for advanced dining reservations. Les Halles Boulangerie-Parisserie is the France pavilion's counter service option, offering breakfast, lunch, and dinner throughout the day. The bakery usually opens at 9 am, while most of World Showcase is not open until 11 am.
The benefit of visiting Les Halles for breakfast is that most visitors to Epcot either have no idea that this is a breakfast option or are too busy touring the front of the park to make the trek back to World Showcase for a meal. This means that crowds are minimal if you visit in the early morning hours, something that is not true if you visit this location at lunchtime or later. In fact, despite the expanded size of the bakery- which now has two identical lines and cases of food, Les Halles is known for getting very crowded as the day progresses.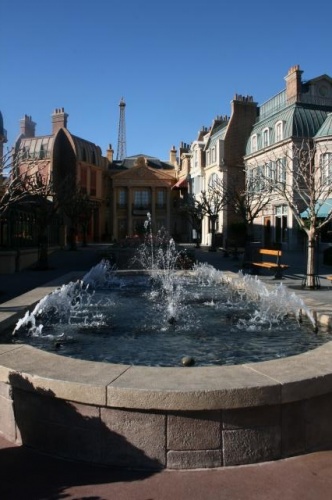 My sister and I planned to visit Les Halles during our day at Epcot, so we did not opt to enter the park through the front gate. Rather, we took a bus from our resort to Disney Studios and then took a boat from the Studios to the International Gateway entrance to Epcot. This entrance is primarily used by guests of the Boardwalk area resorts and was not particularly crowded. When we entered the park, there were cast members on hand to direct guests either towards the open attractions or towards Les Halles for breakfast. We were surprised to see that almost all of the guests hurried off to Soarin or Test Track, and found ourselves relatively alone in World Showcase. This provided an excellent opportunity for photographs since large tracts of space were empty.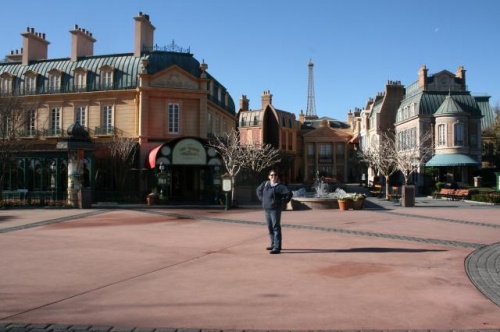 After taking some photographs, we headed into the bakery, which is large and open. Although you will not find the regular Disney breakfast options, like Mickey waffles or scrambled eggs with bacon here, they do have a nice selection of options. In fact, the full Les Halles menu is available in the morning, so if you have a hankering for a croque monsieur for breakfast, you can certainly indulge. Otherwise, they do offer several varieties of quiche, croissants, and a vast selection of pastries and desserts. The pricing at Les Halles is very reasonable- with a croissant topped with ham and cheese qualifying as a snack credit on the Disney Dining Plan or $4.75 out of pocket.
For beverages, Les Halles offers your usual generic orange juice, milk, chocolate milk, soft drinks, coffee and water. However, they also have some unusual selections like smoothies, sparkling water, cappuccino and espresso. Additionally, the bakery serves a small selection of adult beverages like champagne, mimosas, wine and beer.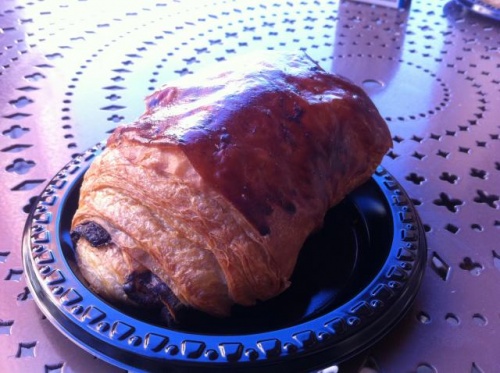 We could not resist the aroma of the pastries, and wound up opting for an apple turnover and a chocolate croissant, both of which were delicious. Les Halles has some indoor seating, but we opted to sit outside, in the french courtyard area. The outdoor seating is mostly tiny tables for two, and not suitable for a large group, but it suited us perfectly, and it was wonderful to eat our treats outside on such a beautiful morning. From that vantage point, we almost felt as though we'd been transported to France.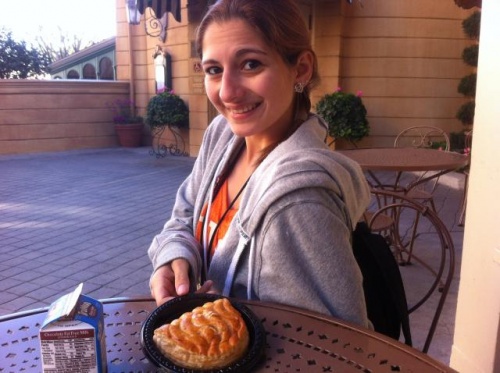 We thought Les Halles was the perfect option for a light breakfast at Epcot, and would highly recommend it, especially for the access to World Showcase before its 11:00 am opening.
Magically Speaking Featured Article
Library of Congress ISSN:1556-3863
Incoming search terms:
https://www themouseforless com/blog_world/les-halles-boulangerie-patisserie-breakfast-review/