This post may contains affiliate links for your convenience. If you make a purchase after clicking a link we may earn a small commission but it won't cost you a penny more! Read our full disclosure policy here.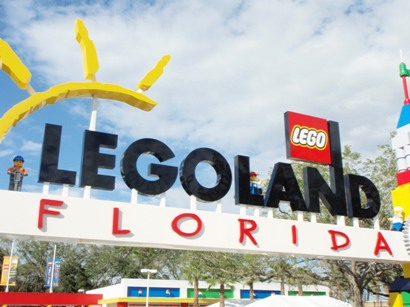 By: Chris Johnson
I have a LEGO problem. I'm ok with it (although, I'm not sure that my wife is). To me, the world is just a series of interlocking little blocks. It was not in the least bit surprising then, that I was THRILLED at the 2010 announcement that a new LEGOLAND would be built in Winter Haven, Florida. "Built" may be too strong of a word. Florida's LEGOLAND was built on what was formerly the Cypress Gardens theme park. CG had unfortunately closed the previous Fall after years of declining attendance.
After MUCH anticipation, we visited the park in late October, only a few weeks after its grand opening. Before we get to the park, let's talk about parkING. General parking at LEGOLAND is $12 per car and premium parking is available for $20. I must say…if ever there was an $8 well spent it is for the premium parking. To put it into perspective for WDW fans it is the difference between parking in the normal DHS lot and having the ability to park right about where the tram drops you off. Yes, it is that close.
General admission to the park is $75 for those who are 13-65 yo and $65 for those 3-12 and 60+. Several levels of Membership Passes (LL's version of an Annual Pass) are available as well. At this point the park hours are a bit limited. When writing this article, LEGOLAND is closed Tuesdays and Wednesdays (through December 14th), open from 10 am to 5 pm Thursday and Monday and open from 10 am to 6 pm Friday through Sunday.
Now that the hard part is out of the way, let me tell you that the level of detail in LEGOLAND is phenomenal. Knowing full well that it was LEGOLAND, I was still amazed at how many LEGO structures and sculptures there were throughout the park. From the Southern Belle at the entrance to the characters adorning the restaurants and even the LEGO plumber carrying a LEGO TOILET outside of the restrooms, I was blown away. The Fun Town Theater even has figures above either side of the entrance holding Comedy and Tragedy masks!
The park is (sort of) split into different themed areas. They are:
Fun Town
Miniland USA
DUPLO Village
LEGO Kingdoms
LEGO TECHNIC
Imagination Zone
Pirates' Cove
Land of Adventure
LEGO City
Cypress Gardens
Some of these areas are bigger than others but all carry thorough theming and fun descriptions of the rides within. You'll find something for kids of just about any age. DUPLO Village is perfect for your littlest brick builders, Imagination Zone will get the creative juices flowing in just about anyone and Pirates' Cove is fun for your entire family.
The park isn't perfect and you can tell that they are still "feeling" their way through the set-up at times. There are times when you feel that things don't "flow" in a cohesive manner. While I recognize Disney has pretty much invented and perfected the art of the "Show" and it is not fair to hold LEGOLAND to this standard, I still think they could do better in a few small areas. For example…each area has music that is at least somewhat geared to the rides nearby. While I love the fact that a cover of Pink Floyd's "Learning to Fly" is playing on the pathway to the Flying School steel coaster, it isn't necessarily something that is going to be relatable to your eight year old child. Similarly, your kids might be a bit confused by hearing "Life is a Highway" near the Ford Driving School but not having Rascal Flatts singing it. ; ) Occasionally, not often, but occasionally you will run in to some song choices that are just downright classic-MTV (not inappropriate for your family but odd enough to have you turn to your spouse and say "Really?").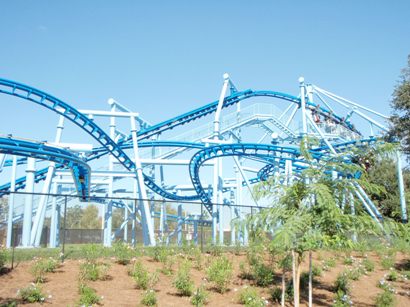 Speaking of the Driving School, it is amazing. I can't say enough good things about this attraction. Kids will love it because they get to helm their own little LEGO cars through streets complete with signs and traffic lights and even get their own driver's license at the end. Parents will get a huge kick out of watching each other yell things like "STOP. No….go. NOW, you can go!!!" Younger drivers can even get in on the action with Ford's Jr. Driver's School!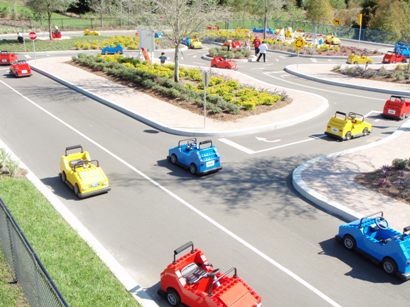 Let's talk food for just a moment. Throughout the park you'll find standard theme park fare that is reasonably priced. For example, you can get a cheeseburger with fries and a drink for $7.49 (pre-tax). While you are sure to find something to appease even the pickiest of eaters, there is one thing that you cannot miss. We are talking bucket list material, people.  Ready?
Granny's Apple Fries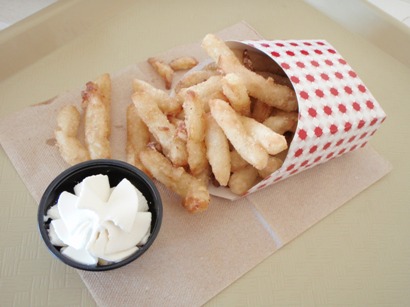 <Sigh> Just typing it makes me hungry. The fries are actually apple slices deep fried, dusted with cinnamon and powdered sugar and served with vanilla whipped cream. They were invented in California's LEGOLAND and (thankfully) brought to Winter Haven. They are amazing. A-MA-ZING. They look like French fries. They feel like French fries. They taste like apple Heaven. Try. Them.
In tribute to the park that came before, LEGOLAND contains a large Cypress Gardens section. Complete with botanical gardens, this part of the park is a great respite from the happy, noisy action of rides, figures and shows. The gardens are big enough to take a long, relaxing walk and almost forget that you are in the middle of a theme park. Be sure to keep an eye out for LEGO sculptures here and there and don't miss the Garden's signature Banyan tree.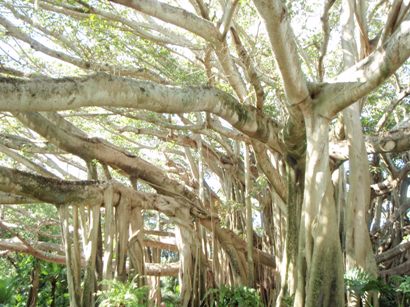 All of this brings us to my favorite part of the park; Miniland USA. I would absolutely pay the price of admission simply to see this part of the park. Miniland is an area devoted to LEGO recreations of American cities. You'll find NYC, Las Vegas, Florida and even a special pirate section. Among these detailed models are the Statue of Liberty, the Bellagio hotel, the Daytona Speedway and a large NASA area.  I cannot describe how amazing this whole little world is. If I could play Godzilla (minus the destruction and being led away in handcuffs) and wander through the streets of these sculptures to see the detail even closer, I would.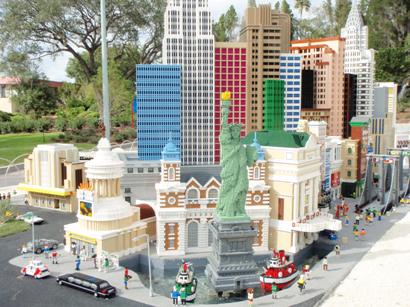 This is certainly a kid's park. As someone without any children, there weren't a lot of rides or attractions for me. That isn't to say that adults can't ride most of the attractions in LEGOLAND, but they certainly aren't the target audience. To me, the park really is perfectly suited for children up to 12. I could spend about 2,000 words telling you about some of the individual rides and attractions within the park but I don't know that I would do a better job of LEGOLAND's website.  Suffice to say that there is something for everyone and I really think families with children of almost any age range would enjoy a day at LEGOLAND!