This post may contains affiliate links for your convenience. If you make a purchase after clicking a link we may earn a small commission but it won't cost you a penny more! Read our full disclosure policy here.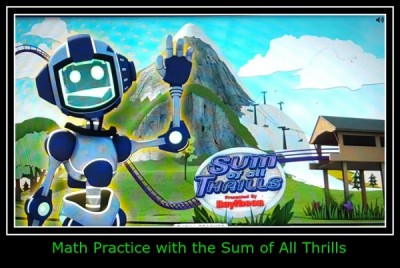 The Sum of All Thrills attraction in the Innoventions pavilion at Epcot gives guests the opportunity to design their own roller coaster. I have never been brave enough to try it myself, but when I heard there was an online game that went along with the attraction, I was interested and decided to try it out.
You can find the game on the Innoventions website here: http://mathmovesu.com/games/sum-all-thrills . Before starting the game, you will be asked to choose a grade level. This game is designed for kids in middle school, so your options are 6th, 7th, or 8th grade. I chose 8th grade because I thought surely I could handle 8th grade math, right?
After you choose your grade, there is a brief intro video before you reach a screen that shows you how to move around. The controls are very basic and you will just use your right and left arrow keys to move.  Some objects will give you facts about math. You can "collect" facts by moving around and clicking on highlighted objects. Your "Thrill Tracker" at the bottom will keep track of the math facts that you have discovered and your total points.  If you miss one, no problem.  You can always go back and look for it later on.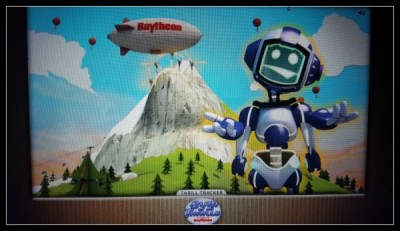 Click on the robot for a math challenge
Occasionally, you will come across a robot and you will be given a problem to solve. The questions are math based with a little bit of physics thrown in. You can choose the difficulty of your question (Mild, Wild, or Wildest) and if you get it right, you are rewarded with a piece of the roller coaster. If you get it wrong, you get the opportunity to see a hint.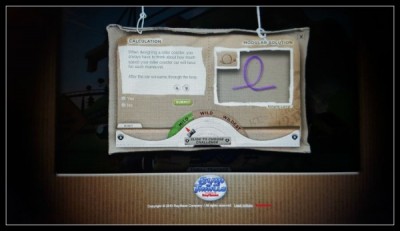 A Mild Question
I started out with a mild question just to warm up and was able to answer the question easily enough. Later on, I decided to give a wildest question a try. Maybe it has just been a while since I have done algebra or I am just not smarter than the average 8th grader, but I did have to check out a hint on that question. Those negative numbers can be tricky!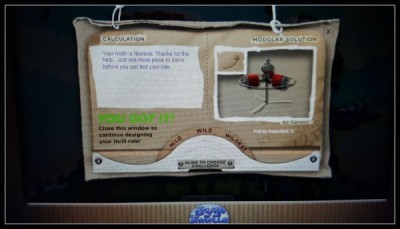 I got it right!
Once you have answered the 3 math questions correctly, your roller coaster is ready to be assembled and you have the chance to "ride" your roller coaster. I finished all of the questions and was ready to see how my coaster turned out. I was taken to a screen where I could see the 3 pieces of my roller coaster, heard the sounds of the coaster gearing up, then…nothing. My game froze up and I wasn't able to ride my coaster. I was disappointed, so I moved from my laptop to a desktop computer hoping for better results. Unfortunately, the same thing happened on my desktop computer as well. This made for a very anti-climactic finish to my game. Hopefully, you will have better results if you try the game out.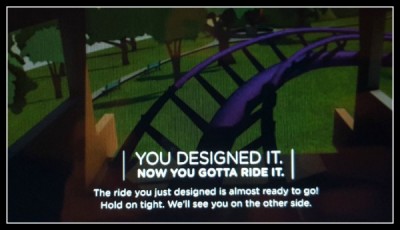 Three correct answers and our coaster is ready for a ride
You can also attempt to build a coaster in another section of the game, just like you do in Epcot!
Overall, I was unimpressed with this game. In an age of video games with very detailed graphics, this game seems very basic with no fancy graphics or controls. There are also a limited number of math problems, so it is probably not a game to be played over and over again. It does tie into the Sum of All Thrills attraction at Epcot though, so it may be a good way to get your middle school student to practice some math. It certainly got my brain working! There is also a feature on the site to replay your coaster if you created one while at Innoventions at Epcot. So, the site may be worth a visit if you have visited the Epcot attraction.
Have you tried the Sum of All Thrills online game? What did you think?
Incoming search terms:
https://www themouseforless com/blog_world/learning-can-fun-sum-thrills-online-game/