This post may contains affiliate links for your convenience. If you make a purchase after clicking a link we may earn a small commission but it won't cost you a penny more! Read our full disclosure policy here.
By Heather Lewis
I have a confession to make. Despite countless trips to Walt Disney World, until recently I had never been to Le Cellier. I had heard how hard it was to get reservations, have very small children, and usually am not planning my dining until 60 days before a trip, so I never really tried to get an Advance Dining Reservation (ADR) at this hot spot. When my husband and I decided to take a trip without the kids in March, I knew I wanted to try and get a reservation for Le Cellier. I was very lucky and ended up with a reservation even though it was only about 70 days until the trip. My husband was just as interested as I was to see if Le Cellier would live up to all the hype.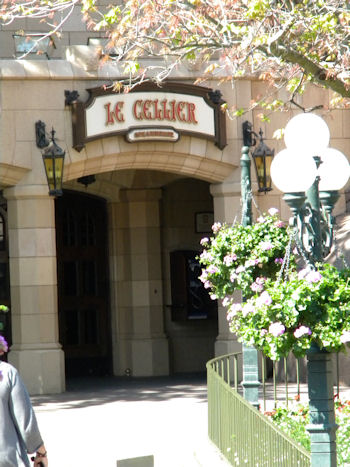 The entrance to the restaurant is hidden down a path in the Canada pavilion.
Our ADR was for 11:00 a.m., when the restaurant opened. We checked in about 15 minutes early outside at the top of the path leading down to the restaurant. We waited in the courtyard area of the restaurant until opening time. I never knew that Le Cellier opened each day with the Cast Members assembling out front to sing their national anthem. Almost as soon as they finished, the hostess called our name and lead us to our table.
Our server, Thomas, was wonderful! He was quick to answer any questions we had and provided exceptional service, even by Disney standards. Since we were on the Deluxe Dining plan, we were each getting an appetizer, entree, and dessert. After taking our order, Thomas brought out a bread basket, which contained sourdough, multigrain, and pretzel bread sticks. The pretzel bread was our favorite and our server even brought more! For an appetizer, I ordered the Cheddar Cheese Soup. Having sampled this dish at the Food and Wine Festival in the fall, I knew I would not be disappointed. The pretzel bread was wonderful dipped in the soup. My husband had the Spicy Chicken and Chipotle Sausage.


Cheddar Cheese Soup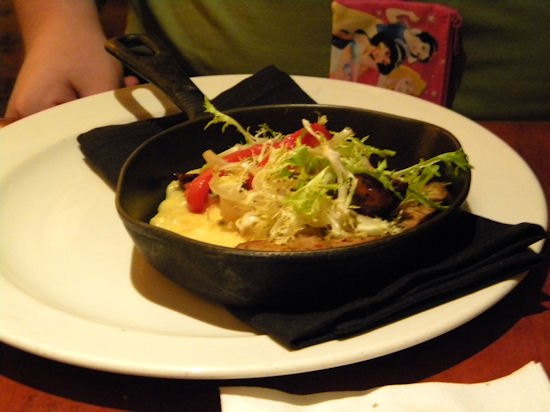 Spicy Chicken and Chipotle Sausage
For my entree, I choose the Salmon Two Ways. It was prepared pan-seared with Hoisin BBQ and citrus-poached with coconut soubise. I enjoyed both preparations, but the pan-seared with Hoisin BBQ was my favorite. Josh had the New York Strip Steak and loved every bite. He's normally not an adventurous eater, and likes everything plain so he can adjust it to his tastes. However he took a chance and made no substitutions. He was quite surprised at how much he liked the side dish it came with — the roasted Yukon potatoes.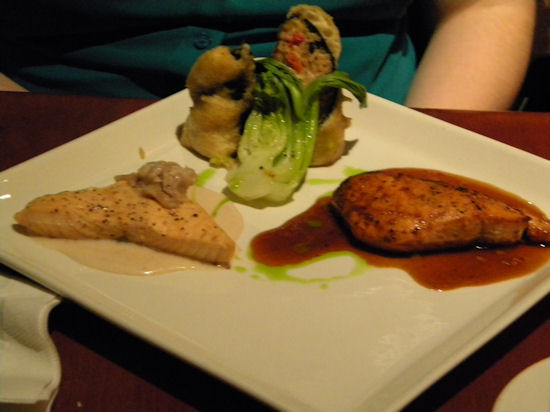 Salmon Two Ways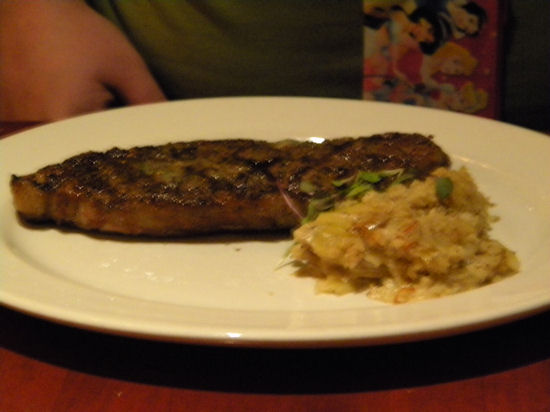 New York Strip Steak
For dessert, after asking for an explanation from our server, I chose the Mont Blanc Semifreddo. Thomas told me that it was ice cream wrapped in a meringue-type coating and served over a berry sauce. (The berry sauce has now been changed to mango sauce, though.) It was fantastic — an incredibly light and refreshing dessert. Josh had the S'mores dessert and he was not disappointed.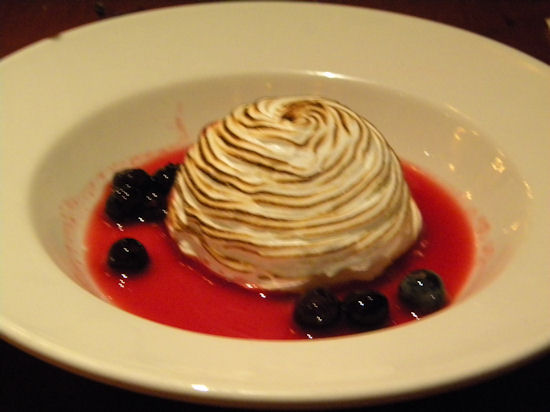 Mont Blanc Semifreddo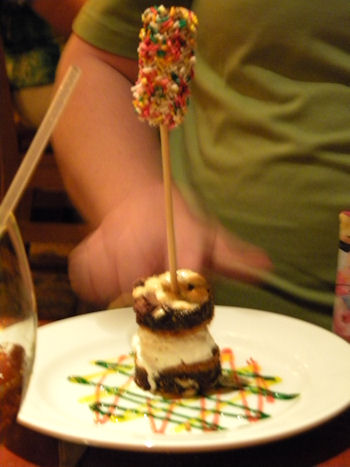 S'mores
As we were finishing our meals, Josh told me that Le Cellier needs to be added to our regular dining locations during a trip to Disney World. We enjoyed this meal more than most that we have had at Disney World. It easily surpassed some of Disney's Signature Dining locations in our opinion. However, not everyone will share this opinion. We were seated next to a table that was very vocal in their thoughts on Le Cellier. They had ordered a cheeseburger, plain, and a Chicken Caesar Salad, and then were disappointed that the food at Le Cellier was nearly identical to what they had eaten elsewhere in the World. In my opinion, it's not worth the effort to eat at any World Showcase restaurant if you are going to order something that can be found at a counter-service location. Le Cellier, and other restaurants in World Showcase are a good place to try something new.
If you are planning on making a reservation for this location, try to be flexible. Due to the popularity of the restaurant, and the size (it's not a large location), it books up fast. If you are trying to get in and don't have a reservation, try to show up when the weather is bad. When it's raining, a lot of people decide not to go to the parks and you might be more likely to be able to take advantage of cancellations and no-shows. It's not guaranteed, but it's worth a try.
After our first experience with Le Cellier, we were very pleased with not only the food, but also the service. If you are willing to try something that may be new, then Le Cellier is absolutely worth the effort of getting a reservation!