This post may contains affiliate links for your convenience. If you make a purchase after clicking a link we may earn a small commission but it won't cost you a penny more! Read our full disclosure policy here.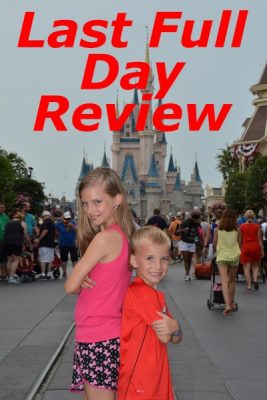 How did we spend our last full day at Walt Disney World?  Read on to hear about how we got the most out of our day.  Just to review, this was day number seven of our trip.  My sister and brother-in-law had already flown back the day before, so it was the four of us as well as my parents to finish off the trip together.  We still had one table service meal left as well as a few quick service and snack credits to make the most out of before leaving.  My husband had to start his master's classes on this day, so he stayed behind at the resort while I took the kids along with my parents on another day of magic.
Magic Kingdom was our choice on our last full day of our magical trip.  We decided not to officially rope drop but instead met at 8:30 a.m. to catch a bus to Magic Kingdom.  This timing worked out perfectly as the rope drop rush was through the gates by the time we arrived at the park.  We had a FastPass+ to It's a Small World right away to make sure my mom was able to ride it, but with only a 10 minute wait, we decided not to use it but instead just walk on.  It was a fun start to our last day together as it is a happy ride and leaves one smiling.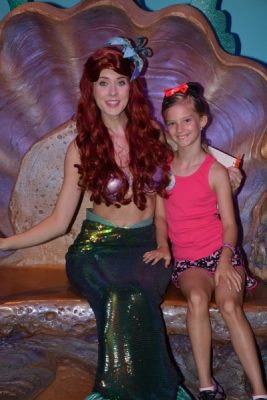 Daughter Meeting Ariel
From there, we headed back to Ariel's Grotto where I took my daughter to meet Ariel while my parents took the little guy on Under the Sea: Voyage with the Little Mermaid and to get a big cinnamon roll from Gaston's.  I am so glad I took our daughter to meet Ariel as she is her favorite and she was so excited to show off her Ariel themed nails and autograph book.  It was definitely a magical moment.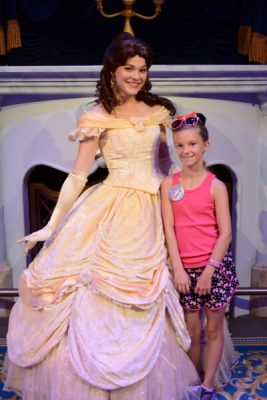 Enchanted Tales with Belle
Enchanted Tales with Belle was our next stop where we used a FastPass+ reservation.  I think this experience in a great one; however, we were a little disappointed with our Cast Member in the workshop.  The storytelling wasn't smooth and the energy wasn't there from the audience either making it a little slower than I remembered it.  Our daughter decided to participate in the telling of the story and got pictures with Belle; however, our son wanted nothing to do with it.  Can't win them all.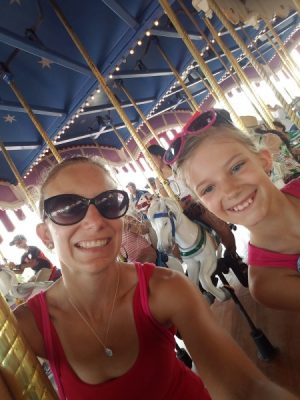 Hanging out together
After our storytelling experience, we decided to split up and let the kids decide our next steps.  Our daughter decided she wanted to ride the carousel where our son was smart and wanted to head inside to see Mickey's Philharmagic again.  It was fun to have some one on one time with my daughter and see the joy just a simple ride could bring her.
Our last FastPass+ of the day was to Seven Dwarf Mine Train; however, while waiting in line they experienced some technical difficulties so we were given FastPasses for any ride we wanted in the park.  That was a fun bonus we weren't expecting.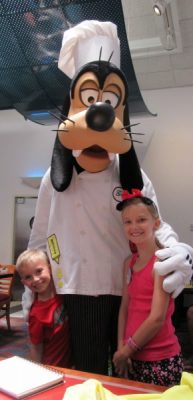 Chef Mickey's Hanging with Goofy
Chef Mickey's in Disney's Contemporary Resort was our last table service meal of the trip.  We had eaten here before when the kids were four and two, but my parents never had and I love the character interaction so it was back for another magical experience.  As a quick overview, we all loved the experience.  The food, atmosphere, service, and character interaction was absolutely wonderful.  We laughed throughout the meal and left with smiles on our faces.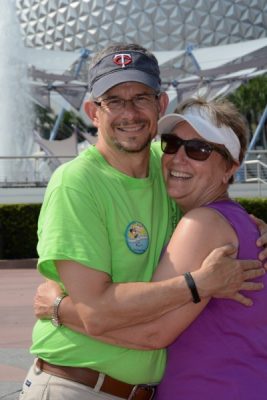 Grandparents having fun
After the meal, I took the kids back to the resort for some rest while my parents hit up Splash Mountain and then Epcot for a while.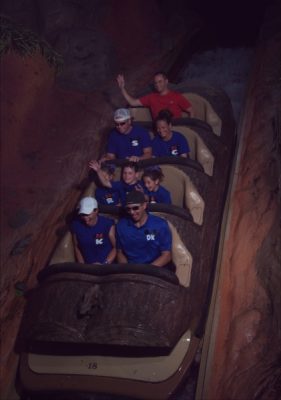 Husband having fun
During this time, my husband finished his class and headed to the Magic Kingdom.  By himself.  That's right everyone, my non-Disney fanatic husband went and hung-out at Magic Kingdom on his own.  He rode Big Thunder Mountain, Splash Mountain, Space Mountain (all with FastPass+), Country Bear Jamboree, Liberty Boat, Stitch's Great Escape, Peoplemover and had a Mickey ice cream sandwich!  He got a lot in and actually enjoyed himself as well!  Who knew!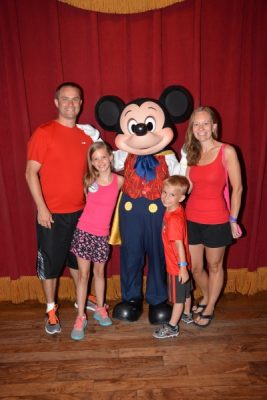 Meeting Mickey Mouse
The kids and I did head back after swimming, resting and showering.  We met up with my husband at Mickey in Town Square.  For those that don't know, this is talking Mickey!  When my husband and I went in 2014 for our 10 year anniversary, meeting talking Mickey was a highlight of the trip.  A moment where I truly felt the magic of Disney.  I wanted to make sure my kids got this experience as well so I was super excited when the wait was short when we arrived at the park.  Mickey pulled out all of the stops as he sang happy birthday to our daughter which brought a huge smile to her face.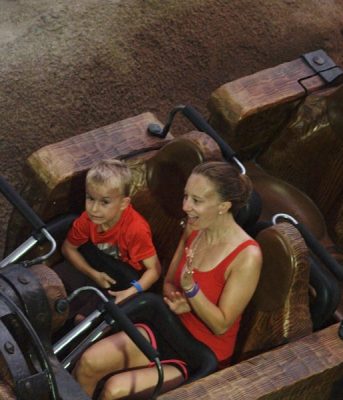 I promise he liked it
The rest of the evening we just slowed down and took in the sights.  We rode Big Thunder Mountain together and our son put his hands up and laughed and screamed with the rest of us!  We split up and did Seven Dwarf Mine Train and Space Mountain with the any ride FastPasses from earlier.  We took it easy for supper and did Mickey pretzels before riding Peoplemover, taking pictures and heading out for the evening.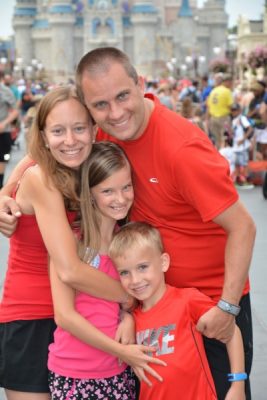 A Magical Moment
Once again we had a magical day by taking it slow, making adjustments and living in the moment!