This post may contains affiliate links for your convenience. If you make a purchase after clicking a link we may earn a small commission but it won't cost you a penny more! Read our full disclosure policy here.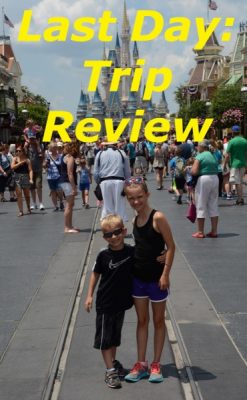 Eight days, seven meals, four parks, numerous laughs and tons of magical moments all experienced during our Walt Disney World vacation. My sister and brother-in-law had already taken off a few days prior, and my parents were getting ready to leave bright and early, and my husband had to take class, but I was ready to make the most of our last few hours in Walt Disney World. Here is how I packed in some magic on our last day prior to leaving on the Magical Express at 4:00 p.m..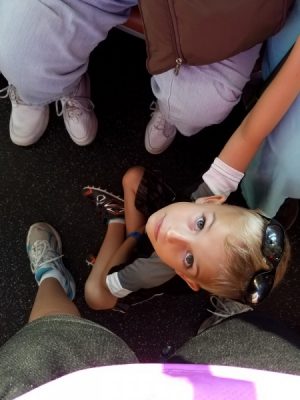 Son on the bus to Magic Kingdom
Our morning started with packing and moving out of the room. Always a challenge with kids. We checked our luggage and then the kids and I headed to Magic Kingdom together. They were both starting to lose steam, but I was ready to make the most out of our last few hours.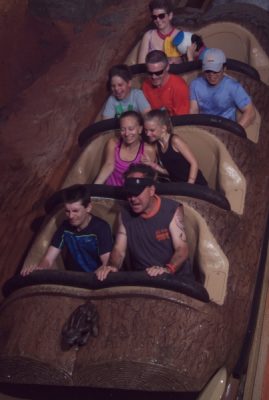 Once last time on Splash Mountain
We got to Magic Kingdom right after opening and headed right to Splash Mountain. Our son had been super nervous about this ride all trip, but he finally broke out of his fear and laughed, sang and screamed with us. From Splash Mountain we powered over to Big Thunder Mountain followed by Magic Carpets and pictures with the camel. I wanted to do Pirates of the Caribbean again; however, by 10:00 a.m. the wait was already 45 minutes so we skipped it and moved on.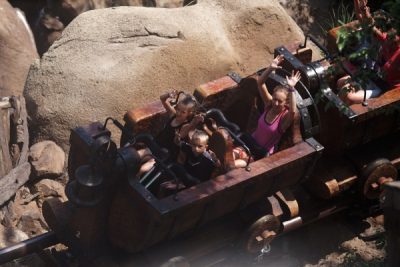 Seven Dwarf Mine Train
We used our FastPass+ for Seven Dwarf Mine Train where the kids rode together which made me super nervous as well as so happy. At this point it was snack time followed by a ride on a sea-shell as we said bye to Ariel and friends and took some fun photos again. If you are questions if you should invest in the Memory Maker, in this day alone we got our money out of if through rides photos and ride videos as well as magic shots throughout the park.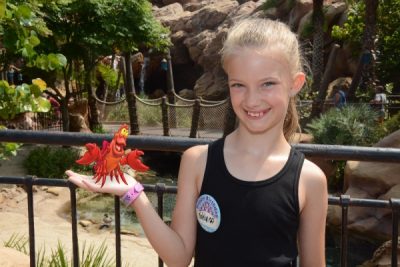 Fun Magic Shots
We headed back to Big Thunder Mountain as we had a FastPass+ for it and then took time to ride the train around to the PeopleMover where the kids hammed it up together taking pictures.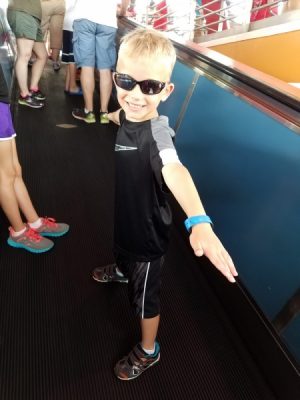 Fun on Peoplemover
After using our third FastPass+, I jumped on the MyDisneyExperience app and started booking new rides one after another. We did Buzz Lightyear, Monster's Inc Laugh Floor and then my daughter did Haunted Mansion, on her own. Her first solo ride in Walt Disney World. A super stressful experience for me even though I knew there was no way for her to escape except out the exit door but I will tell you it was a long 15 minutes. I am grateful for the nice family that allowed her to ride with them. My daughter said she knew she could ask them because "they had matching Disney shirts which means they are nice." Too funny.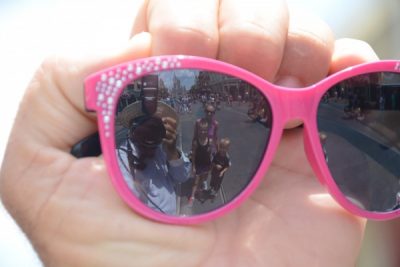 One of our favorite shots from the trip
We grabbed lunch, shopped a little, and took a few more pictures before grabbing the bus back to Caribbean Beach Resort. It was a great morning with the kids and they did a fantastic job going from ride to ride with a smile on their faces. I am so grateful that I took this opportunity to take them on my own. Even though it was hard at time and made me nervous, we created just wonderful memories I couldn't imagine not doing it.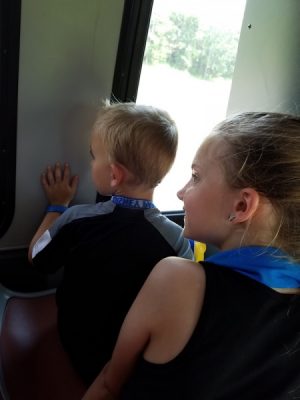 Saying good-bye
We had an amazing eight days at Walt Disney World with wonderful food, rides, memories, and laughs. I am glad I did my planning ahead of time; however, I am also glad that I have learned to flex and be in the moment as well. Until next time Walt Disney World. Thanks for the magical memories and we will see you real soon.