This post may contains affiliate links for your convenience. If you make a purchase after clicking a link we may earn a small commission but it won't cost you a penny more! Read our full disclosure policy here.
I have completed a few blog posts about my family's upcoming Disney trip and how we would be joined by my parents, sister and brother-in-law. I have talked about how I worked out our dining reservations, FastPasses and even done fun surprises along the way.  Now that we are back from our trip, I wanted to share some tips and tricks for those that might be traveling with extended family or large groups.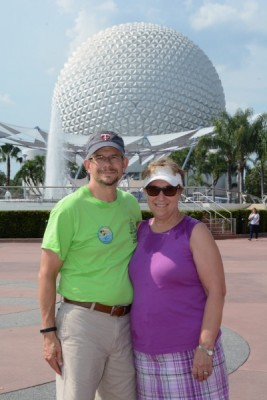 Grandpa and Grandma Enjoying Epcot on Their Own
Be Willing to Split Up
One of the best things we did while in Disney as a big group was that we allowed everyone to split up.   We didn't all do everything together everyday at every park.  If you have a large group with a variety of ages, realize ahead of time that people aren't going to want to do the same thing everyday.  Give your group the opportunity and the permission to do what they want.   My parents and sister and her husband went to Disney Springs one evening and had a great time.  Our nine-year-old princess however thought time at Magic Kingdom sounded way better so we headed there.   Even within the same parks we did different things.  Getting snacks and riding It's A Small World with the kids while the adults stood in line for Splash or Big Thunder Mountain helped everyone stay happy.  Allowing ourselves the chance to split up made it so much easier when moving around and enjoying the parks together and apart.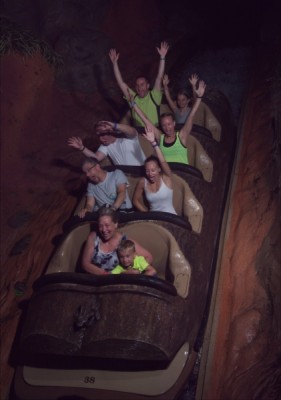 Whole Group on Splash Mountain
 Meet Up for Your FastPasses
Experiencing the rides together at Walt Disney World is one of the main reasons we all wanted to vacation together.  One of the best ways to do this is by booking FastPasses together to ride the bigger rides and to help avoid having to wait in lines if we didn't want to do so.  It was a lot of fun to ride on Splash Mountain taking up the whole boat or being on the same elevator in Tower of Terror.  Since we were willing to split up, as stated in tip one, we always set a specific time to come back and ride together.  As you are given a whole hour window to ride with a FastPasss, we didn't want to leave part of the group waiting to use the FastPass or to use it without the rest of the party therefore setting a general time to ride together helped everyone be able to do their own thing but come together to ride the big rides as a group.  When setting a meeting spot though another tip would be to be specific.  By Seven Dwarf Mine Train is not a specific enough meeting spot in the businesses of the parks.  Make sure everyone knows exactly where your meeting spots are going to be before splitting up.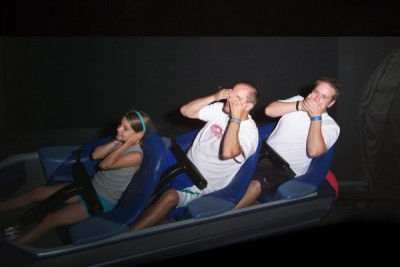 Daughter Hammin' it Up with Dad and Uncle
 Split Up FastPasses
Even though we did enjoy riding many of the big rides together as a large group, another tip for large groups is to make sure you don't waste FastPasses on rides that some in the party might not be able to ride or might not want to ride.  For example, we knew that our son would not ride Space Mountain therefore I booked him and myself a FastPasses to Buzz Lightyear across the way while others used FastPasses for Space Mountain.  This allowed us to all be in the same area, but my son and I didn't have to just sit and wait for everyone else to ride.  You can either do this prior to heading down, or use the MyDisneyExperience App while in the parks to move around and change FastPasses throughout your trip.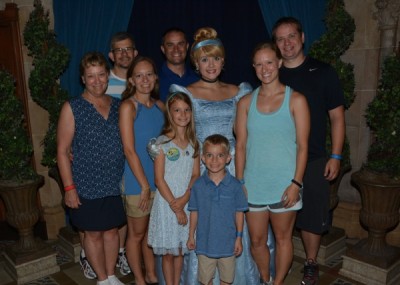 Eating at Cinderella's Royal Table
 Dine Together
Most days we took time in the afternoon to have a sit-down meal together.  Not only did this schedule us into a break during the heat of the day, but it also gave us some time for conversations, a good meal and a way to experience some fun atmospheres within some of Disney's outstanding restaurants.  We had some amazing food at Liberty Tree Tavern, great character interactions at Tusker House, Cinderella' Royal Table, and Chef Mickey's and overall great service everywhere we went.  We personally really liked having our meals planned in the afternoons as it allowed everyone more freedom and choice in the evenings to do their own thing.  Dining together is something that we greatly enjoyed as a group as it gave us the opportunity to just be together which sometimes out in the hustle and bustle of the parks is hard to accomplish.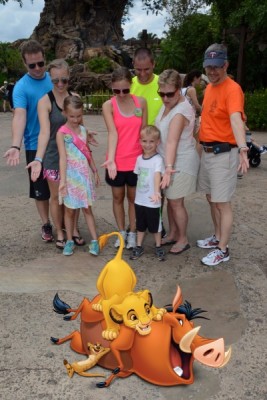 Magic Shot at Animal Kingdom
 Take Pictures Together
Prior to heading down to Disney I purchased Memory Maker and we took full advantage of this service.   Every park we were in, everyday we were there, we took time to take a picture together as a whole group.  Even though not everyone in the group are fans of photos, having these professional pictures of us is a memory keepsake we will cherish forever.  We even got a few bonus magic shots!  I would also encourage large groups to mix up the pictures by having different people together.  Having the grandkids with the grandparents or the sisters together are all fun ways to add to your magical memories.  Don't forget to slow down and capture these magical moments together.
Daily Plans
 Have a Plan, But Be Flexible
I am definitely an over planner when it comes to our Disney vacations.  For everyday we are there I know which park we are going to, which rides we are heading to and what show times we should make.  I did give each of the traveling members of our group a copy of these plans which helped everyone know the general plan for the day which prevented us from standing on the street trying to determine where to go next.  With that in mind plans did change.  We got to things early, we got to things late, we added in rides, we had to skip rides.  That is all part of vacation.  When traveling with a big group, I felt it was beneficial for us to have a general plan for the day and then allow adjustment as needed.
We had such a magical time on our Price Family Vacation to Walt Disney World this June.  I hope that these few tips and tricks will help you and your family have just as magical time when you head down to the Happiest Place on Earth!
What are your best tips for traveling to Disney with your extended family? Share in the comments!